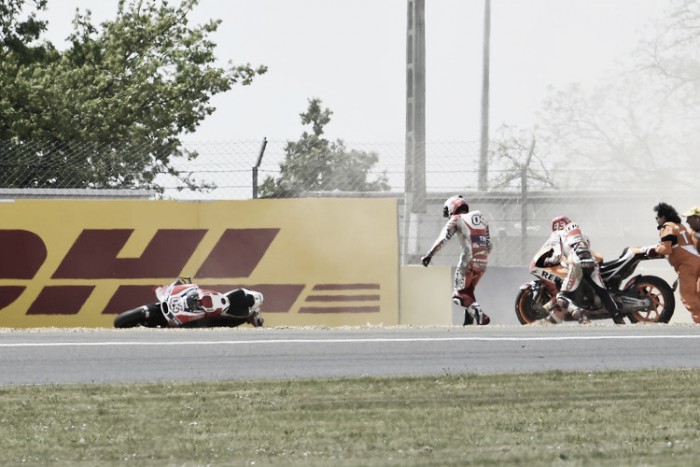 It seems there may have been something in the atmosphere yesterday at the fifth round of the 2016 MotoGP season at Le Mans, France as out of the 21 riders who took to the grid for the MotoGP race, only one third of them completed it meaning seven riders received a DNF for some reason or another.
If it was not for the fact that Repsol Honda rider Marc Marquez remounted and completed the race, it would have been eight DNFs! Thankfully, none of the riders were hurt in any of the incidents.
Scott forced to retire first
British Octo Pramac Yakhnich Ducati rider Scott Redding was the first to go. Redding experienced a fault with his Ducati and was forced to retire to the pits with 23 laps remaining. Redding is "very sorry for how things went." News came from the pits during the race that the engine on his Ducati just stopped. Redding said it "was not an easy moment" however previous to this malfunction Redding admitted that "the feelings in the first six laps were good."
A disappointed Redding spoke of how he "had a good race pace" and that he felt that the "feeling was good even during the warm up." Looking ahead to the next round at Mugello, Italy, Redding is hoping to "restart from these sensation with the knowledge that we were on the right direction," and the British rider is hoping his disappointing result was "only bad luck."
Hernandez crashed out
In what Aspar Team MotoGP rider Yonny Hernandez described as a "crash-strewn race," the Colombian is not entirely sure what happened when he crashed out with 22 laps remaining. According to the telemetry they reviewed after the race Hernandez said, "It seems I hit a bump and lost grip on the rear, which caused me to lose the front". He "wasn't expecting the crash" as he felt he "wasn't over the limit" as he worked towards "setting the same pace as in warm-up".
Hernandez' crash during Free Practice
Despite the unfortunate incident, Hernandez felt that the "set-up of the bike was good" and he "felt comfortable." The youngster thinks that he "could have finished with a good result" and at the time of the crash he was lapping 12th fastest which he felt was "upsetting." He described as the start of the season as "tough" and is "hoping to get out of this rut as soon as possible."
The Ducati rider is reassured by the fact he has been "fast in testing and in practice" but is disappointed that they have "not been able to show it in a race." He now looks forward to Mugella where he plans to leave "what happened here behind and to continue to work hard with thirteen races still remaining."
Another DNF for Crutchlow
LCR Honda rider Cal Crutchlow's luck seems to be going from bad to worse, not only on track but off it too. Recently the British rider had his Italian home broken into while he was at the Circuit of the Americas in Austin where he also crashed out (he was able to remount and complete the race).
Crutchlow collected his third DNF at Le Mans after previously failing to finish at Qatar and Argentina. He felt "very disappointed again" as he said that "no points is tough for myself and the team." After choosing the hard front tyre, a decision that he stands by, he said that "everyone could see today though that just finishing the race was a hard job." He spoke of how he finds it "difficult to follow the lines of the other riders on the other manufacturers' bikes."
The Honda rider's crash came with 22 laps remaining at turn 11 after he had previously over taken factory Honda rider Dani Pedrosa (Repsol Honda) and had made his way up to ninth place. Crutchlow said, "We have to look at the positives" and he thought that they "worked well this weekend." He feels that Honda are working very hard for the LCR Honda team and he hopes to "continue to give them the best information" in the hope that working together will "fix the problems" they are experiencing at the moment.
Big mistake for rookie Rabat
Tito Rabat is in his first season MotoGP season representing Estrella Galicia 0,0 Marc VDS after being promoted following his success in the Moto2 Championship. He has spent the beginning of the season adapting to the elite field and the new machinery and his DNF at Le Mans is the first one so far this season. His best result came in Argentina where he finished ninth in another incident filled race. He has proved consistent otherwise and is seventeenth in the championship with 11 points.
Rabat was also "very disappointed" as he too felt he "did a very good warm-up session" and he also "felt good or the race." Just before his crash he had passed local man Loriz Baz who was on home soil and the rookie felt he was "going a little faster." However he "closed the front on the entry to turn six" which sent him into the gravel trap. The Spaniard was "very sorry for the team" and himself as he said he did not know "how I could do such a big mistake."
The last thing the Ducati riders need
Since Jorge Lorenzo (Movistar Yamaha) announced that he has signed contract with Ducati for two years, speculation has surrounded the factory garage as we wait for news on who will have to make way for the 2015 MotoGP champion.
Both Ducati riders Andrea Iannone and Andrea Dovizioso feel that the results definitely count and may be a deciding factor as to who stays and who goes.
Double disaster again for the factory Ducati riders and teams
Iannone had been strong all weekend, topping the time points and looking like he could be competitive alongside Lorenzo who was on flying form. He was in second place when he crashed out of the race with 17 laps remaining after having just overtaken his teammate.
This is the third time Iannone has collected a DNF after crashing out of Qatar and Argentina; in Argentina he wiped out his teammate Dovizioso with him.
Iannone has scored a third place at COTA in Austin and seventh place in Jerez, which means he is tenth in the championship now with only 25 points, current championship leader Lorenzo is on 90.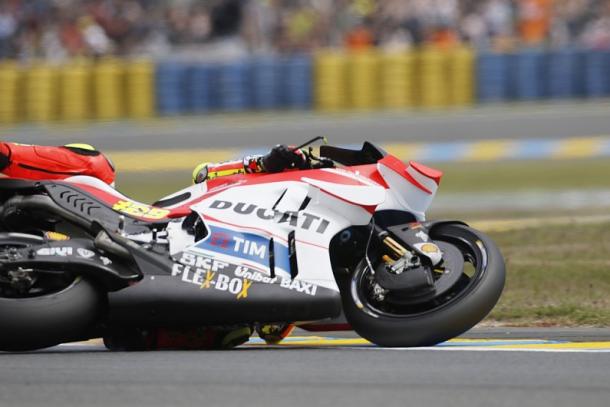 Iannone: "It really hurts"
The Italian is also disappointed as he feels, "Crashing in a race, especially after a weekend in which we were always competitive and performing well, really hurts."
He described what happened as "strange" blaming an unpredictable front tyre in which he said "you never know how much confidence you have." Iannone started from third on the grid and "pushed harder in the early laps to overtake Dovi under breaking," he was then "behind Lorenzo and trying to reduce the gap."
Trying to remain positive, the 'Maniac' said, "Despite the crash we proved that we were quick even though we were unable to bring home any points." The next round in Mugello will be the home round for himself and his team and he remains hopeful and said, "Now we really have to improve some aspects that are not allowing us to be constant throughout the whole race." Is it his consistency that he needs to improve?
Dovizioso and Marquez had identical crashes
His teammate was the next faller in a 'freak accident' as both he and Marquez had an identical incident; same corner, same lap, same time, same fall. It had viewers wondering if there was something on the track. The two appeared to take a slightly wider line than that of leader Lorenzo; Dovizioso blames the tyres for his crash.
More disappointment for the Italian
It means more disappointment for the Italian who has a total of three DNFs under his leathers now. His best result has been second in the season opener at Qatar where he finished and collected 20 points. Despite his teammate wiping him out in the final corner at the second round in Argentina, he salvaged three points when he picked up his Desmosedici GP and heroically pushed it across the line.
Poor Dovizioso has had the worst luck, has twice he has been wiped out by another rider, and the other time he was forced to retire with a water leaking from the bike on his rear tyre. He feels the result at Le Mans "is a real pity" as he felt he had "guessed the right strategy and managed to start the race well." When chasing the lead group he said "At the entry to turn seven the front tyre lost grip and I found myself on the ground."
The Ducati team analysed the telemetry and discovered that his lean angle was only two degrees bigger than previous laps and said "Without taking this into account, the tyres were working quite well this weekend." He feels that "it is a characteristic of theirs to not give any warning when they lose grip, and I crashed."
Dovizioso feels his performance previous to the crash at Le Mans gave the team "some important feedback for the future," he felt it proved they can be quick "but not for the entire duration of the race." The Italian has the same target "to work to be more consistent" and then "go on to find pure performance."
Marquez claims he lost the front
Simultaneously to Dovizioso's crash, Marquez crashed out right behind him after he said he "lost the front." Marquez said, "It was a pit about the crash today" as he felt before that he was "having a good race." The Spaniard said "These things happen when you're on the limit every lap."
Marquez said that he "could have opted for a more conservative race" yet he did not want to end up going backwards and felt he "had to take risks." Having complained about it before, he said "In the race I saw that I was losing ground under acceleration and I had to make that back with my braking."
The Honda rider was able to remount though and complete the race, with so many DNFs among the field, he was able to claim three championship points after completing the race in 13th. He is now on 85 points, five behind championship leader Lorenzo. Nervous about the future rounds he said, "Now we have a run of tracks that we found a little tough last year, but they're quite different to Jerez and Le Mans, so I hope to be fast and have some good races."
Both Honda riders out
It was more disappointment for the Estrella Galicia 0,0 Marc VDS team as Jack Miller was the next to fall, a crash he did not need as he is already recuperating from previous crashes.
Another disappointed rider, he said his team "pushed hard with a plan to have a strong weekend in Le Mans," and unfortunately for him he "lost the front" as he entered the seventh corner with ten laps remaining.
Desrcibing the incident he said, "It felt normal, like the lap before not too fast, and then I just hit the bump and the bike disappeared from under me." In an attempt to defend his DNF the Australian said, "Everyone struggled with the front tyre today and that is what happened to us."
Bradley Smith completed the list of DNFs
The last faller of the day was Bradley Smith, who in front of his team and sponsors' home crowd fell off with nine laps remaining in what he claimed was "a frustrating end to the weekend." Describing what he felt to be "the best weekend" the team has experienced so far this season. After starting the race well he felt he "experienced a tricky period" where he spoke of having "a coming together with Pedrosa" where he said he "lost some time as I ran off track."
Smith had what he described as "a second wind" as he felt that his "rhythm was getting stronger" and was able to improve his lap times. When he was in pursuit of his teammate Pol Espargaro and Team Suzuki Ecstar rider Aleix Espargaro he "went to close to the limit" which is when "the front tyre was starting to drop away", carrying too much corner speed he "rolled of the side of the tyre."
The British rider was especially disappointed for his team after they "put a lot of effort in" however he is looking forward to visiting one of his favorite tracks on the calendar when they go to Mugello with a bike he feels confident with. The team are able to take away data and know what adjustments to make to improve the bike and make it better.
No-one was injured
Fortunately, none of the riders were harmed during the incidents that occurred on track. All of them were able to walk away unscathed and are able to look forward to Mugello where they are able to hopefully learn from their mistakes at Le Mans.