It would be close, of that there was no doubt, and as Lewis Hamilton crossed the line in Q3, we found how just how close. He had failed to beat the benchmark Nico Rosberg had set moments before by 0.013, thus handing Rosberg a third successive Suzuka pole and 30th overall.
Rosberg improved on his final run in Q3, by 0.111s to leapfrog Hamilton who had held the fastest time after first runs. Needless to say, turn one and two at the start tomorrow should be well worth the wait.
Behind the Mercedes, Kimi Raikkonen drove a "perfect lap" to secure third, a very credible 0.3 down on the 1:30.647 Rosberg had set, Sebastian Vettel was fourth fastest, but will be demoted to seventh, as he has a three-place penalty for the T1 collision in Malaysia.
The Red Bull's were an underwhelming fifth and sixth, Max Verstappen having the bragging rights over Daniel Ricciardo as Sergio Perez was best-of-the-rest in seventh. Romain Grosjean secured Haas their best ever srarting position in eighth, with their team-mates Nico Hulkenberg and Esteban Gutierrez rounding out the top 10.
Day to forget for McLaren
With all the progress McLaren-Honda have made in 2016, the one place they would not want to be humilated, again, was at home. But they were, as Jenson Button, struggling to find a balanced set-up, dropped out in P17, Fernando Alonso made it through at Button's expense, as the pace just wasn't there, despite the promise in practice.
Meanwhile, Jolyon Palmer's recent form has given the Renault bosses something to think about as it is extremely likely that he or team-mate Kevin Magnussen will be rretained for 2017 and the other let go. Palmer got himself into Q2, whilst Magnussen could only manage the 18th fastest time, meaning his afternoon was over in 18 minutes.
Sauber were just ahead of Manor, Marcus Ericsson out-qualifying team-mate Felipe Nasr, whilst as Esteban Ocon grows accustomed to his MRT05 every time he drives it, his impressive weekend was completed by out-qualifying Pascal Wehrlein by a comfortable 0.208.
Up front, it was Vettel who was quickest, as Ferrari burnt a set of Soft tyres, whilst the Mercedes and Red Bull's opted for Mediums.
Two Haas's into Q3
Rosberg laid down a marker in the early stages, a single lap good enough to enable him to park the Mercedes afterwards.
Williams had a struggle, with both drivers just missing the cut, Valterri Bottas ahead of Felipe Massa, as rivals for fourth in the constructors Force India had both cars in the final 12 minutes, as for the first time in the Formula One life, did Haas.
It seems that whenever the Ferrrari main team do well, so do Haas, and the good result the Maranello team had, and the close technical link-up, all contributed to make it a good day for the new-comers. They'll be hoping for some much needed points tomorrow.
Elsewhere, as expected the Toro Rosso's dropped out, although Danill Kvyat was once again faster than team-mate Carlos Sainz Jr.
The sole McLaren of Alonso and Renault of Palmer were also both eliminated, as the grid began to take the shape of Noah's Ark.
Rosberg at the death
As the final 12 minutes of the session got underway, both Force India and Haas decided that their drivers would do a single lap, at the end. This meant the fastest six drivers in the fastest three cars would have an exclusive battle for the first half of Q3.
It was Hamilton who held the advantage after the first laps, ahead of Rosberg, Vettel, Raikkonen, Verstappen and Ricciardo. Incredibly, the six of them were separated by just 0.482.
As the second runs got underway, the gap between the two Mercedes was non-existent, with the 0.013 that evantually did separate them being calculated to just 82cm by the team. Talk about fine margins.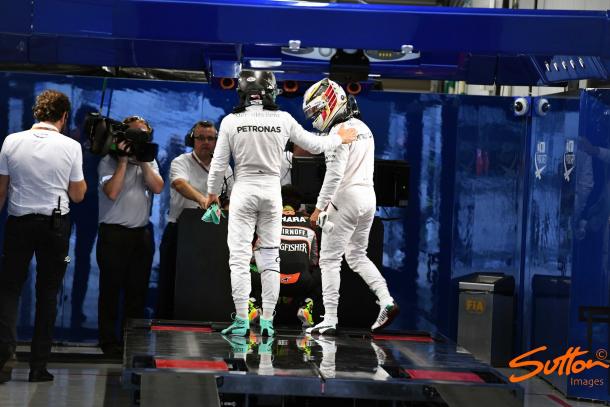 Vettel's mini Annus Horriblis continued, slipping down to fourth, seventh with the penalty, as team-boss Maurizio Arrivabene in comments to the media suggested that he will need to earn a new contract after his current deal expires at the end of next session, "​just like everybody else".
​​The final grid, with the penalty applied to Vettel gave it something of a Noah's Ark feel, with over half of it, starting alongside their team-mate.
Japanese Grand Prix - The Grid
Position
Driver
Team
1.
Nico Rosberg
Mercedes
2.
Lewis Hamilton
Mercedes
3.
Kimi Raikkonen
Ferrari
4.
Daniel Ricciardo
Red Bull
5.
Max Verstappen
Red Bull
6.
Sergio Perez
Force India
7.

Sebastian Vettel

Three place grid penalty applied for causing a collision at Turn1 in Malaysia.

Ferrari
8.
Romain Grosjean
Haas
9.
Nico Hulkenberg
Force India
10.
Esteban Gutierrez
Haas
11.
Valtteri Bottas
Williams
12.
Felipe Massa
Williams
13.
Danill Kvyat
Toro Rosso
14.
Carlos Sainz Jr
Toro Rosso
15.
Fernando Alonso
McLaren
16.
Jolyon Palmer
Renault
17.
Jenson Button
McLaren
18.
Kevin Magnussen
Renault
19.
Marcus Ericsson
Sauber
20.
Felipe Nasr
Sauber
21.
Esteban Ocon
Manor
22.
Pascal Wehrein
Manor