How about that? It looked as if this year's Brazilian Grand Prix was going to be the most farcical and worst Grand Prix of the year; it ended up being the best!

Hamilton narrows the gap to twelve points, but needs Rosberg to finish off the podium in a fortnight's time in Abu Dhabi to have any chance of claiming his third successive World Championship crown.

The Driver of the Day is no contest. Nasr did well, Hamilton better - but Max Verstappen's performance was jaw-droppingly awesome. After being uncermoniously dumped out the points under the final SC due to a risk on the intermediates, he fought back and passed everyone and anyone to claim a spot on the podium. Lest we forget his bold moves on Raikkonen and Rosberg earlier.

Sit tight for VAVEL's impending race report, but until next time, I've been James Eagles, thank you so much for joining me for this marathon.

See you in Abu Dhabi in a fortnight for a proper title showdown.

Good night.
PROVISIONAL CLASSIFICATION AFTER 71 LAPS

1. Hamilton
2. Rosberg
3. Verstappen
4. Perez
5. Vettel
6. Sainz
7. Hulkenberg
8. Ricciardo
9. Nasr
10. Alonso
Rosberg follows 11 seconds back in second and Verstappen claims third after an incredible, daring drive. Had Red Bull not gambled on their tyre choice, could the Dutchman have won? We'll never know, unfortunately.
CHEQUERED FLAG: Lewis Hamilton takes his first career victory in Brazil.
L71: HAMILTON STARTS HIS FINAL LAP.
L70: Vettel passes Sainz for 5th.
L70: UNBELIEVABLE! Verstappen gets past Perez and hes on the podium. 13 seconds to Rosberg looks as likely as sundhine in Sao Paulo, but what a drive.
L69: Perez is under threat from Verstappen.
L67: Verstappen toys with Vettel and passes him at Juncao, superbly. He then dispatches of Sainz.
L66: Vettel comes under attack from the rampant Verstappen, but holds his nerve into Turn 4.
L66: Verstappen passes Hulkenberg for 6th.
L64: The Red Bulls are working very well in the wet, Ricciardo gets Nasr.
L63: Ocon is now demoted to 10th, as Ricciardo passes him.
L62: Ricciardo makes another move, this time on Kvyat.

Nasr is passed by Verstappen. What a talent!
L62: Ocon is next on Verstappen's radar and is easily consumed.
L60: In a flurry of action, Verstappen takes Kvyat for 9th.
L60: Nasr loses 6th at Curva do Sol to Hulkenberg.
L60: Verstappen has mugged off Ricciardo at Mergulho for 10th.
L59: Hulkenberg is virtually pushing Nasr along. This is massive for Sauber.
L58: Verstappen flies past Bottas, who is struggling on the intermediates.
L56: Alonso spun on the restart! And now he's passed by Button!
L55: We're racing! Hamilton from Rosberg, Perez, Sainz, Vettel, Nasr, Hulkenber, Ocon, Kvyat and Ricciardo.
L55: The Safety Car is to come in.
L55: Verstappen comes in.
L54: Verstappen concedes defeat.

"It's like a boat."

"Do you want to pit for wets?"

"We're waiting for a crash to happen".
L54: Rosberg is unhappy.

"More water, more water. There's more water than before. With inters, it's not possible to drive".

To clarify, he is on the wets.
L53: Ricciardo comes in for full wets. Hamilton complains once again about the speed under the SC.
L52: The pitlane is re-open for business and lapped cars can now overtake. Get ready for a superb 20 laps.
L52: He gets a guard of honour from the Mercedes and Ferrari crew and is met by his family.
L50: Massa embarks on the disheartening trudge down the pit lane, with a Brazilian flag draped over his shoulders. Some in the crowd are crying, the rest are cheering.
L49: Hamilton's lead is gone, the Safety Car is out.
L48: Heartbreak for Massa! He's crashed at the same place Ericsson and Grosjean had. In his final Brazilian Grand Prix, he gets nothing.
L47: That was like Verstappen's half spin. His potential title very nearly snapped away there.
L46: Rosberg has reportedly run wide at Juncao.
L45: Vettel passes Nasr for 6th. Button wants wets for his McLaren.

He's told other cars are going onto inters. He replies "I don't care!"
L45: Ocon tries to go round the outside of Hulkenberg and is squeezed off the track.

His radio was remarkably calm.
L44: Verstappen comes in for intermediates.
L43: Ricciardo goes a tenth quicker than Hamilton on the previous lap, setting the fastest lap.
L43: Vettel goes clean around the outside of Alonso and keeps the position.
L42: Gutierrez breezes past Wehrlein.

More heavy rain is coming.
L41: Ricciardo pits and serves his 5 second penalty. He also puts on a set of inters and rejoins in 11th.
L39: "Well done Max, well caught".

"Yeah, my heartbeat went up there".
L39: Verstappen half spins and does incredibly well to catch it! Rosberg catches him, but the Dutchman is stoic in his defence.
L38: In the rain, Wehrlein is getting that sinking feeling, Magnussen is the next to pass him.
L38: "Struggling on both tyres, I just can't get them working".

Jenson sums up his weekend.
L37: Ocon runs wide at the Curva do Sol and releases Vettel.
L37: Hamilton sets the pace with a 1:25.693.
L36: Two moves at the Senna S; Bottas on Wehrlein, Hulkenberg on Magnussen.

Wehrlein is then passed by the recovering Hulkenberg into Turn 4.
L35: Button slings on a set of intermediates.
L34: Wehrlein is forced to make way as Vettel dives down the inside at the Senna S with supreme confidence.
L33: Vettel is hunting down Pascal Wehrlein for 10th.
L33: Ricciardo in the other Red Bull makes a move on Sainz for 5th.
L32: A BRILLIANT move by Verstappen on Rosberg around the outside of Curva do Sol!
L31: We're underway! Hamilton leads from Rosberg and Verstappen, who's under pressure from Perez.
L31: The Safety Car is in this lap. For how long though?
We're back out again. Race control say that the SC will be out "for more than one lap". Does that surprise you in the slightest?
Light rain forecasted. That may turn to havier rain. Oh joy.
All cars must be on extreme wets at the restart, according to race control
Ah, there's an answer; the race shall restart in 10 minutes.
Sorry folks, no idea as to when, or indeed if, this'll get back underway.

If that is the end of the action, what a sad way to decide an otherwise gripping title fight.
People are leaving, others are booing. Drivers believe that the track is fine to race on.
Hamilton says the track is fine, I believe that Bernd Maylander is saying that it's too wet. The Brazilian public are very angry.
HEY WHAT'S THAT? A RED FLAG!
L24: I'm informed that he had a clash with Kvyat in the midst of the Raikkonen crash.
L24: Jolyon Palmer has retired in all this, his Renault is in the garage. I don't know when, or why it happened.
L23: Poor Nico Hulkenberg, that right rear puncture and resulting stop has dropped him from 4th to 15th.
L23: Hulkenberg pits for a new set of wets. Must have had a puncture, otherwise they would have changed during the red flag.

Hamilton has switched back to his old, white helmet, due to complaining about water getting into his eyes with the new, Senna tribute design.
Perez is told that havy rain is imminent.
Ocon complains about visibility.
We have 157 minutes to complete the race, or to get full points - at least 75%.
Cars are leaving the pitlane now, under the guidance of Bernd Maylander.
The race is set to restart at 15:21 local time; otherwise known as 17:21 UK time, or 10 minutes.
Ricciardo also has a 5 second penalty for entering the pitlane whilst it was closed.
Massa gets a 5 second time penalty for overtaking before the SC line.
Rosberg would leap at the chance for half points, as it stands, half points will be awarded, which would leave the championship looking like this:

Rosberg - 358
Hamilton - 342.5
Well, now we wait. Very scary moment in the immediate aftermath of Raikkonen's crash, as Hulkenberg hit the Ferrari's stary front wing, luckily the debris didn't hit his head, and didn't fly into the crowd.
As it stands, the order is as follows:

1. Hamilton
2. Rosberg
3. Verstappen
4. Hulkenberg
5. Perez
6. Sainz
7. Nasr
8. Ricciardo
9. Ocon
10. Wehrlein

RED FLAG. The race is stopped for now. Unsurprising.
L19: RAIKKONEN IS IN THE WALL! The SC is back out.
L19: We're back underway! Hamilton leads from Rosberg and Raikkonen
L18: Magnussen also believes it's too wet to race; both the Renault's have ditched the inters for a set of wet tyres.
L18: Ricciardo is under inverstigation for entering a closed pit lane.
L17: Felipe Massa - in his last home GP - may have a penalty as well for passing Esteban Gutierrez before the SC line.
L16: Meanwhile, Perez has fone a full 360 under the SC.
L16: Ricciardo may find himself in trouble, having entered the pitlane whilst it was announced closed.

Christian Horner believes he had a puncture, which would make the entry legal.
L14: Ericsson's day is over, he only has three wheels. It's a carbon copy of Grosjean's incident before the race!
L14: Very hairy moment; the SC is out, but Verstappen almost smashed into the side of the Swede when coming into the pitlane!
L13: Ericsson has spun in the pitlane!
L11: Vettel has spun after Juncao! He's spun the car back the right way and pits for intermediates.

But there is a problem with the wheel gun! It's a 7.9 second stop.
L10: Rosberg says it's "too early" for intermediates.
L10: Magnussen update: he's lapping much faster than Palmer, who's on the wet tyres. It could be a masterstroke.

Both Ericsson, Palmer, the Williams cars and Alonso are in for inters.
L9: Ricciardo has major visibility problems.

Button comes in for intermediates as well, following many backmarkers.
L8: Verstappen makes an audacious move on Raikkonen at Turn 1 for third; similar to Montoya on Schumacher 15 years ago!

Magnussen throws caution to the wind and opts for intermediates.
L8: GREEN FLAG! HERE WE GO!
L7: The Safety Car will be in this lap.
L5: Magnussen sounds certain.

"It's easy to race". And that from a man in 17th.
L5: Verstappen is starting to get agitated at the lack of pace.

"If we go this slower, it won't clear".

Problem is, the Safety Car can't go much faster.
L4: Sainz says it's good to race, but doesn't sound totally sure.
L1: Well, we're underway, under the Safety Car, unfortunately. Hamilton complains about visibility behind the Bernd Maylander.
While we wait, let's have a look at the Drivers' Championship.


| | | | |
| --- | --- | --- | --- |
| Position | Driver | Constructor | Points |
| 1 | Nico ROSBERG | Mercedes | 349 |
| 2 | Lewis HAMILTON | Mercedes | 330 |
| 3 | Daniel RICCIARDO | Red Bull | 242 |
| 4 | Sebastian VETTEL | Ferrari | 187 |
| 5 | Kimi RAIKKONEN | Ferrari | 178 |
I believe the race will start behind the Safety Car, as it stands.
The start has been delayed by 10 minutes. Hopefully to allow a standing start.
Anyway, welcome back to VAVEL's LIVE coverage of a wet 2016 Brazilian Grand Prix from Interlagos, Sao Paulo. I'm James Eagles.

Interlagos literally translates as "between the lakes". Looks like we have lakes in places today. Two hours ago, race director Charlie Whiting specifically said that there was enough grip to have a normal race start; however, Grosjean has showed how treacherous the conditions are. Mr Maylander may have an early call up, but I hope not. Let these drivers have fun and show their skill.
DRAMA ALREADY! On his way to the grid, Romain Grosjean has ploughed his Haas into the wall after aquaplaning at Arquibancadas and he is out of the Brazilian Grand Prix before it's even started!

It's wet. That's all you need to know, an 80% chance of rain is constant throughout the Grand Prix.
So, will Rosberg finish what he started? Or will there be a showdown at sundown in Abu Dhabi? Find out with me on VAVEL from 3:45pm. You won't want to miss it.
The Mexican Grand Prix two weeks ago saw an end that no one could have predicted. Bold moves, questionable defence, spats, three different podiums and blue language from an agitated Sebastian Vettel all made an otherwise unspectacular race unforgettable.
Lewis Hamilton won, keeping his championship hopes alive - just about - but, Rosberg's second placed finish means that he can wrap up his first championship, 34 years after his father, Keke won his sole title.
Here's Jake Nichol's Qualifying report. The gap stands at 19 points, in Nico Rosberg's favour. Additionally, he's taken victory in the last two races here, whereas Lewis Hamilton has never won in Brazil. The omens look good for the potential of crowning a new World Champion today.
Let's take a trip back in time to 2003. It's fair to say, it was a different time in Formula 1. The scream of a V10 engine, relatively low aero dependency, and at Interlagos, a lot of rain. Whilst adverse weather may not be anything new here, it threw out even the most experienced of drivers. The weekend of 4-6 March 2003 was like no other, with the true winner of the Brazilian Grand Prix being crowned several days after the chequered flag dropped. It even had to be decided via a court case.
With Bridgestone opting to bring intermediate tyres to Brazil, rather then the full wets, the monsoon like conditions on Sunday caught them unawares, the compound rendered inadequate.
And so, after a ten minute delay, the race was started under the guidance of Bernd Maylander in the Safety Car. It wasn't to be his only appearance that day.
After several storm fronts swept across the circuit, the rain mercifully ceased. And most of the track was dry, apart from the sweeping left hander of the Curva do Sol. In just 33 laps, the world's most expensive scrapheap was collated on the other side of the Turn 3 barrier, the puddles catching out Antonio Pizzonia, Juan Pablo Montoya, Jenson Button and even the reigning World Champion, Michael Schumacher - regarded as the wet weather master.
The falling leaders ensured that home hero Rubens Barrichello led the race in his Ferrari. Used to running well in Interlagos, his home curse struck once more on lap 47; a fuel system malfunction ending his race prematurely.
Giancarlo Fisichella - in Jordan's 200th Grand Prix - had found himself towards the sharp end of the field, after an early pit stop had demoted him to last. When David Coulthard made his last stop, McLaren team mate Kimi Raikkonen resumed the lead on lap 53, but a mistake allowed Fisichella to sneak through. A Jordan was winning, but that couldn't last. Could it?
Lap 54 saw the race end, 18 laps early. Mark Webber's huge shunt at Arquibancadas sprayed bits of broken Jaguar all over the track. Wheels, wings, even some fragments of sidepods. Whilst most took note of the double waved yellow flags, young Fernando Alonso ploughed on, and into one of Webber's stray wheels. Spearing off violently into the pit wall, it was a miracle the Spaniard survived, having only been shaken and severely winded.
It meant that with two wrecks strewn all over the start finish straight, the red flag was the only option. But confusion reigned. Who's the winner? The man who crossed the line first on lap 53 or lap 54? As it stood, Raikkonen was the winner despite being second on track. To add to the drama, Fisichella's Jordan caught fire in the pits. The provisional classifcation was Raikkonen, Fisichella and then Alonso.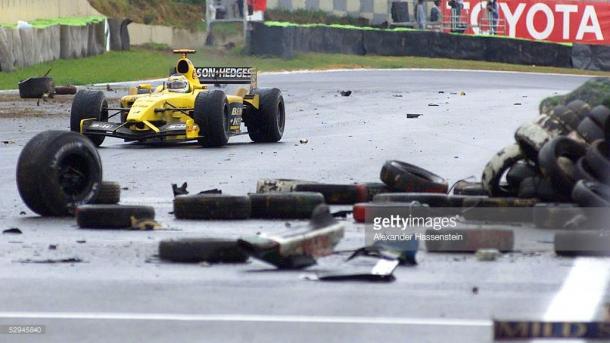 Article 154 of the Formula 1 regulations stated that, if 75% of the race distance had been completed, it was "deemed to have finished when the leading car crossed the line at the end of the lap two laps prior to that lap during which the signal to stop was given".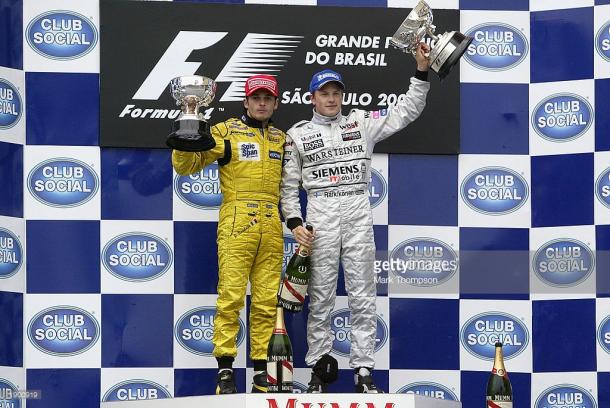 After a few days and a court case later, the FIA deemed Fisichella to be the rightful winner, a decision he later admitted he found out via a phone call. Data showed the the Italian was on his 56th lap, so the results from the end of lap 54 should be the one's taken as final.
It was Eddie Jordan's eponymous team's last and most unlikely victory.
And a list of previous winners here.
| | | |
| --- | --- | --- |
| Year | Driver | Constructor |
| 2015 | Nico Rosberg | Mercedes |
| 2014 | Nico Rosberg | Mercedes |
| 2013 | Sebastian Vettel | Red Bull-Racing |
| 2012 | Jenson Button | McLaren |
| 2011 | Mark Webber | Red Bull-Racing |
| 2010 | Sebastian Vettel | Red Bull-Racing |
| 2009 | Mark Webber | Red Bull-Racing |
| 2008 | Felipe Massa | Ferrari |
| 2007 | Kimi Raikkonen | Ferrari |
| 2006 | Felipe Massa | Ferrari |
Let's take a look at the Interlagos circuit, one of the four anti-clockwise circuits on the Formula 1 calendar. Situated in Sao Paulo, the Southern Hemisphere's most populated city, the bumpy 2.677 mile stretch of winding tarmac has been the host of the Brazilian Grand Prix for 35 years, undergoing many layout changes in the process. Not only a place where the spirit of Ayrton Senna lives on, Interlagos has seen many a captivating, title-deciding race.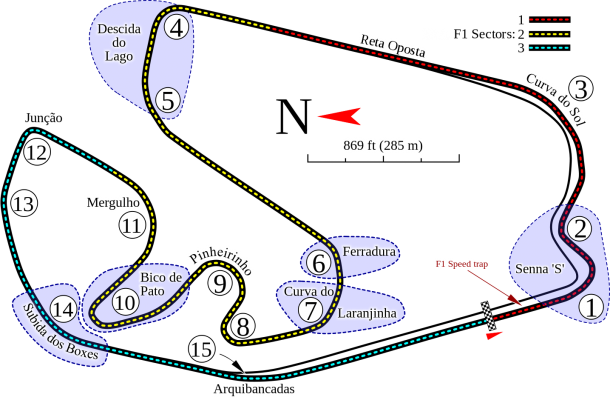 Welcome to VAVEL's live coverage of the Formula One Grande Prêmio do Brasil 2016, I'm your correspondent James Eagles and will be guiding you through all the events of this afternoon's Grand Prix from the iconic Interlagos circuit.