 His run of wins stretching back to the United States Grand Prix of 2016 may have been broken in Australia by a perfect performance from Sebastian Vettel and Ferrari, but Lewis Hamilton replied in the most devastating of ways, taking a commanding victory over Vettel and Red Bull's Max Verstappen in changing conditions in China.
Hamilton, of course, is the master of said predicaments, having shown his prowess and barely paralleled feel for the car on greasy surfaces numerous times over the course of his 10 full Formula One seasons.
The Chinese weekend was by no means easy. Only 14 cars lapped the circuit for around 15 minutes in Free Practice 1, due to the medical helicopter being unable to operate sufficiently. The situation even caused Practice 2 to be abandoned a few hours later, the only action on view being the karts whizzing around their designated circuit.
That left all the set-up work for Saturday morning, and a bustling Practice 3, in more pleasant conditions. Just as they did in Melbourne, Ferrari and Vettel topped the time sheets, with the rest playing catchup. But, given the peculiar circumstances, we don't know who was running what programme, which made the Qualifying hour all the more exciting.
Hamilton pulled the rabbit out the hat, setting a time just 0.1 seconds adrift of his theoretical ultimate time, according to Motorsport.com's Mark Hughes. Again, it's nothing new - he smashed simulated expectations in the USA and Abu Dhabi last year, leaving Niki Lauda and Toto Wolff with jaws on the garage floor. Vettel, on the contrary, made the odd mistake, that proved to be vital.
Come the race, Hamilton looked comfortable at all points. He and the Mercedes team judged the time to change to slicks perfectly, benefitting from early abrasion. He managed and pushed in equal measure, leaving Vettel - who was hurt by the timing of his first stop - in his wake. With Antonio Giovinazzi crashing in roughly the same spot as he did on Saturday, the Safety Car timing put paid to a potentially fascinating battle between the two current championship leaders. But, it enabled Vettel to "have fun", fighting his way forward from sixth.
Ferrari's baffling decision
Vettel wasn't the only Ferrari driver to suffer from an odd strategy decision - Kimi Raikkonen lost a likely podium because of his one. The Italian constructor opted for an overly long second stint, leaving Raikkonen struggling for grip on worn tyres, seeing his net grip on third place slipping away from him with each passing lap. He was embroiled in heated conversation with his race engineer Dave Greenwood over the radio towards the back end of the stint, as he pleaded to pit.
"Why didn't you stop when I asked you? Then if we know that we're going to stop two times probably everybody else apart from me," moaned the Finn, to which Greenwood replied. "We think this is the best chance is to go to the end. Copy on your message though."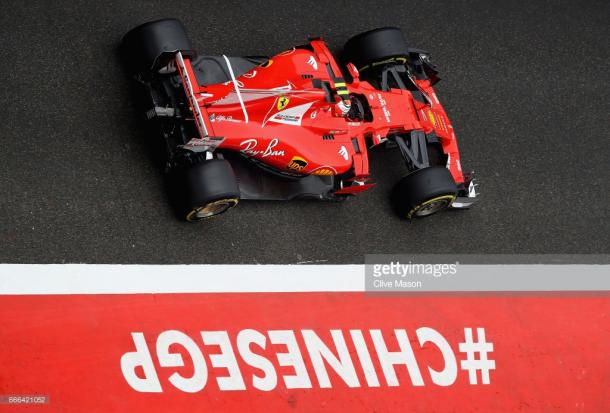 It proved to be anything but, with Greenwood and Ferrari adamant that Raikkonen's third place would still be on offer, according to computer simulation. Eventually, Ferrari buckled under the weight of Raikkonen's protests, but it left him far adrift from the two Red Bull cars - demoted to sixth, behind Carlos Sainz, leaving him a nigh-on impossible chance of catching and passing them. He managed to pass Sainz and then catch the duo, but the latter was a bridge too far.
Reports after race suggest that Ferrari are talking to the Finn about his current form, questioning his aggression after a second difficult race. Granted, he probably should have followed Vettel in passing Daniel Ricciardo, but the radio messages showed there's nothing wrong with it!
Giovinazzi's nightmare
After a glistening display a fortnight ago in Australia, Sauber stand-in Antonio Giovinazzi endured a very trying weekend this time around. With Pascal Wehrlein back in the car for Bahrain having recovered from injuries sustained at the Race of Champions event in Miami a few months ago - the Italian's season in F1 looks to be over - but for testing duties.
Whilst he can hold his head up high, he'll have a niggling feeling that he should have done much better in Shanghai. Having crashed at the start of the pit straight on Saturday and Sunday, his weekend was an expensive one for Sauber. His Saturday slip ironically meant that no one could take his place in Q2, 15th at the time. But, it was meaningless - no running in Q2 and a penalty for an enforced gearbox changed saw him slip down to 18th.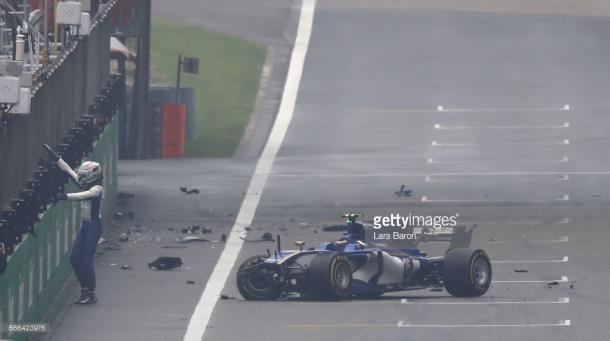 On Sunday, the change to dry tyres backfired - caught out by standing water collating in a dip underneath the media centre. Less cosmetic damage done this time, but the result just the same. He was bold, asking for slicks despite his lack of experience in Formula 1, and Sauber obliged. Maybe an extra lap on intermediates would've done the trick.
Speaking about his troubles, Giovinazzi expressed his desire in wanting to "apologise again to the team."
"They did a great job to get the car ready for the race. It was a shame that I crashed again today. A learning lesson – I just want to forget this weekend quickly."
It's probably for the best, Tonio.
Verstappen's monstrous fightback
To think that Max Verstappen's race almost ended behind the Safety Car, lighting up the rears whilst going through Turn 12, losing the back end and having to catch a car that was almost full-on sideways. It evoked memories of his Brazil save last year, in more treacherous conditions, and again showed the incredible reactions he possesses in difficult track conditions.
His weekend got exponentially better. An engine problem curtailed his Qualifying, ending up 19th, based on times - although he was promoted to 16th, due to penalties. After a masterful drive, he finished third - keeping a fired up teammate in Daniel Ricciardo at bay in the final laps, whilst Raikkonen crept towards them. It proved to be a welcome result for Red Bull - Christian Horner stating that third and fourth was the absolute maximum for his side. Ricciardo accredited the result to the weather levelling the playing field, and it's hard to argue otherwise.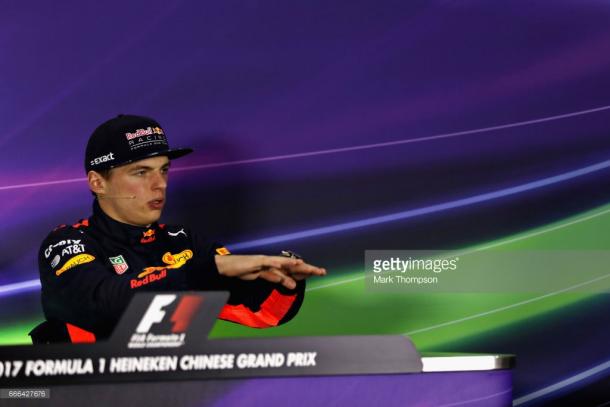 But back to Verstappen; who said overtaking in 2017 was going to be difficult? Much like Vettel, the Turn 6 hairpin was where he found the most success, just as he did in 2015. His feel for the brake pedal is superb, and allows him to make daring moves others can only dream of. Whilst he may have been one of the pre-season favourites for the Drivers' World Championship, the car is simply not underneath him yet - with Red Bull's 2017 similar to their 2016 start. Over time and development, the pace will come, but you'd think with Hamilton, Vettel and to some extent Valtteri Bottas looking to stretch their legs, it'll be a case of too little, too late this time. However, 25 points over two rounds is not to be overlooked.
Sainz' gamble
When Carlos Sainz looked around and saw 19 cars on intermediates, he looked at his engineers and Franz Tost and asked to stay on a dry compound. Cue disbelief. The decision looked to have backfired miserably, as he went from seventh to last in the blink of eye and a seemingly perpetual blast of wheelspin, even giving the barrier a hefty whack at Turn 3 - lucky to escape critical damage to the left front wishbone and pull rod.
However, as the track dried and the field came in for dry tyres, Sainz suddenly found himself high up the order, even running in fifth for a brief moment after Raikkonen's botched pit stop.
Speaking about his early race experience, Sainz told Sky Sports: "I thought it was too risky. I knew everyone was going to pass me, then the track dried at Turn 6 and I caught the pack. Then, everyone pitted and I thought: Now I'm the clever one!"
Sainz' future beyond 2017 is unknown. He was frustrated by Red Bull's decision to promote Verstappen to the senior team over him in 2016, and was rumoured to be looking for a competitive works drive for this season, settling on seeing out his deal with Toro Rosso. In 2018, there may be seats at Mercedes, Ferrari, Williams, Renault and McLaren (although the latter two could prove to be a backwards step) for the taking, which'll give Sainz the platform he needs to really shine.
Tyres not tiring
Whilst Raikkonen shed lap time at the front of the grid on old rubber, Marcus Ericsson managed to do 51 laps of the race on a set of soft tyres. Having made his sole stop on lap 2, the Swede's only other excursions into the pit lane came when the Safety Car led them into the pits, in order to avoid the other Sauber.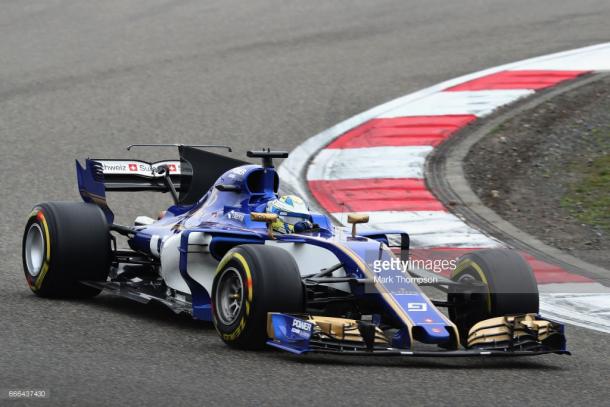 It's a refreshing change. Whilst not unheard of previously under Pirelli, Nico Rosberg managed every lap but one of the 2014 Russian Grand Prix on a single set - China is a different animal, much harder on the tyres than the nice smooth surface and flow in Russia.
It shows the steps Pirelli have made this year with their compounds, allowing drivers to push harder, for longer - something not really seen since the 2010 season with Bridgestone. Although an exciting strategic battle is lost, because most races - if not all - will turn into a single stop affair, the fans and drivers can rejoice at not having to see/experience tyre saving.