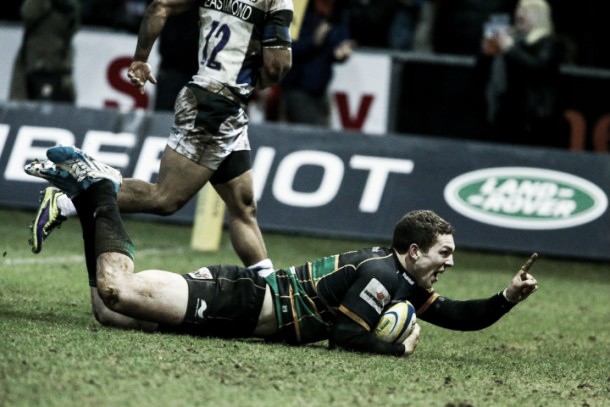 A team that won the Premiership Final in 2014, the first in the clubs history, reached the final the year before and reached the semi-finals last season, now find themselves sitting in 10th place in the Premiership with a distinct lack of spark to be found in the side.
Northampton Saints lacklustre start has seen them only win once so far this season, which has included a shock loss to Worcester Warriors and a narrow defeat at home to current champions Saracens. With this kind of poor form, potentially already damaging their chances of a home semi-final berth if a place in the top four at all, the Champions Cup offers a chance for the club to kick start their campaign.
A matchup against the Scarlets could give Saints the much needed spark
The Scarlets, who have recently signed Wales international Jonathan Davis for next season, in a shock move, are reportedly also after Saints winger George North for a return back to his old club and Toulon fullback Leigh Halfpenny at the end of the season.
It is this type of ambition which often sees itself transfer to the pitch and with the Saints struggling, it wouldn't be unexpected if the Scarlets start fast and physical.
With the Saints struggling with one win in four games, coach Jim Mallinder will be insistent that this is the players chance to perform. A difficult matchup against the Scarlets who currently sit in 3rd spot in their own domestic league, will force the players to wake up and compete which with any luck will spill over to the Premiership.
What to expect from the matchup?
Well expect the Scarlets be physical and quick straight out of the blocks, they know they have a chance to kick the Saints when they are down.
It has been the Saints going forwards rather defensively which has caused the majority of problems so far this season, with the attacks often misfiring and leading to turnovers or just sloppy penalties.
As a result the Scarlets players will be looking to get into the faces of the Northampton Saints players, forcing more and more mistakes.
It is vital if the Saints are going to win just their second game of the season and get off to a much needed good start, in the Champions Cup, then fly-half Stephen Myler has to be on his game. When 'snake eyes' as he is nicknamed by fans, is on his game, the rest of the team settles. He is also the clubs top points scorer of all time, showing how important he can be in tough matchups.