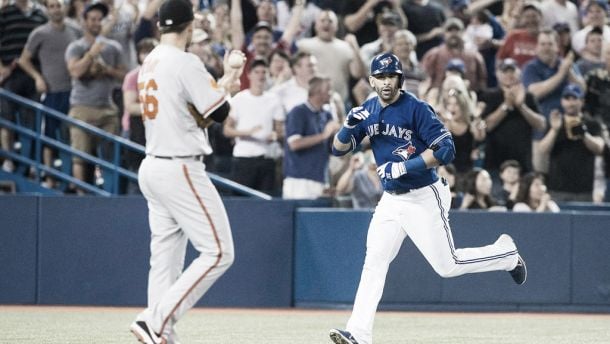 Major League Baseball is set to investigate Tuesday night's game between the Toronto Blue Jays and Baltimore Orioles and potentially hand out penalties.
The Blue Jays have asked the league to suspend Orioles reliever Jason Garcia after he threw behind right fielder Jose Bautista in the seventh inning in Toronto's 13-6 thumping.
A few pitches later in the same at-bat, Bautista launched a home run into the left field stands, and his celebration running around the bases started an exchange of words between the all-star and Orioles outfielder Adam Jones, manager Buck Showalter and both dugouts.
This is the second time in 10 days an Orioles pitcher has threw behind Bautista and he has replied with a home run against the same pitcher.
This isn't the first incident between the two sides, however, as this could be the start of a new bitter rivalry. Jays pitcher Marcus Stroman was suspended five games in September for throwing toward the head of Orioles catcher Caleb Joseph.
Bautista is not in the Blue Jays lineup to face the Orioles tonight having aggravated a shoulder injury on a throw last night, according to reports.