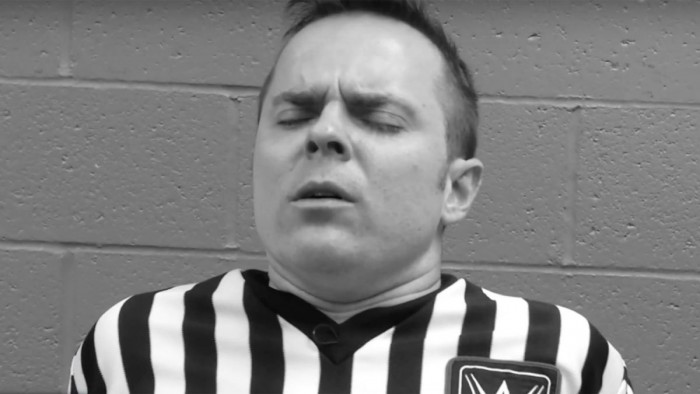 Injuries are common in professional wrestling as 'taking a bump' can often result in pulled muscles or dislocated bones and taking a chair or steel step shot can result in cuts, bruises and further wounds.
However the injuries are often a focus for the superstars but in an unfortunate circumstance it was WWE referee Dan Engler who was in the treatment room receiving stitches following Monday Night Raw.
Triple H - Roman Reigns - Dan Engler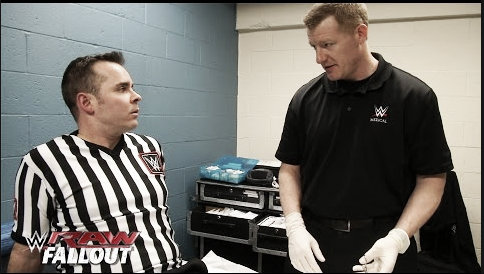 Despite there not being a match in progress a host of officials were involved in attempting to break up a backstage brawl involving WWE World Heavyweight Champion Triple H and his opponent at WrestleMania 32, Roman Reigns.
One official involved was Dan Engler. After attempting to chase after the Game, presumably in an effort to shield him from the oncoming attack from the former Shield member he was hit by a metal box thrown by the king of kings.
The referee could be seen limping out of sight as the altercation continued backstage, Triple H may have been beaten in kayfabe terms but the realistic injury sustained by the 38-year-old are proof that professional wrestling can often be real.
Engler was treated almost immediately for his wounds in the treatment room and a large gash was shown just below his knee that required several stitches as the former senior official at TNA was shown wincing in pain.
Injuries
WWE have had a major issue with injuries over the past year with huge stars such as John Cena and Seth Rollins ruled out of WrestleMania 32, and with the most recent injury of Enger it must seem as if there is a curse on the company.
Neville was also injured during the night as he landed awkwardly during an attempted spot move with Chris Jericho resulting in a fractured ankle, the Englishman carried on performing for 20 seconds after sustaining which likely only aggravated the fracture.
Refereeing wounds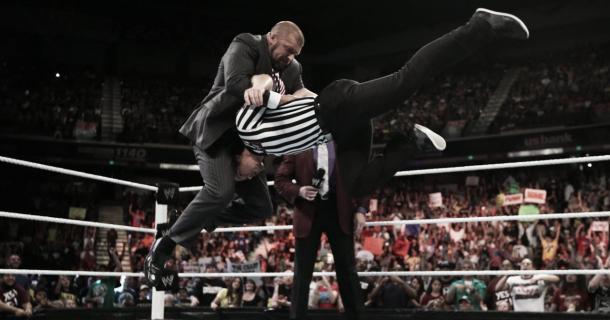 Engler is not the only official to sustain some sort of injury during a match or in this case brawl, as even top veterans of the sport have had their fair share of incidents that have resulted in similar endings.
Tim White: You know the way Kevin Nash is famed for quadriceps injuries? Well Tim White is the Kevin Nash of shoulder injuries. The former official suffered a shoulder injury in a Hell in a Cell match in 2002 and was unable to continue his duties and was out of action for nearly two years.
Upon returning at WrestleMania XX (2004) he officiated the match between Chris Jericho and Christian, however, as luck would have it he re-injured the same shoulder injury during the final three count of the match which in turn ended his refereeing career.
Charles Robinson: The veteran referee suffered a horrific injured outside of WWE, as while officiating for the Premier Wrestling Federation in North Carolina his elbow was knocked out its socket during a accidental kick out during a pin attempt. The wrestler kicked out but also kicked the officials elbow causing the injury which kept him out of action for over four months.
Robinson also nearly lost a thumb in a non wrestling incident (sort of) whilst traveling with the WWE in 2014 during a tour in Saudi Arabia, Robinson was part of the team setting up the ring pre show when an accident occurred. He nearly lost his thumb after the freak incident resulting in doctors needing to stitch it back together.