The final chapter of the Wrestling Civil War will discuss the cold war brewing between World Wrestling Entertainment and Ring of Honor. This is considered a cold war because neither company has made an actual jab at the other, but given the events of the past year, it is clear that ROH is on Vince McMahon's radar.
Right now there is no better time to watch wrestling. There are more successful wrestling shows airing on television than ever in recent history. There's a show on practically every night and with the WWE Network, fans can watch wrestling all the time.
A feud on the horizons
The first sign that shows a possible feud between these two companies occurred last August when ROH and NXT both ran major events nine miles from each other in Brooklyn, New York on the same night. WWE isn't going to own up to anything and neither will ROH, this was simply a coincidence, but not all fans are buying. It does make sense that WWE was only looking to capitalize on the amount of fans, which would be in town for SummerSlam, by throwing NXT Takeover: Brooklyn.
A second "coincidence" between the two companies occurred when WWE booked Japanese legend Jushin "Thunder" Liger to appear for the first time on NXT just as ROH's Field of Honor event featured several New Japan Pro Wrestling talents. New Japan Pro Wrestling was the company that Liger competed on before coming to the WWE. This seemed to really hint a silent feud, but surely that was coincidental as well.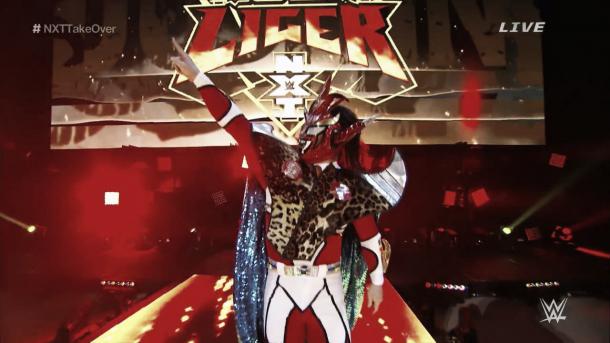 A third indication of a feud between the two companies would be that both had their world champions defend two titles at the same time and in a similar fashion. Back in September Jay Lethal was booked for two separate matches in the same night. For each match, Lethal had to defend the ROH TV Title and ROH World Title. Days later Seth Rollins was also booked in two different matches where he would have to defend the WWE World Heavyweight Championship and the United States Championship at Night of Champions. The only difference between these two men is that Lethal retained both belts whereas Rollins failed to defend the U.S title. Who really copied who on this? Don't forget how these two became double champions in the first place.
Everyone must learn to share
WWE COO Triple H has denied having any malicious intent on booking Liger and any claims to ripping off ROH. However, Triple H can be quoted saying that it makes sense for WWE to piggyback off of other companies that have done the same to them, but isn't that beneath WWE? Either way, both companies should realize that booking their champions to fight two matches in one night is really bad for business. If an accident were to have happened then the main event would have been in jeopardy.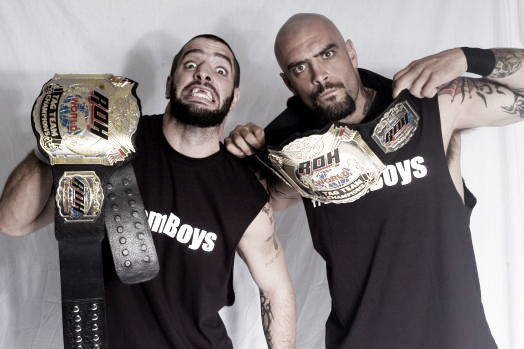 It's no lie that WWE has had a high interest in independent wrestlers over the past year. Signing AJ Styles just takes the cake, but why didn't WWE sign him last year when he left Total Nonstop Action? ROH was lucky to beat WWE in a bidding war over the Briscoe Brothers last year. It's not much of a shocker since WWE actually signed them once upon a time, but they didn't have the look WWE was going for and was eventually let go. Should ROH be worried about WWE being a monkey on their back?
The better show
If a fan is looking for a family oriented show then WWE is the one for them. If fans are looking for a show similar to that of the 90s then they're going want to watch TNA or ROH. ROH is has become the new ECW, just not as focused on extreme hardcore wrestling. ROH provides a format for their talent where they aren't handed a paper before walking out to the ring and being told: "This is what we want you to say." The wrestlers have more freedom than those in the WWE.
Of course, over time ROH will lose talent and so will WWE. This isn't something for ROH to worry about because when talents leave, new talent arrives. With WWE scouting out new wrestlers from the independent circuit, younger talent will have their chance to shine.
Between the two, who is the best? Each company has its qualities and faults. WWE is bigger but that doesn't always mean it's better. ROH is built on in-ring storytelling and has a fast pace since it is only an hour long. It continuously seeks new talent and isn't afraid to stretch the boundaries a bit. Who could forget the Age of the Fall debut? With just 60 minutes to work with, the show is able to feature top stars and move storylines along. Fans are almost guaranteed an awesome main event that will leave them wanting more.
The fault in our stars
WWE RAW lately has become a three-hour show filled with anything but satisfaction. Lately, there seem to be the same matches occurring week after week. The show is always opening up with a promo of the Authority which is getting really boring. Yes, they're the boss, fans get it, now can everyone get over themselves? Remember backstage brawls and confrontations? Where is that now!? The only thing that is really shown backstage anymore are interviews, which are good, but fans don't want to see that all the time. Yet with all the time given for the show, there is only enough room for two women's matches. RAW also has a habit of comedy skits, like really bad comedy skits. This is supposed to be about wrestling! Despite these faults fans still love WWE and there has yet to be a major decline in audience.
It's really up to the fan which show is better to them. ROH is great at focusing on wrestling while WWE is more family oriented and wants to make sure fans are entertained. WWE is also the big leagues and therefore has the big names, but both shows have great talent. ROH has the potential to grow even bigger but hopefully another rating war won't follow, because success comes from competition.