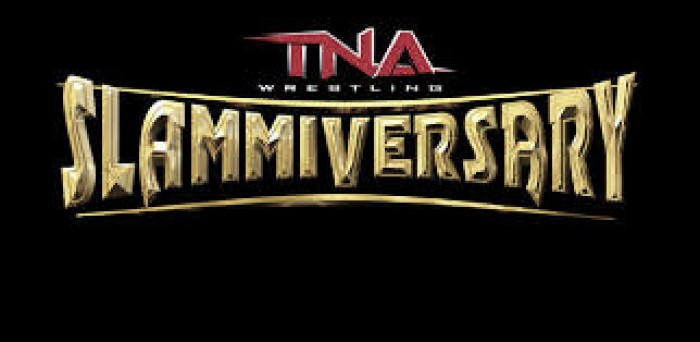 Opening thoughts
If this was someones introduction to Pro-Wrestling they would have smashed the TV and refused to ever open their eyes towards wrestling ever again. It was the worst showing of wrestling in every way, it was like it was written by people who don't understand wrestling and half the people don't want to be there. The fact the news hit today that Lashley resigned with TNA is shocking. TNA are not going to make another two years because it is so bad it is clear coming out of this that the only person the fans care about is Jeff Hardy. What are TNA going to do when he moves on because over the past two years he has made it clear WWE is where he is finishing his career and there is interest from both sides of him returning to the company. From promo work to the commentary this show sucked badly it was too long to start off and the layout of the card was horrible.
X Division Four way match
So opening the show we had the four way match up which included Eddie Edwards, DJ Z, Trevor Lee and Andrew Evric and with them was Greggory Helms and right away he was banned from ringside after he wore the worst suit ever made. The start of this match was Andrew Evric and Trevor Lee going outside the ring as Shane was ejected from ringside then Eddie Edwards and DJ Z did a double drop kick through the bottom rope and started the fighting outside.
This match is why sometimes multi-man matches don't work because there were too many spots where the man on the outside was just watching and waiting to go in and get his stuff in. If someone was watching and waiting why not on the outside at least be smart about it when they look like they are watching and sneaking around to get the perfect opportunity.
Coming into the middle of the match it spilled back to the outside and a giant axel back flip. This author is not sure why it is always a multi-man match with the X Division but the match ended with a roll up and Eddie Edwards gets the victory and the becomes X Division champion for the first time.
Commentary notes
They talked reasons why Matt Hardy has gone all crazy but they have to stop with Jeff Hardy diving 40 to 60 feet during that match they had a few months back when he did the big Swanton it was 15 feet tops! Also, a shout out to Pope because it looked like he cosplayed as Willy Wonka.
Basile Baraka Bradon Dax the Tribunal - Grado and Mahabali Shera
Not a lot to say about this match it was an odd affair, to say the least its good to see Bradon Dax got his eyebrows back. This match was all over the place the build for the hot tag started with Mahabali's Finisher which made no sense, it was not a good showing for anyone here. Again the biggest problem with this match was the commentary team the way they do kayfabe no wonder people say it's dead. Mahabali Shera is about six foot two and Al Snow is taller than him why on earth was he billed at six foot eleven what on earth was that about. The way Grado carries himself is like an excited toddler.
Gail Kim - Maria
This match is set to take place except Maria is gods gift to women's wrestling it can't be said how good she is. She comes out with a cast on and she says she can't fight due to injury and she may never be able to wrestle again. Gail Kim tells Maria to get in the ring or she'll make her but Billy Corgan comes and shows an X ray of her hand and its just a hand, nothing wrong with it and says "That looks like a break to me" He puts Gail Kim in a three way match for the knockouts title.
Jade - Sienna - Gail Kim
This match was one of the better ones of the night this match was okay with the fact that we could all hear Allie, Gail Kim was taped up around her leg and she didn't sell it once it wasn't even targeted during the match maybe a chop block to the back of it but she ran around like it was okay to do so. The coolest thing about the whole of TNA is Jades finish is the Package piledriver. Jades friend shows up and and instead of letting tensions build and then doing the double turn she runs in looks at Sienna smacks Jade with a weapon and runs back out like she forgot something, it wasn't executed well at all! Sienna is the new Knockout champion!
James Storm - Braxton Sutter
James Storm comes out and says he wants to give young talent a chance and Braxton Sutter walks out when he took his hat of and was bald it was shocking don't know why it just was. James Storm dominates this match and hits the worst back breaker in pro wrestling history. James Storm picks up the victory and then dabbed ....
Eli Drake - Bram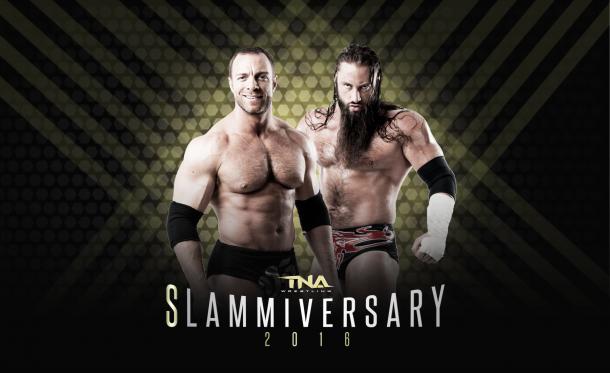 Eli Drake cuts a promo the way Edge would in the nineties, then coming to the ring he slips off the top rope was it supposed to be a thing he does because he tripped during the match again and it was unclear. What was Eli Drake wearing looked like a hula hoops crisp in his nose. Bram still has ways to go and he has improved from when he was in the Ascension. For people who say that Dean Ambrose is cartoon-like just look at this dude Eli Drake. Eli Drake retains after he hits B.F.T
The Miracle, Mike Bennet - EC3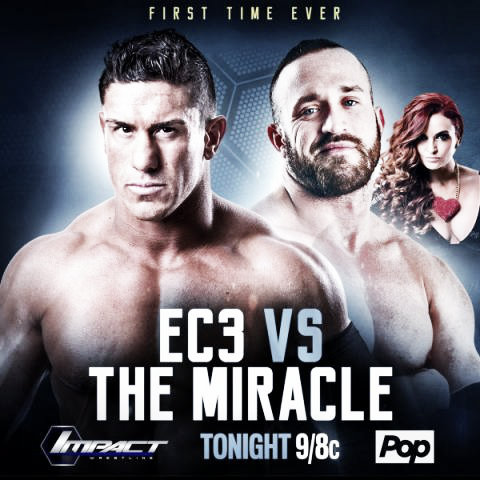 This match was actually entertaining these two are always great so it was to be expected. EC3 is the greatest thing TNA have produced in the history of the company. Mike Bennett understands his character because he is always trying to win by count out, he gets how to get heat but not too much heat was given to him because the crowd didn't give a damn. The false finishes spots came one after another to make them believable and get them out of the way. EC3 picks up the victory after hitting with the one percenter.
Jeff Hardy - Matt Hardy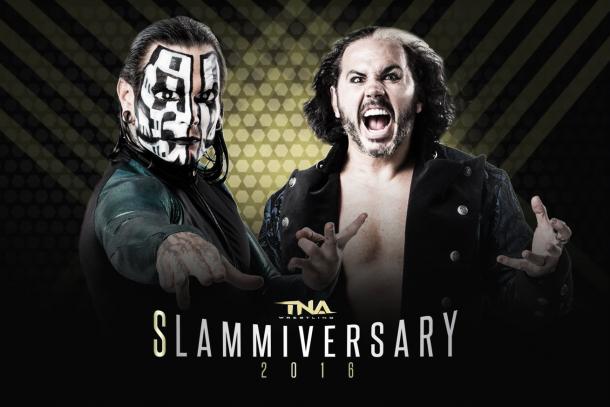 Before the match Matt Hardy cuts a Shakespearean promo its not very good it seems to forced by Matt this author doesn't think he fully understands the character he is doing because Matt Hardy is one of the most underrated wrestlers and he can cut one hell of a promo it is clear its very forced but its still a Hardy boy feud which is always delightful. There was nothing too special about this match it was just another match in a card that failed as a whole. As Jeff Hardy makes his way to the ring Matt attacks him the second Josh Matthews starts talking it takes the match back a few steps, he is so bad he just doesn't understand how stupid he sounds. After one steel trash can was dented he screamed the carnage of this match is unreal. Jeff and Matt then went at it hard when they are getting up there in the years they still take the bumps through the tables like they are in their twenties. Jeff Hardy extends the ladder across the ring and and then puts Matt Hardy through the ladder this author thinks it was supposed to be a Swanton but he had to put the ladder too close to the ropes so it was a splash. Jeff Hardy picks up the victory after four big table breaks.
Decay - the Bromans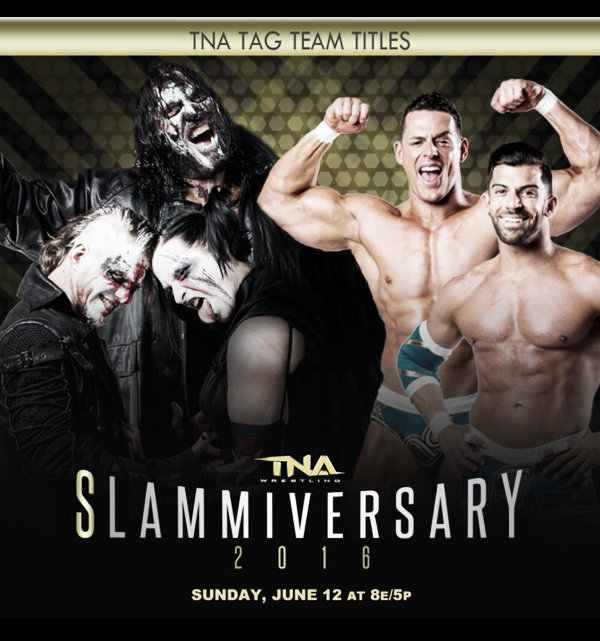 Before the match Decay cut a great promo. Good thing Crazy Steve isn't on the tricycle. Abyss is getting to that Kane phase where he just doesn't sell and doesn't do anything until he has a spot in the match its not good. The worst thing is this match was when the mist got in Abyss eyes and he chokeslamed Crazy Steve it was awful. Robbie E and Jessie should both sign with NXT and join the Bromans that would be something, gives a reason for Zack Ryder to stay on the main roster. To win the match Abyss powerbombed Crazy Steve and folded with him on his neck it looked dangerous.
Bobby Lashley - Drew Galloway
This match was built up to have Drew Galloway as the underdog which doesn't make any sense what so ever because Drew towers above Lashley. Straight away as the match kicks off Drew hits his claymore finish. After Drew Galloway was cut it's clear that TNA talents are still allowed to blade. Lashley pulls out an arm and head lock as this match felt like an MMA match with the way it was built up during the match. After the match, they asked who's next not a smart move with Goldberg's name floating around so we'll have to wait and see.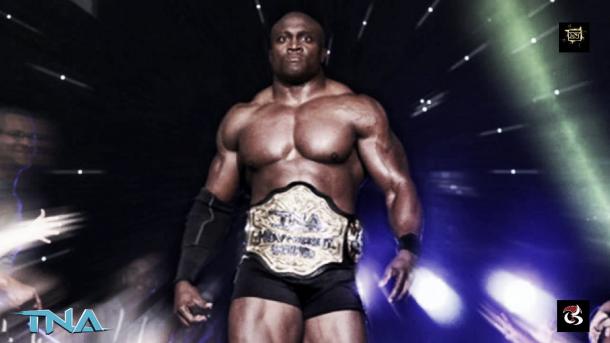 After watching this it is clear that the future of TNA is up in the air because it is a shame that TNA's biggest show of the year was a horrible card and it wasn't something to show and be proud of. If you paid $50 as James Storm says "sorry about your damn luck!"