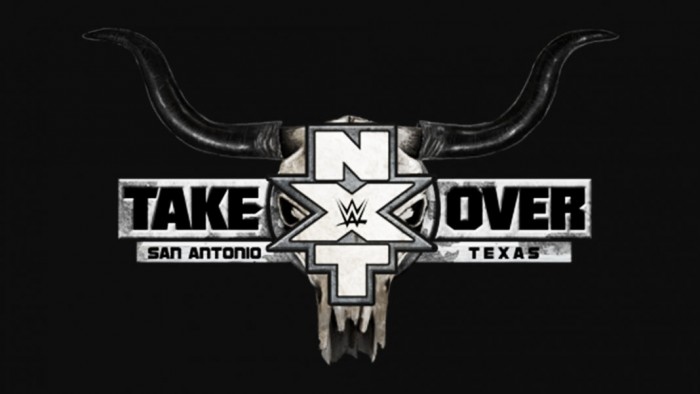 In WWE's newfound tradition, NXT Takeover emanates from the Alamodome in San Antonio, Texas the night before the Royal Rumble. The company booked five matches slated for the developmental brand's supercard, and here are the predictions for how they might turn out.
Roderick Strong vs. Andrade "Cien" Almas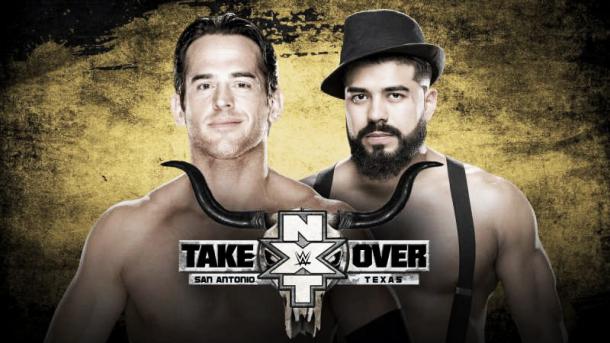 The bookers did not put much of a storyline behind this match. Strong eliminated Almas in a fatal four way number one contender's match. Outside of that and an Almas backstage attack on last Wednesday's NXT, there is not much to say about the build.
The match itself should be good. Almas and Strong are more than capable in the ring to steal the show on one of the weaker Takeover cards to date. I will take Almas to pick up the win here. The former La Sombra is starting to find his stride as a heel after a lackluster babyface run (to be fair, creative set him up to fail). A Strong victory is not out of the question, especially if there is a title change in the main event. However, he needs to establish a discernable character first and an extended feud with Almas helps in that regard.
Prediction: Andrade "Cien" Almas pins Roderick Strong
Eric Young vs. Tye Dillinger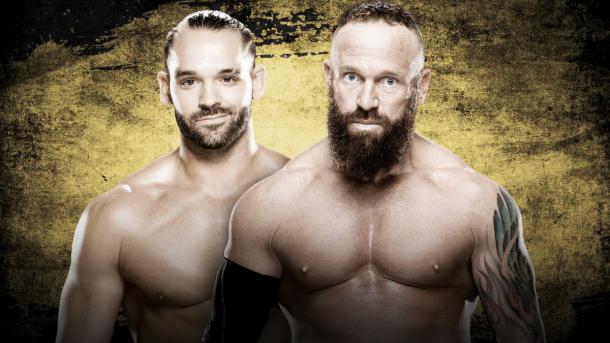 This match arguably has the longest backstory of the five contests. Youngs stable "Sanity" beat down Dillinger in the Dusty Rhodes Tag Team Classic and again in a number one contenders qualifying match. Dillinger appears to be the latest babyface to receive the "underdog loses matches and questions himself storyline". Dillinger questioning his abilities and his need to be in NXT seem to foreshadow a call-up, potentially in the Rumble. I think that is a mistake. If WWE calls him up now, he will get lost in the shuffle and wind up in the lower mid-card. Let him find himself first. As for Young, he has done a nice job carrying over the unstable character he played toward the end of his run in TNA. He was good two weeks ago on NXT attempting to recruit Dillinger into his group. There is some good potential with Sanity.
The match should be fine. Both men are solid but unspectacular hands in the ring. A Dillinger win would be nice, but Young and his crew need credibility while they are in their infancy. I expect Young's henchmen get involved to give Dillinger an out for losing. Whether he stays or goes, I expect "The Perfect 10" to eat the fall here.
Prediction: Eric Young pins Tye Dillinger
Asuka (c) vs. Billie Kay vs. Peyton Royce vs. Nikki Cross, NXT Women's Championship Fatal Four Way Match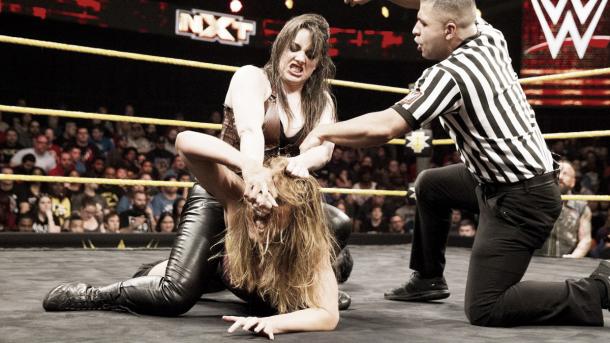 This match might indicate that creative booked themselves into a corner with Asuka. The champion has been phenomenal since debuting in fall 2015 and is the class of the NXT Women's division. She is far and above everybody in the division, to the point where there are no believable challengers outside of Ember Moon and maybe Cross.
Take the build to this match for instance. Bookers set this up with a two-on-one attack on Asuka by Royce and Kay. The problem is the Australian duo were positioned as cannon fodder to the likes of Bayley, Sasha Banks, even Alexa Bliss and Carmella for months prior to their push. Asuka could have beaten them up and no one would have thought twice about it. They come across as midcard henchmen at best and their ring work is unspectacular up to this point (to be fair, how good are the matches gonna be when they're working with Liv Morgan). Adding Cross to the mix makes it a little better, as the writers have protected her for the most part.
I expect the match to be all over the place. The match also appears to be tailor made for the champ to lose without taking the fall. Asuka might be on the call-up watch list (possibly on RAW, where a big match with Charlotte awaits). I expect to also see the predictable spots with Royce and Kay where they work over Asuka, only to sneak pinfalls and then fight each other. They could win, but it would be a major step down for the title if one of them took it. That leaves Cross, who appears more on Asuka level. Cross plays her character well and is a much more believable champion than the two Aussies. I expect Asuka to knock one of them silly with a kick (probably Royce), only for Cross to sneak in and steal the title. I assume Ember Moon challenges the winner at the next Takeover.
Prediction: Nikki Cross pins Peyton Royce to win the NXT Women's Championship
#DIY (Tommaso Ciampa and Johnny Gargano) vs. The Authors of Pain (Rezar and Akam) (w/Paul Ellering), NXT Tag Team Championship Match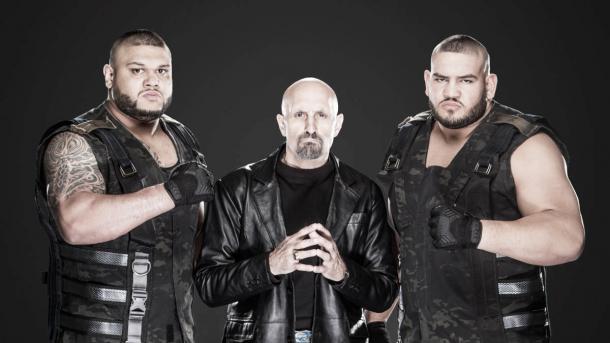 After three stellar matches against The Revival, Gargano and Ciampa face two well-protected monsters in the Authors of Pain. Outside of their match with TM-61, Rezar and Akam's matched don't last that long, and for good reason. The Authors are still green in the ring. However, they face a team that is very good at drawing sympathy from the crowd and selling offense. Like many of the matches here, there was not much of a build but the "big men vs. little men" story tells it itself here, especially with the talents of the champions.
The match should be decent, but nowhere near the MOTY candidates that #DIY/Revival was. With the NXT tag team division so thin yet again, the Authors of Pain need to to win here so #DIY go into chase mode. Still, it feels too soon to have Gargano and Ciampa lose the belts. I predict a finish that protects the Authors and sets up a rematch for the next Takeover.
Prediction: #DIY wins by disqualification.
Shinsuke Nakamura vs. Bobby Roode, NXT Championship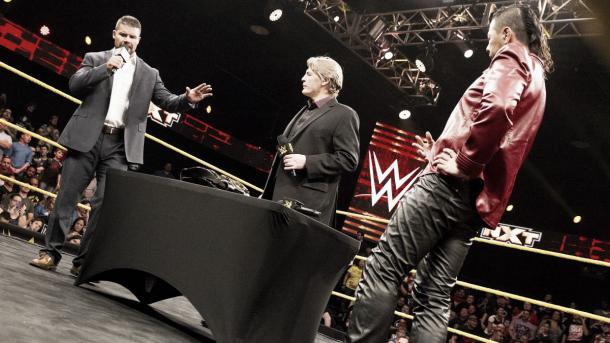 This is the biggest match NXT can put on right now, yet it still feels kind of "meh". My opinion may change when the entrances start. At the risk of sounding like a broken record, there was not much of a build to this either. Roode won a fatal four way match to get the title shot here. Outside of an entertaining contract signing, there was not much interaction between the two.
At worst, this should be a pretty good match. Roode is a solid hand and Nakamura is fantastic. The result could go either way. Nakamura is on the call up watch as well, but the company could hold off until later in the year for that. If the "King of Strong Style" is staying, then a clean win is a better possibility. Roode came across as a star from the moment he debuted, aided by his catchy entrance. He will be NXT Champion in the near future, but that may come later as well. This one is a coin flip, but Nakamura is the safe pick here.
Prediction: Shinsuke Nakamura pins Bobby Roode to retain the NXT Championship