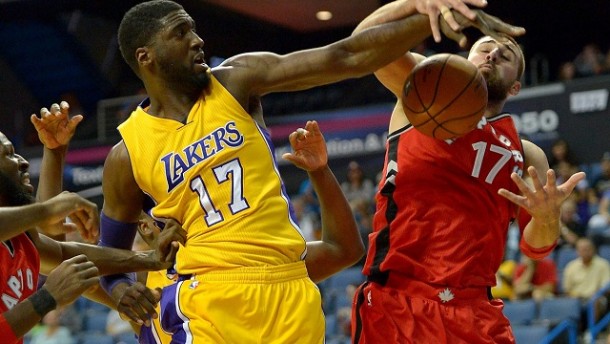 LOS ANGELES, CA -- Los Angeles Lakers center Roy Hibbert talked to the Los Angeles media prior to facing his former team, the Indiana Pacers. Hibbert spent seven seasons with the Pacers, but the two parted ways during the 2014-15 off-season after the Pacers decided to switch play styles.
Indiana used a "back to the basket" approach with a "3-out, 2-in" offense with Hibbert on the team, but they have gone to a small-ball style to utilize the skills of superstar Paul George. Their new style is match-up dependent, but it is built around George and his role players quite effectively. Indiana used a four perimeter player lineup for better floor spacing, speed, and offensive efficiency when they are facing either a small-ball team or a team that has a non-dominant traditional power forward in their starting lineup.
Roy Hibbert spoke to the media regarding facing his former team (via Los Angeles Daily News):
"I'm going to feel something. But I have to move on and try to get a win. I haven't talked to them in a while. I haven't watched any of their games. No offense, but I don't think many of them are on TV."
The Indiana Pacers decided this offseason that they needed to become effective at small-ball. This was because of the fact that the Miami Heat effectively used small-ball to beat the Pacers twice consecutively in the Eastern Conference Finals. Watching the Golden State Warriors take the NBA by storm with small-ball made many teams make off-season transformations, so it left the Pacers with no choice but to go allowing with this trend.
Having a player like Paul George at the center of this identity shift has made the shift easier for the Pacers. Indiana is still a work in progress on both sides of the ball, but they have seen results and improvement over the course of this early season. Indiana is currently 9-5 on the season and they have won nine of their past eleven games. Meanwhile for the Lakers, they have a 2-13 record and it doesn't look like things will get better any time soon.