The Los Angeles Lakers had a disaster of a season, but L.A. could find franchise-changing talent with a little luck in this June's NBA Draft.
With Kobe Bryant headed off into the sunset, the Los Angeles Lakers now begin a confusing rebuild that really has no form nor shape yet. There is talent on the roster, to be sure.
Point guard Jordan Clarkson was a First-team All-Rookie selection in the 2014-15 season and he only grew further as a player this year. D'Angelo Russell is a versatile stat-stuffing guard, whose future is somewhat hazy given the off-court incident that basically amounted to snitching. Julius Randle is an absolute monster who came alive in the last two months of the season. The rest of the Lakers roster is hardly as promising, but to have three exceptionally talented youngsters bodes nothing but well.
The Lakers also just hired a premier name to coach the team, inking Luke Walton to try to turn this ship around. Walton will inherit the aforementioned talent, but the Lakers only loosely resemble a team at this point. There is a gaping hole at center and the Lakers really need a scoring wing player who can put up points with high efficiency.
More talent needed
Right now, the Lakers do not really have a proven franchise talent, though L.A. felt confident Russell could have been that. He still could be, but he has an uphill battle in earning the trust of a league that just saw him record Nick Young's confession of infidelity. It does not get more sticky that that.
But L.A. finished with the second-worst record in the league and has a 19.9 percent chance at the No. 1 pick and a 55.8 percent chance of landing a top-3 pick. That is fortunate both because there is a true No. 1 pick in this draft and also a first-tier of talent that pretty much runs three players deep. The Lakers will likely be looking at a choice between international prospect Dragan Bender, Duke's Brandon Ingram and LSU's Ben Simmons.
If the Lakers land outside of the top-3, their pick will go to the Philadelphia 76ers. So there is a 44.2 percent chance that the Lakers do not even have a pick in this year's draft. But we will ignore that worst case scenario mostly for the purpose of discussing draft options.
Among those possibilities are Oklahoma's high-scoring swingman Buddy Hield and Kentucky's sharpshooter Jamal Murray. But both of those scoring talents are inferior to what Ingram would bring to the Lakers.
Hield is a pure scorer and Murray is the best shooter in the draft. The Lakers would not be getting duds by any stretch of the imagination. Of course, both are projected to go outside the top-3, and the Lakers will not be selecting in that range without trading down.
Could Ingram be the future?
Brandon Ingram is a prototypical 6'9" small forward. He is slight of frame, but that only further accentuates the comparisons to Kevin Durant. The thing is, Ingram is really a lot more like Tracy McGrady. He is lanky much like both Durant and McGrady, but what will set Ingram apart is his ability to also get to the basket. His slashing strengths could enable him to someday lead the league in scoring, especially if he adds some strength so he can finish through contact at the rim.
Whether he resembles Durant or McGrady may be irrelevant in the grand scheme of things: he is a gifted true small forward and NBA ready, despite being a freshman. He has the shooting range and ability to light it up, and the Lakers need shooting and high-volume scoring.
L.A. averaged just 97 points per game this season. Ingram would slide into the hole at the 3-spot left by Kobe Bryant, and the Lakers would naturally benefit from having a small forward who shoots far better than 35 percent from the field (no disrespect, Mamba).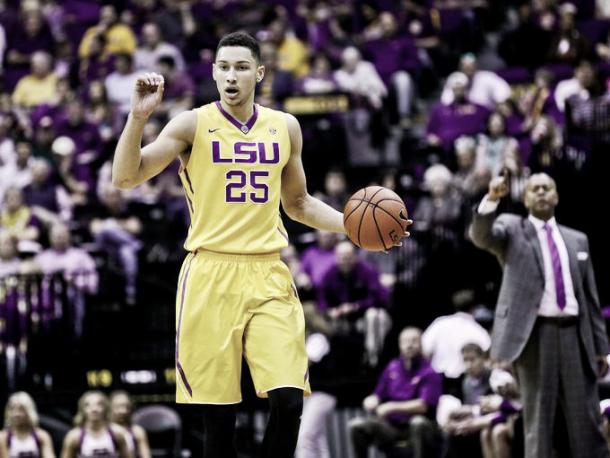 Simmons has potential too
Ben Simmons may be the best player in this draft, but it is hard to call him the best fit for the Lakers. And it is simply for this fact: Julius Randle is good enough not to abandon the project. Randle is reminiscent of the late Anthony Mason, as a strong-bodied lefty forward capable of both making plays and scoring.
Randle's attempts to play a point-forward role were a mixed bag, but the skill set seems to indicate Randle could be a key feature in the Lakers rebuild. Simmons, of course, could be the next Blake Griffin, so perhaps passing on him would be tough. But faith in Ingram's ability to put the ball in the bucket while performing a much higher usage role is what makes him the more attractive pick for Luke Walton's club.
Simmons' potential may be difficult to pass up, though. Some even compare him to LeBron James. He certainly handles the ball well enough and has sufficient athleticism to be dominant. If the Lakers brass feels he is a true franchise talent, then perhaps it is requisite to part ways with Randle. Certainly, we have seen teams abandon promising players in exchange for guys' whose upside seems off the charts.
Is Simmons that good? Some say so, but projecting how well his talents translates is a less exact science since he relies so heavily on his athleticism. What happens if an injury robs him of it?
Bosnian-born 7-foot forward Dragan Bender is also a 4-man, and while his potential is certainly high, his playing time would eat into Randle's development. The Lakers perhaps would even consider Hield or Murray before taking Bender. He is perhaps perfectly suited for this era as a long-bodied power forward, but it is hard to ignore a parallel between a player like Bender and the failed No. 1 overall pick that Andrea Bargnani was.
Of course, the counter argument is that Bender is tough and long enough to be more like Pau Gasol. Predictions are a very hazy thing with some of these 7-foot Euro prospects. There will be always those who bring up the name Darko Milicic, too.
Both Hield and Murray can shoot and fill it up, and shooting is, of course, a skill that translates very well when making the leap to the NBA.
The Lakers need shooting and betting on a hot-shooting youngster has proven to be a favorable proposition. Just ask the Golden State Warriors, who landed Klay Thompson No. 11 overall in 2011, or even the Phoenix Suns who did the exact same thing with Devin Booker, landing a great talent at No. 13 overall in 2015.
Taking a gunner is seldom a poor idea, and Hield and Murray are both going to be very good NBA players, so they will be on L.A.'s radar if they miss out on both Simmons and Ingram.
No matter what the Lakers do, at this point, the only players who really figure to be definitely in the long term plans are Clarkson and Randle.
The Lakers thus can really look best at scoring wing or a defense-anchoring big man. There will be options in free agency too, but when it comes to shaping the team's future, Ingram is the best case scenario for the Lakers.
It will just require things going L.A.'s way in the draft lottery.