The Toronto Raptors defeated the Los Angeles Clippers 118-109 at the Air Canada Center behind DeMar DeRozan's welcomed return to the starting lineup.
Clippers get out to early lead
Los Angeles flew out of the gates quickly, jumping out a 17-8 lead with Raymond Felton, Austin Rivers and JJ Redick finding their grove early.
Also returning from a lengthy spell on the sideline, Blake Griffin had his best night since his return to the court. Griffin, in a losing effort, quietly put up a triple-double. He went 11-19 on the night from the field, making 2-3 attempts from deep, while hauling down 11 rebounds, and putting up a career-high 11 assists.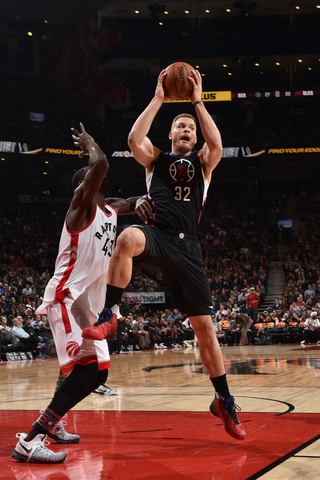 Toronto fights back
But then, the Raptors, led by a red-hot DeRozan, who led all scorers with 31 points on 11-22 shooting overall from the floor, started to chip away at the Clipper's advantage.
Kyle Lowry, who scored 24 points and finished second on the team in that department, made two three-point shots in a row to cut the deficit to three points. DeRozan's night got going late in the opening frame. He hit a shot from inside the arc to take a 33-31 lead with 0:24 seconds before slamming home a rebound with one second to go in the first quarter.
"Felt great to be back out there just competing with my guys, putting up a victory, especially at home, it felt good," DeRozan told reporters after the victory.
The second quarter belonged to the Raptors. Everytime the Clippers tried to get back into the game, Toronto made a subsequent run of their own. Terrence Ross opened up a seven-point advantage after hitting a three point shot. The ageless Jamal Crawford then proceeded to drain back-to-back three points, as the Clippers trailed by just one point.
That was not enough, however, as Toronto continued to pull away, finding holes in the opposition's defense. DeRozen and DeMare Carroll scored the last seven points of the quarter to extend the Raptors' edge to 10.
As the third quarter ramped up, Toronto pushed their lead well into the double digits, with Jonas Valanciunas six of the first nine Raptors points of the second half. Valanciunas finished the night with another double-double to his name, his 20th of the season. The 24-year-old Lithuanian added 21 points, getting a majority of his points right around the rim.
Toronto was up by 15-points at the end of the third quarter, and that was enough to secure the win despite a small comeback attempt from the Clippers late in the game.
Coming up
Both teams resume play away from home on Wednesday night. The Clippers play the New York Knicks at Madison Square Garden, while the Minnesota Timberwolves welcome in the Raptors.