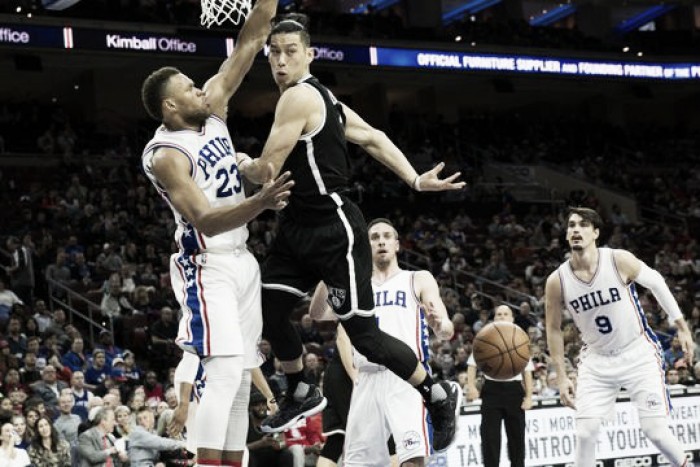 The Brooklyn Nets have begun the month of April with a 3-0 start after picking up a dominating road win against the Philadelphia Sixers at the Wells Fargo Center.
Brooklyn Showcased Hot Offensive Start
The Nets shot 71 percent from the field in the first stanza of the game and went 6-of-9 from beyond the arc. They tied a season-high of points in an opening frame and lead 40-27. Apart from outshooting their opponents, Brooklyn also had the upper hand in the rebounding department early and grabbed 10 boards.
Nets Continued Dropping Shots
If displaying a 40-point quarter wasn't impressive enough, Brooklyn added 41 more points in the second period. They tied a franchise-high for most points in a first half with 81. The last time that occurred was in 1983 during a game against the Denver Nuggets. A big reason for that accomplishment was due to them increased their three-point shooting percentage to 71 percent by halftime.
Brooklyn Cruises by in Second Half
By the conclusion of the third period, the Nets led 111-77, a season-high for most points after three quarters. For the final 12 minutes of the game, Nets head coach Kenny Atkinson rested his five starters. Philly managed to outscore their opponents in the final frame of the contest 40-30, but the huge point deficiency the Nets built was too much to overcome.
Top Performers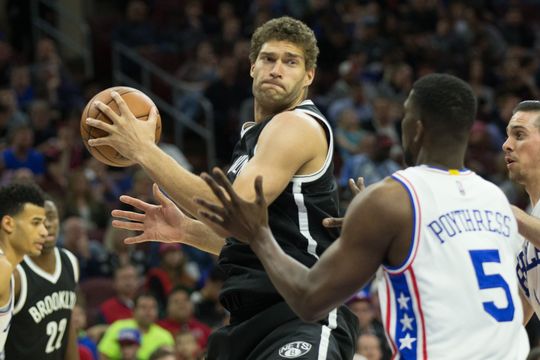 Brooklyn Nets
Brook Lopez and Jeremy Lin led the way with 16 points apiece. Every player on the team scored at least two points and nine of them converted on at least one three-pointer. They finished the game shooting 64 percent from the floor. Their franchise high is 65 percent, which was set in 1982 against the Detroit Pistons.
Philadelphia 76ers
Rookie Timothe Luwawu-Cabarrot scored 19 points. Richaun Holmes contributed with 16 points while Shawn Long added 18 points off the bench.
Quotes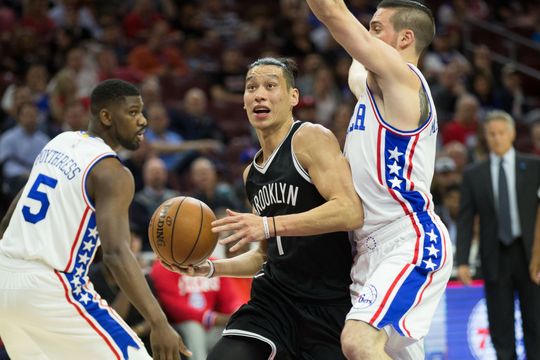 Philly's head coach Brett Brown said,"We give Brooklyn credit, none of us could guard any of them."
Sixers guard T.J. McConnell praised Brooklyn's guard Jeremy Lin and said "He's kind of the poster guy for guys that are undrafted, to show that you can do anything even if you are not drafted. So he's kinda paved the wave for guys like us, and I've enjoying watching him."
Other Things to Note
-Sixers lost their fourth straight game, but won the season series against the Nets, 3-1.
-Philadelphia players Ben Simmons, Jahlil Okafor, Joel Embiid, Robert Covington, Jerryd Bayless, and Sergio Rodriguez were all out with injuries. For Brooklyn, Isaiah Whitehead and Joe Harris did not play due to dealing with their share of injuries.
-Brook Lopez is 44 points away from passing Buck Williams' franchise scoring record of 10,440.
-The Nets are 10-10 since Mar. 1.
-The last time Brooklyn started April with a 3-0 record was in 2004.
Up Next
Brooklyn and Philadelphia have four games remaining in the season and will both be in action on Thursday, Apr. 6, at 7:00 P.M. EST. The Nets will take on the Orlando Magic while the Sixers match-up with the Chicago Bulls.