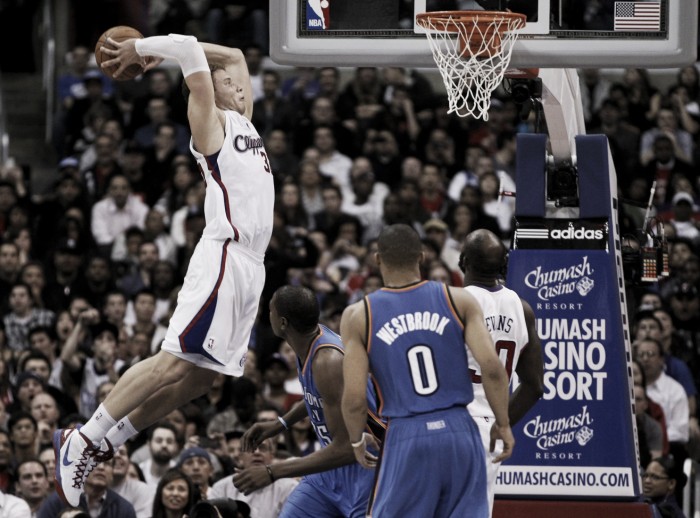 Houston Rockets general manager Daryl Morey is notorious for always keeping all options open and desperately trying to bring in stars from free agency every offseason. This year is no different; maybe that's why he just got signed to a four-year extension.
As of now, the Houston Rockets are pursuing Chris Paul (check this article about him), Blake Griffin, Kyle Lowry, and Paul Millsap. In order to create the cap space needed to offer them a max contract, they are shipping Ryan Anderson, Lou Williams, and Patrick Beverley. They will more than likely have to trade at least two to afford one of those marquee free agents.
But should they? Some star pairings don't work, and the team needs specific types of players to mesh well with James Harden and Mike D'Antoni's system. Here's a look at each of the aforementioned players except for CP3 (sorry, already wrote about him, here's another link in case you didn't want to open the previous one).
Blake Griffin
How He Will Fit
Griffin is an extremely unique player. A 6-foot-10 power forward that can take the ball coast to coast doesn't come around often. One that has both a post and outside game is rarer. One that can do anything in the below video? Yep, just Griffin.
That was in Lob City, but imagine on an offense that emphasizes speed and explosiveness? Constant Harden to Griffin alley-oops will populate everybody's news feeds. They will become one of the most fearful combos on fast breaks and pick and rolls ever; Steve Nash/Amar'e Stoudemire 2.0.
He also has good court vision for a big man, averaging 5.03333333333333333333333 (you get the point) assists per game in the past three seasons. He ranked second among power forwards the past two seasons and first the year before. He's the perfect player to have in the high post for kick outs to open shooters and feeds to an improving Clint Capela in the low-post.
Finally, while he isn't the rebounding machine he was when he first came in the league, he is still a step up on Ryan Anderson. The same can be said defensively as Anderson was a huge liability on both. Griffin wouldn't vastly improve the team's defense or rebounding, but his athleticism will definitely help.
How He Won't Fit
For so long the Rockets were trying to find a stretch four, finally striking gold with Anderson. While Griffin can make threes, he isn't particularly great at them nor does he take them that often. Last season, he shot 113 threes, making 33.6 percent of them. Compare that to the 40.3 percent conversion rate on 506 threes Anderson had.
I'm not saying that Griffin can't fit the role, but he will have to work on his shot. Nowadays, 33.6 percent from deep is just alright; he would've ranked 20th last year if he had attempted enough to reach the leaderboards. That won't cut it in an offensive system that likes to stretch the floor.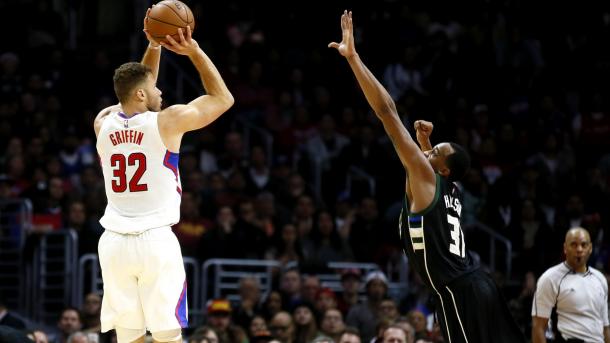 Also, while he is extremely athletic, Griffin will somewhat slow the game down. There will be times where he will demand the ball in the post and back his defender down. This isn't necessarily a bad thing because he can force the defense in, leaving the shooters open. Don't start thinking this would be like Dwight Howard; it just means D'Antoni will need to make adjustments.
There are two issues that aren't play style based but might be the most important. The main concern with Griffin is how often he gets injured; he hasn't played 70 games in any of his past three seasons. While he would be helpful when healthy (obviously, kind of a stupid comment), the team will be absolutely devastated when he isn't. They might only have Harden and Eric Gordon as offensive options depending on who they give up to free up cap space.
Finally, Griffin isn't really a true leader. You know who else isn't? Harden. I promise, no rants about that today (but you can take a quick peek here). The problem is that the Los Angeles Clippers are one of the biggest disappointments come playoff time ever, and that's with Paul, a solid leader, heading the team. A combination of Harden and Griffin just seems destined to not work in the postseason.
Worth The Price?
Yes, but D'Antoni will have to change the offense. Griffin will be the best post player he's ever worked with, so he has to use that to his advantage. Even if it slows the game down, it can lead to many open shots. Griffin can possibly become the big man the Rockets envisioned in Howard.
Injuries and leadership are a big concern, but at this point, the team needs to get desperate. The Warriors are by far the best team in the league, and risks need to be made to compete with them. This risk is one worth taking.
Kyle Lowry
How He Will Fit
Lowry is a very offensive-minded point guard. You'll come to learn that any player that can be described as offensive can fit on the Rockets. Just kidding, but it's true about Lowry. He's a great three-point shooter, scoring 41.2 percent of his shots from deep and averaging 22.4 points a game. He is also an above-average distributor, dishing out 7.0 assists per game. Therefore, he can help Harden with ball handling duties.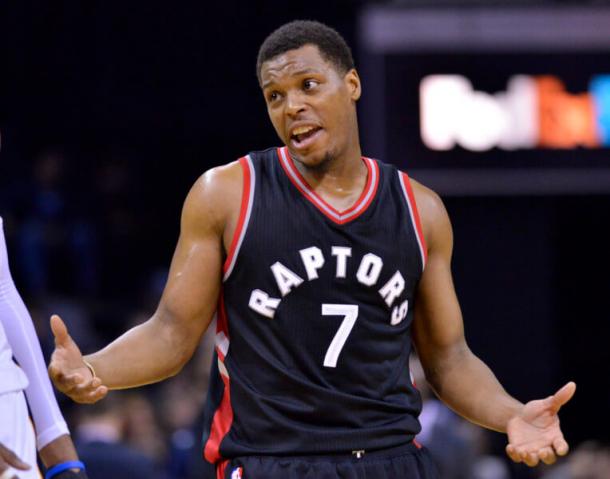 How He Won't Fit
I promise that the last paragraph wasn't short due to laziness. It's just that Lowry isn't that great of a fit. While it will be great for the former Rocket to come back, it doesn't make much sense when there are other options out there.
First, he is very ball dependent. While many would argue Paul is too, Lowry is more of a scorer than a passer. Therefore, it would be hard to balance him and Harden. Considering the egos both players have, this just becomes even more of a problem. The division between the Rockets two former stars (Harden and Howard) caused major locker room issues before.
Second, he isn't the greatest defender. This becomes even more devastating if the Rockets give up Beverley instead of Williams. The only solid defenders on the team would be Trevor Ariza and Capela, and that might be a stretch of a statement.
Lastly, Lowry has never performed well in the playoffs. His numbers fall every postseason, especially the last one. He averaged only 15.8 points and 5.9 assists. He is the main reason the Toronto Raptors can't go far.
Worth The Price?
Definitely not, especially for someone who will cost around the same as Paul. He will not fit particularly well on the team nor will he help much in the playoffs. Finally, there is a huge risk of locker room troubles, something that affected the team so much they went from second to eighth in just one season.
Paul Millsap
How He Will Fit
Millsap is intriguing since he is the best candidate if the Rockets are trying to improve on their biggest weakness: defense. He is a pretty good defender despite his height and will be able to slow down players like Draymond Green and LaMarcus Aldridge. He is definitely a step up from Anderson in this regard.
He is also the safest bet out of all of them. He doesn't need the ball in his hands much and doesn't have an ego to worry about. The Rockets will get quiet yet effective production out of him; his averages last season were 18.1 points and 7.7 rebounds. Those are quality numbers and improvements from Anderson's 13.6 points and 4.6 rebounds.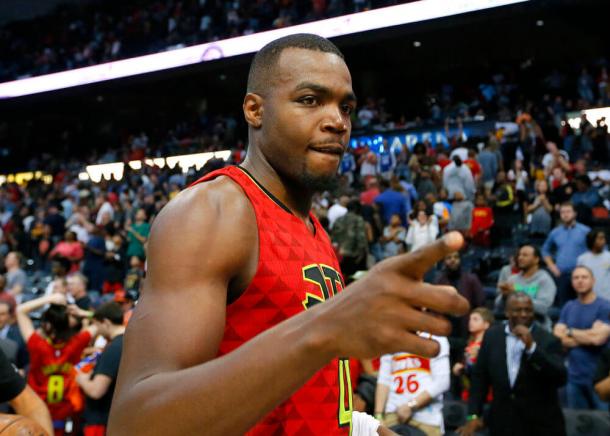 How He Won't Fit
There are two main issues with Millsap. Number one, he's an even worse three point shooter than Griffin. He only shot 31.1 percent from deep, so like Griffin, he would have to work on his shot. He did take 241 threes though so that shows he is at least willing to let it fly and won't need to change his game to fit the system, just improve on it.
Also, he honestly will not be enough for the Rockets to compete with the Warriors. He is an aging great player but can't be considered a star. His shooting percentages have decreased every season, and who knows when he has reached the point where he cannot play well anymore. It can happen in the next year or two.
Worth The Price?
It depends on the price. If he is cheaper than Griffin, then he might be worth considering. He will solidly improve the team on both sides of the court without much risk. Plus, the team can use the remaining space to either keep players or add a new one.
However, if he is also demanding a max-contract, it would not be worth it. He would be asking for a lot of money for a long time, probably past the point where he is playing well. This will push the Rockets far back and even after the Warriors break up they won't be able to compete.
Oh did I forget one? Nope, already wrote about Paul, you can check that article here. I promise this isn't a desperate way to increase views. Oh, look, another link. Ok, I'm done, don't hate me. That last one's actually worth checking though.
Therefore, it's great that the Rockets are looking at all their options, but some of these wouldn't be the greatest of moves. The two best ones would be either of the Clippers' pair since they are stars and are the only chance the Rockets have of competing with the Warriors. Millsap may work if paired with one more quality player, but Lowry should not even be considered.
Then again, this is Morey we're talking about, so who knows what he'll do.