 Deck the halls with Christmas jerseys because there's going to be an awesome night of basketball come December.
A look at the matchups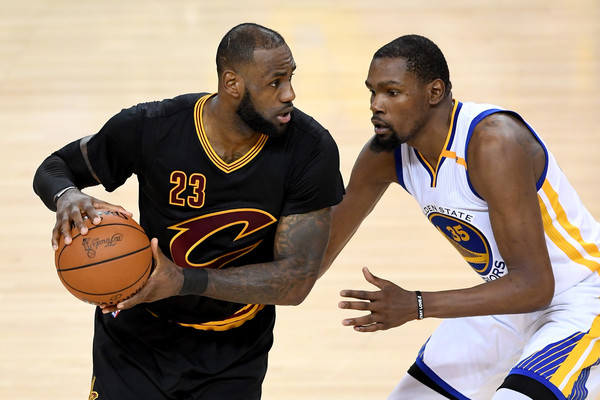 For the third straight year, we will see the Cleveland Cavaliers and Golden State Warriors matched up on Christmas, another day of animosity between Finals contenders. The intensity and talent on both teams will likely bring out one of the best games of the day.
The rest of the games are as follows:
Houston Rockets vs. Oklahoma City Thunder
New York Knicks vs. Philadelphia 76ers
Los Angeles Lakers vs. Minnesota Timberwolves
Washington Wizards vs. Boston Celtics
It's clear that Adam Silver had a mission to make the most of this coming Christmas, as there are a few matchups with a bit of history behind them. For instance, the Wizards and Celtics matchup comes after a heated seven-game series in the 2017 playoffs. Both teams exhibited some distaste with one another, which means their Christmas game should follow the same pattern.
The Timberwolves and Lakers get to play together giving the second overall pick, Lonzo Ball, a chance to show off his talent against another young Western Conference opponent.
Having the Rockets and Thunder matched up brings league MVP, Russell Westbrook, and runner-up, James Harden, onto the same court on a special day of celebration.
The Knicks and 76ers, much like the Lakers and Wolves, bring a matchup of younger players against one another, giving the nation a chance to see some developing teams compete.
Predictions
Seeing how the Cavaliers might have to rid themselves of Kyrie Irving before the season even reaches Christmas, the Warriors look like they continue to have the upper hand against the Cavs. John Wall recently signed a nice extension and looks to be bringing his best basketball into the season, so the Wizards might rout the Celtics in that one. The Wolves and Lakers might be a toss up and the same goes with the Knicks and 76ers. With the additions of P. J. Tucker and Chris Paul, the Rockets have a couple of defensive and offensive pieces that could turn things around for them on Christmas Day.
Only time will tell how all these games end up, so the most we can do now is wait!