 The Golden State Warriors defeat San Antonio Spurs at AT&T Center on Thursday night. With this result, they got their second straight win road game.
The Warriors are now 6-3, tied with Utah Jazz, Memphis Grizzlies and Minnesota Timberwolves for the third place in the Western Conference.
Klay Thompson notched 27 points, with three rebounds and two assists. Followed by Kevin Durant who scored 24 points, eight rebounds and added five assists.
Spurs' forward LaMarcus Aldridge led their team to score 24 points, with ten rebounds, and two assists. While Kyle Anderson, only marked 16 points, with seven rebounds and four assists.
Spurs led at the half
San Antonio started dominating the game scoring 33 points first-quarter points, while the Warriors scored only 24 points. The Warriors showed lack of pace and chemistry, especially on defense.
In the second quarter, Golden State had begun to increase their pace, especially because Durant, Thompson and Stephen Curry were playing better. The Warriors end up scoring 26 points, whilst Spurs only 22.
Although the Warriors were struggling to reduce their deficit, the first half ended 55-50.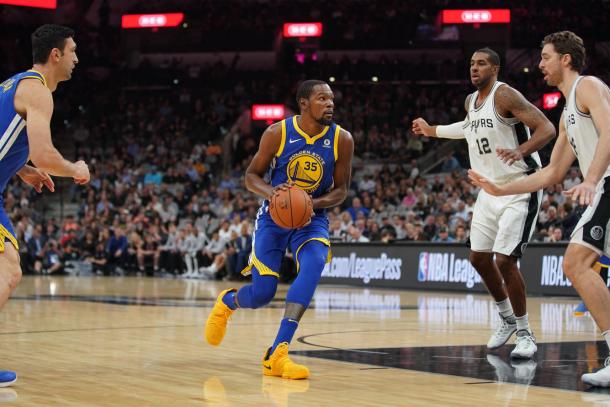 Warriors show their force and shift up the game
The second half started with Warriors turning up the game to Draymond Green hitting a three-point shot and consequently Thompson as well.
Despite San Antonio fighting to reduce their deficit, Golden State ran away in the third quarter, pouring in 34 points, whilst the hosts scored 23.
The Warriors began the fourth quarter leading 84-78. They controlled the game giving no chance for the rivals. Including the fact that the Spurs gave up and shot only 14 points.
Eventually, Golden State came out on top with the victory, beating the Spurs by 20.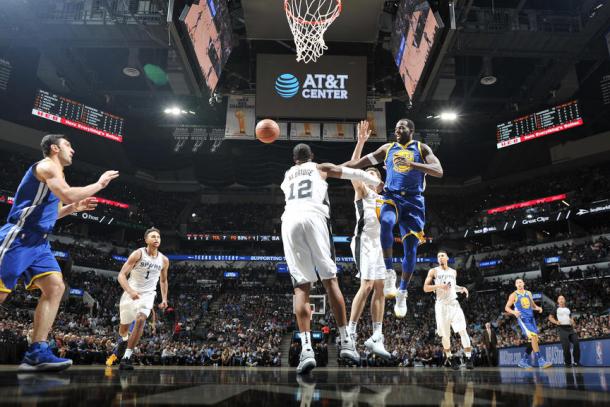 Up Next
The Golden State Warriors will visit the Denver Nuggets in their next game on Nov. 4 at Pepsi Center.
The Spurs face Charlotte Hornets today, at the same AT&T Center on 8:30 p.m. ET.