The Phoenix Suns run in the 2018 Las Vegas Summer League is over. They were eliminated from tournament play following the 88-86 loss to the Philadelphia 76ers.
They salvaged their Summer League appearance with a 90-55 victory over the San Antonio Spurs, going 4-1 in their five game span.
There are plenty of things for the Suns to hang their hat on. This is only the beginning for a franchise that has not made the playoffs in eight years. From top to bottom, it feels like the franchise is trending upwards.
Here are some of the things that we learned about the Phoenix Suns during their Las Vegas Summer League run.
Players are buying into new system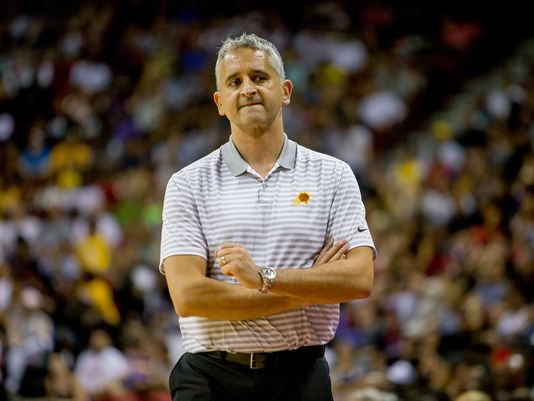 Head coach Igor Kokoskov is off to a great start with the franchise. The first-year head coach has built his reputation in the past five years by leading teams with aggressive defenses. Suns fans got a sneak peek with Shaquille Harrison totaling nine steals in the last three games. Josh Jackson welcomed Marvin Bagley III to the NBA with a chase down block in their first action against each other.
Despite all the scheming coaches do for defensive sets and switches, it often simply comes down to execution and cohesiveness from the players on the court. Kokoskov will quickly remind everyone that this unit hasn't played together for long and everyone has a long way to go to grow chemistry.
Just imagine what it would look like when Devin Booker and Marquese Chriss get pluged into the fold. It will definitely be a sight to see.
Deandre Ayton shows All-Star potential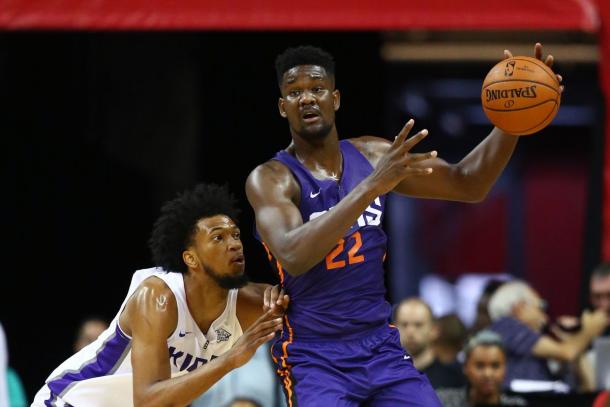 During his time in Las Vegas, center DeAndre Ayton showed why he was the No. 1 overall pick. He totaled two double-doubles and flirted with two more in four games played. He outdueled Marvin Bagley III, Mohamed Bamba and Johnathan Motley.
Yes, this is just the summer league, but a 14.5 point and 10.5 rebound average should not go unnoticed. The real test comes later down the road when he plays the likes of Karl-Anthony Towns, Joel Embiid, DeAndre Jordan and Rudy Gobert.
Even Shaquille O'Neal got schooled early on against the likes of Hakeem Olajuwon and David Robinson. Once he got the hang of it, he and Penny Hardaway took the Orlando Magic to new heights and won championships with Kobe Bryant and the Los Angeles Lakers.
Ayton and Booker have the potential to be the first Phoenix Suns All-Stars since Steve Nash when he represented the Suns in Orlando.
Josh Jackson shows improvement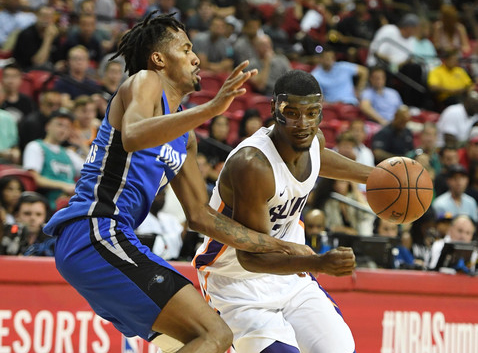 It is amazing what a new haircut and attitude can do for one Josh Jackson. The second-year forward came in with more of a mean streak and played with a different intensity on defense.
Jackson averaged 10.3 points, 2.3 rebounds and 1.3 assists in the Suns first three games in Las Vegas, but the numbers don't tell the whole story.
Some of the wild drives and contested jumpers were reminiscent of the first half of Jackson's rookie season. Jackson shot just 24 percent from the field and was 1 of 6 from 3-point range.
The Suns want the young forward to use his elite athleticism to get to the basket and finish or find an open teammate, two things Jackson did well the second half of his rookie year.
Mikal Bridges showed why the Suns traded for him
There was one play in Thursday's game that showed why the Suns made the draft-day trade to move up and get forward Mikal Bridges.
Bridges blocked a shot on one end than ran downcourt and buried a corner 3-pointer.
In five games, Bridges averaged 6.2 points, 2.6 rebounds and .6 assists per game. On the defensive side of the ball, he averaged 1.6 steals and .8 blocks per game. Those numbers look bad, but that was just in a small sample size.
Bridges played as advertised. He has a mature, composed game that is tailor-made for today's NBA. He should be able to give the Suns solid minutes at both small forward and shooting guard and his 7-foot-1 wingspan is ideal for Kokoskov's switching defense.
Expect Bridges to cover everyone from point guards to power forwards at some point this upcoming season.