The Toronto Raptors have agreed to a one-year, $2.2M deal with veteran center Greg Monroe on Monday.
Yahoo Sports' Shams Charania first reported the news: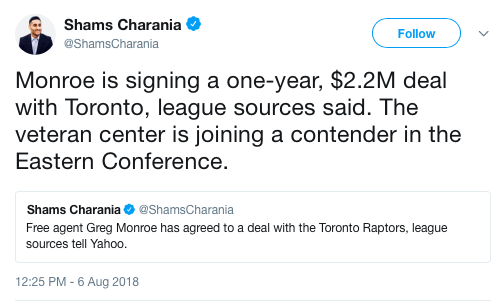 The move comes following the Raptors acquisition of forward Kawhi Leonard from San Antonio Spurs. Monroe will immediately fill the void of center Jakob Poeltl (included in the Leonard trade).
Monroe spent the remaining 26 games of the 2018 regular season with the Boston Celtics. Prior to signing with the Celtics, was bought out by the Phoenix Suns after acquiring him in the from the Milwaukee Bucks for guard Eric Bledsoe.
The No. 7 overall pick in the 2010 NBA draft, Monroe spent the first five years of his career with the Detroit Pistons. He signed a three-year, $50 million deal with the Milwaukee Bucks as a free agent in 2015.
In eight seasons, Monroe is averaging 13.7 points and 8.6 rebounds per game.
What Monroe brings to the Raptors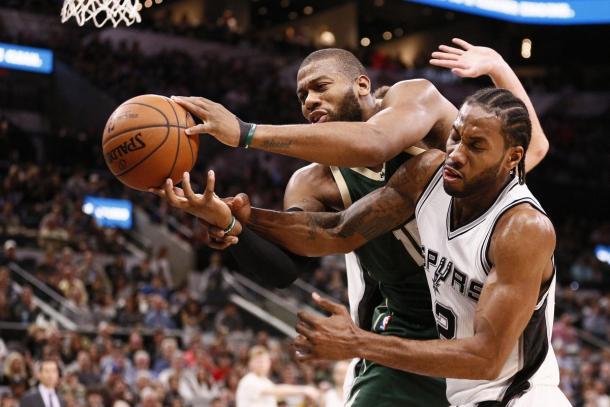 After deciding not to qualify 26-year-old center Lucas Nogueira, Jonas Valanciunas was the only center on the roster. Monroe's size and scoring ability made him too good to pass up.
There was once a concern for true centers like Monroe would become a thing of the past in the NBA. Monroe is still capable of shooting 51 percent from the field, possibly giving the Raptors 10 to 15 points off the bench in 20 minutes per game.
Monroe is still clutch from the free throw line, shooting 74 percent from the free throw line over the last two seasons.
At the end of the day, Monroe fills a pressing need for Toronto. If he proves his worth, he could be a key rotation piece for first-year coach Nick Nurse.