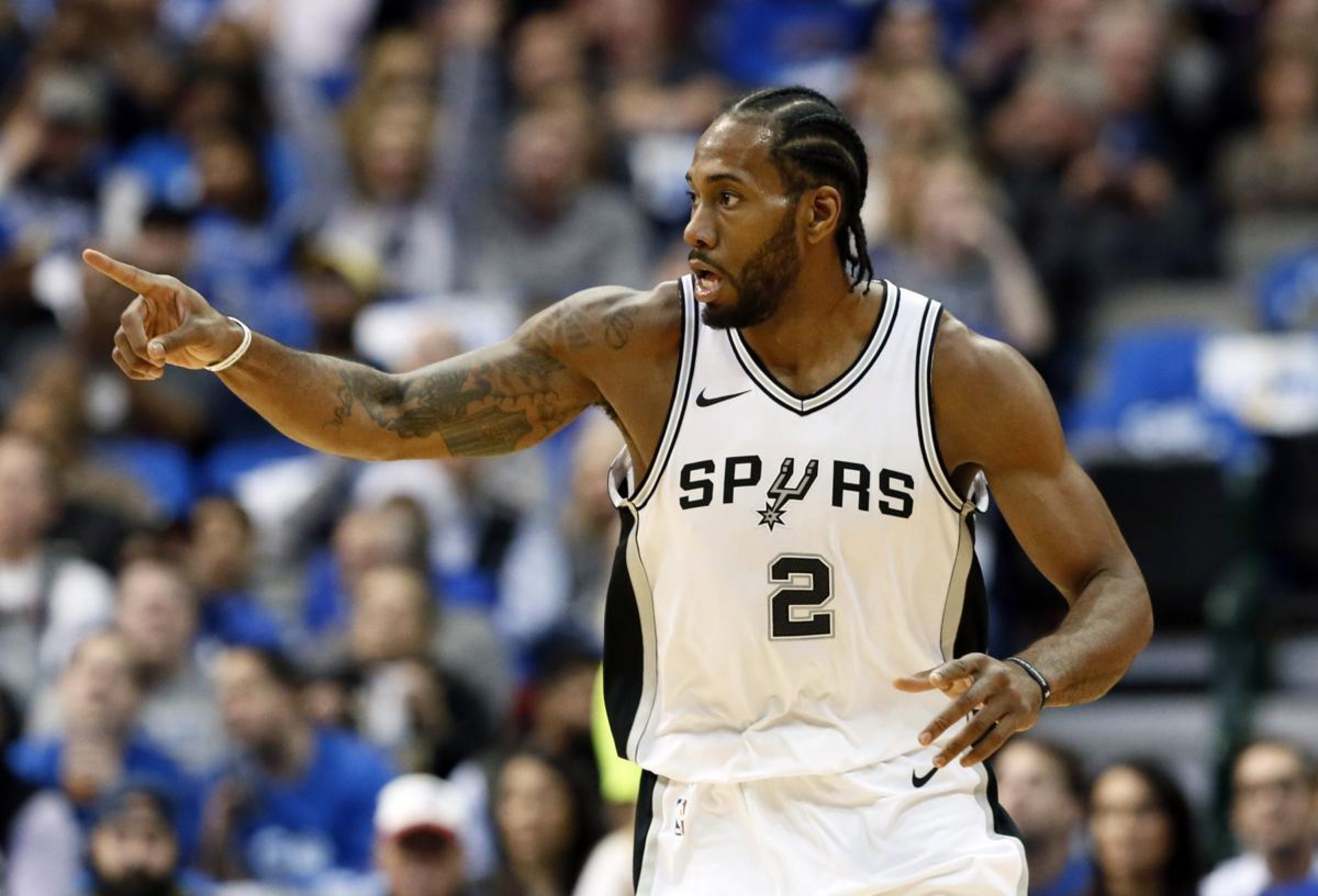 At least for now, the Toronto Raptors have won the Kawhi Leonard sweepstakes. Sources tell ESPN's Chris Haynes and Adrian Wojnarowski that the Raptors will acquire the two-way superstar from the San Antonio Spurs along with 3-and-D wing Danny Green (Green's inclusion was first reported by Jabari Young of the San Antonio Express-News) San Antonio will receive shooting guard DeMar DeRozan, center Jakob Poeltl, and a protected first-round pick. According to Wojnarowski, the pick protections fall between 1-20. If the pick doesn't change teams after a year, then they turn into two second-round picks.
A possible Spurs/Raptors trade for Leonard was brewing for a few weeks; Toronto were the favorites to land him as recently as five days ago. According to Wojnarowski, both teams were close to making a deal for a few days and has fallen through several times. The trade hasn't made the two headliners -- Leonard and DeRozan -- happy, as Leonard, who wants to play in Los Angeles, has expressed his lack of desire to play for Toronto, although ESPN's Zach Lowe tweeted that he would accrue fines for missing games and practices unless he provides a legitimate medical reason. DeRozan was blindsided by the trade, although Raptors team president Masai Ujiri informed Lowry of the deal himself, per Wojnarowski.
A look a the parties involved
Without question, Leonard is the best player in the deal when healthy. In his two All-Star seasons in 2015-16 and 2016-17, Leonard averaged 23.4 points, 6.3 rebounds, and 3.1 assists per game with a .494/.407/.878 shooting line and a 26.8 Player Efficiency Rating (PER, 15 is league average) while finishing in the top 10 in defensive win shares. He played in only nine games last year, tallying 16.2 points with a .572 true shooting percentage.
Green, the quintessential 3-and-D player, has shot 39.5 percent from 3-point range through nine NBA seasons. Last year for the Spurs, he averaged 8.6 points and shot 36 percent from deep, but also shot a paltry 38 percent from the field.
DeRozan, arguably one of the greatest players in Raptors history, made his fourth All-Star appearance last season, averaging 23 points and 5.2 assists for Toronto last year with a .555 true shooting percentage.
Poeltl, the ninth overall pick in the 2016 NBA Draft, was a productive bench player for the Raptors, averaging 6.5 points and 4.8 rebounds with a 17.5 PER.
What this means for both teams
Provided Leonard is the player he was two seasons ago and actually suits up for the Raptors, this turns Toronto into a legit contender in the Eastern Conference alongside the Boston Celtics and the Philadelphia 76ers. At his best Leonard is a legit two-way superstar who can stretch the floor in ways that DeRozan can't, which makes the Raptors a legit threat. With LeBron James now in L.A., this gives the Raptors a real chance, as does the addition of Green. Toronto didn't lose any major assets outside of a lesser star player, and the team historically has trouble attracting big name free agents because of U.S. Customs, so this was a great gamble by Ujiri and the Raptors. Now, they have to hope that Leonard falls in love with the team and chooses to stay there (the Raptors now have Leonard's Bird Rights via the trade, so they can offer him the most money and the most years on a max contract).
DeRozan may be unhappy about leaving Toronto, but he will suit up for the Spurs. He will inject some much-needed youth into the roster. He will join fellow analytics scourge Rudy Gay and forward LaMarcus Aldridge to make up what should be a mid-level playoff team. San Antonio got what they wanted with this trade: they kept Leonard out of the Western Conference (for now) and they got some good players in return for a guy that didn't want to play there anymore. If Leonard leaves Toronto, this deal looks even better for the Spurs.