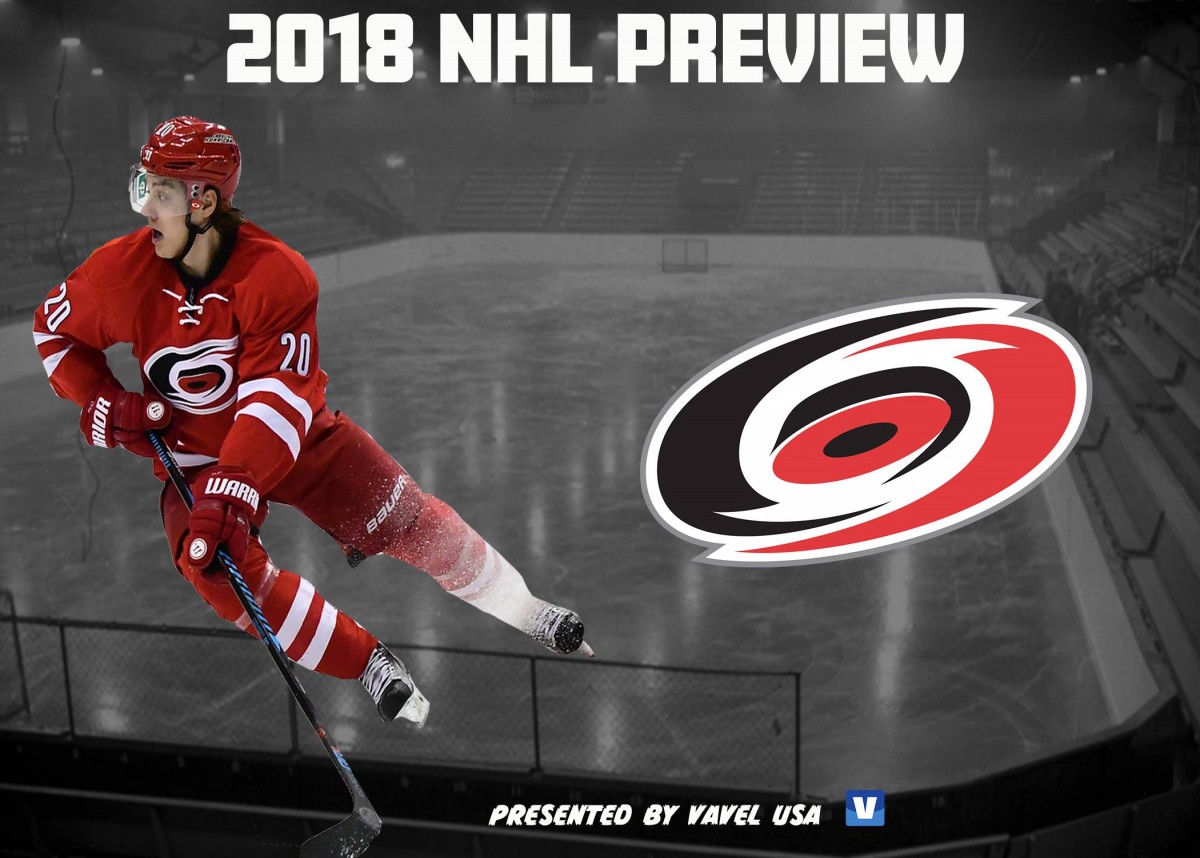 Carolina Hurricanes finished sixth in the Metropolitan Division with 83 points, 14 off the last wildcard spot.
Leading the team in points and goals was the talented Finnish forward Sebastian Aho, scoring 29 goals and 65 points. This will be Aho's third season in the NHL, and if he keeps improving at the rate he is now, we could very well see an 80-point season from the 21-year-old.
Trailing Aho by just a point was his fellow countryman Teuvo Teravainen, who is just 23 and still rapidly improving. The Finnish duo could wreak havoc on any team in the NHL.
Third in scoring for the Hurricanes last season was veteran winger Justin Williams. The 36-year-old returned to Carolina after nine years with a bang, scoring 51 points, his fourth-best season in the past decade. Williams still has a lot more than just experience to offer.
Carolina was involved in three trades, most significantly trading away Jeff Skinner. The 26-year-old winger was in the final year of his contract, resulting in a move to the Buffalo Sabres after putting up 49 points last season. The Hurricanes received a second, third, and sixth-round pick as well as prospect Cliff Pu, who will start the season in the AHL.
In a more surprising move, Carolina traded away Noah Hanifin and Elias Lindholm, both quite young players who seemed to have underperformed or reached a plateau in that system. Hanifin and Lindholm have been traded to Calgary Flames for defenseman Dougie Hamilton, winger Michael Ferland as well as Harvard prospect Adam Fox.
Playing on a second defensive line with Hamilton might be new signing Calvin De Haan, who is ready to prove himself after playing only 33 games last season for the New York Islanders due to injury.
The rookies coming in are this team's main strength. This draft's second overall pick Andrei Svechnikov is expected to be a first or second-line winger as well as his 23-year-old countryman Valentin Zykov.
Last year's first-round pick Martin Nečas is expected to center the second or third line behind Aho or Teravainen and Jordan Staal. 24-year-old Saku Maenalanen is not only expected to come over from Finland to make 2018 his rookie year, but is also a certain tongue-twister for any North American commentator.
It was a rough season for goalies in Carolina. Scott Darling was brought in as a starter after his very consistent showing as a back-up with the Chicago Blackhawks. In 2016/17, Darling played 32 games and had a .924 save percentage, but suffered a huge drop-off last season.
Darling put up a .888 save percentage and had 3.18 goals against average, leading to him splitting time with Cam Ward exactly 50/50. In an ironical turn of events, Ward's solid numbers earned him a free agency move to Chicago as a back-up there, expecting to be the starter in the beginning as Corey Crawford recovers from injury.
Hurricanes brought in goalie Petr Mrazek from free agency on a very nice $1.5 millon contract. Mrazek has had some problems with management in Detroit, causing him to be traded to Philadelphia. Though not the most consistent, he is still a good goalie and can alternate starts with Darling based on form.
Lineup
Forwards:
Valentin Zykov - Sebastian Aho - Andrei Svechnikov
Michael Ferland - Martin Necas - Teuvo Teravainen
Brock McGinn - Jordan Staal - Justin Williams
Jordan Martinook - Victor Rask - Saku Maenalanen
Defensemen:
Jaccob Slavin - Justin Faulk
Calvin De Haan - Dougie Hamilton
Haydn Fleury - Brett Pesce
Goaltenders:
Petr Mrazek
Scott Darling
Best case scenario
- Aho and Teravainen continue to improve and get 70-80 points next season.
- All of their top quality rookies (Nečas, Svechnikov, Zykov) pan out and compete for the Calder Trophy.
- Darling and Mrazek both find form this year, giving the coach a pleasant issue at picking the starter each night.
- Defense gels well together and provides good cover for Darling's off games.
- Veterans Jordan Staal and Justin Williams do not age, producing 40-50 points each.
- The Hurricanes close the 15 point gap between them and playoff contention, locking down a wild-card spot.
Worst case scenario
- De Haan picks up another injury, Hamilton struggles to link up with the team.
- The rookies have a disappointing year, struggling to provide offense for the teams.
- Captain Staal and Justin Williams fall off a cliff with their production, losing third-line scoring.
- Teravainen and Aho cap out at 65 points and their careers plateau.
- Mrazek and Darling continue to be inconsistent throughout the season.
Prediction
I know each of the past few years seemed like it would be the Canes' year, but I'm ready to get burned once again, this should be their year!
They've got an extremely young and talented core, a few quality veterans, highly-rated prospects and rookies coming in this year, a seemingly alright defense, and two potentially good goalies.
Even if the Hurricanes fall short of the playoffs, their team is full of young players with a strong potential, many of whom are relatively unknown by the NHL fans. No matter what happens, the Hurricanes will be a team worth watching.
As for more concrete predictions, I believe that the Hurricanes will join the Florida Panthers, New Jersey Devils, and Columbus Blue Jackets in the race for the two wild-card spots out of the East, which could very well be the most exciting part of the NHL as the regular season comes to an end.
How do you think the Carolina Hurricanes will do this 2018/19 season? Let us know in the comment section below, and make sure to give us a follow on Twitter (@VAVELNHL_ENG) for more updates!