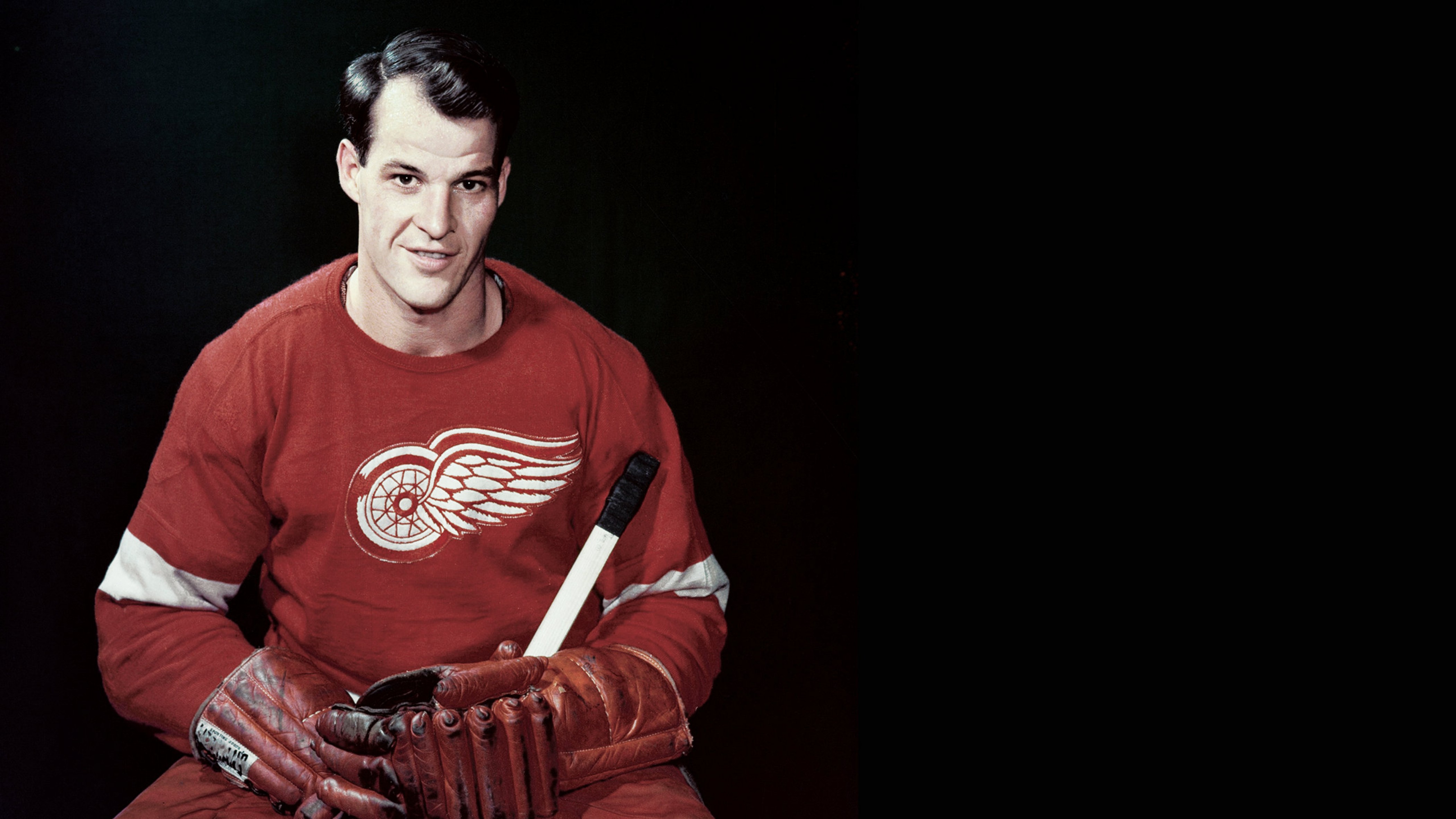 On this date, September 9th, in 1971, the greatest player in NHL history, at least of his time, hung up his skates for the first time. Detroit Red Wings forward, number nine, from Floral, Saskatchewan, Gordie Howe retired.
The legend begins
Howe broke into the league in 1946, wearing number 17, and was referred to as Gordon. In his first year, he played 58 games and only racked up 22 points. Howe slowly climbed the depth chart and found himself as the number one right winger in 1949-1950.
In that year, Detroit won the Stanley Cup. However, an injury kept Howe out of all but one game. In that game, Howe racked up seven penalty minutes. The next season, Howe won the first of six Art Ross Trophies. It was the first of three consecutive years he led the league in goal scoring. He also led the league in assists (43), points (86) and played in all 70 games of the season.
Scoring leader
In 1952, Howe once again led the league in points (86) and goals (47), played in all 70 games, and scored seven points in the eight games it took for Detroit to win the Stanley Cup. They swept both the Toronto Maple Leafs and Montreal Canadiens in route to Lord Stanley's Cup.
In 1953, Howe won his second consecutive Hart Trophy. He came as close to 50 goals as he would in his career, as he led the league with 49. He played in all 70 games, and tallied 46 assists and 95 points, both leading the league. He won the Art Ross that year as well. However, his Red Wings fell to Boston in six games.
In 1953/54, Howe led the league in assists and points and recorded 31 penalty minutes in 12 playoff games. This was the first of back-to-back Stanley Cups over Detroit. Howe won the Art Ross for the fourth consecutive time.
Then in 1954/55 Howe only played in 64 games, and for the first time in four years, he did not lead the league in points. In the playoffs, Howe did score 20 points in 11 games for Detroit that season, leading the Red Wings to victories over Toronto and Montreal. Granted, Montreal was without Rocket Maurice Richard, but the Wings were Champions nonetheless.
The end of the Cup victories
Howe did not win another Stanley Cup in his career. Howe only led the league in goals one more time in his career, in 1957 (44) and only twice more in points, in 1957 (89) and 1963 (86).
In 1968/69, the second year after the NHL doubled in size, Howe scored 103 points, which did not lead the league. He finished third behind Phil Esposito (126) and Bobby Hull (107). Howe's Red Wings did not make the playoffs.
In Howe's last five seasons, Detroit only made the playoffs once, in 1969/70, and was dispatched by Chicago in a four-game sweep. In Howe's final season with Detroit, before his first retirement, he played in 63 games, scoring 23 goals and 29 assists.
A wrist injury, a nagging injury exacerbated during training camp, forced Howe from the ice and into a position in the front office. Howe was offered to be the first head coach of the New York Islanders but turned it down.
Howe finished his last NHL season with Detroit with a career total of 786 goals, 1,023 assists, 1,809 points, 1,643 PIMs, in 1,686 games. He played one more NHL season with the Hartford Whalers in 1979/80. With his time in the WHA, Howe won the AVCO World Trophy, the trophy for the league champion, in 1974 and 1975, both with the Houston Aeros.
On just NHL totals, Howe was the All-Time leader in goals and points, both have been eclipsed by some guy who had two nines on his sweater. If his WHA totals are combined, Howe is ahead of Gretzky in goals, 975 to 940. Howe still ranks second in goals in NHL history.
To this day, Howe holds the records in games played (1,767), games played with a single team (1,687 with Detroit), most NHL seasons played (26, tied with Chris Chelios), Most consecutive 20-goal seasons (22), and most NHL All-Star game appearances.
He and his son, Mark, hold the record for combined points with a father-son combination with 2,592, narrowly beating out the Hulls, Brett and Bobby, who combined for 2,561.
Howe came out of retirement to play in the WHA in 1973/74, as the WHA signed several former NHL stars to compete with the senior league. Howe joined the likes of Bobby Hull, Bernie Parent, Gerry Cheevers, Derek Sanderson, and Ted Green.
However, financial issues forced the league to merge with the NHL, bringing Howe's Hartford Whalers, the Edmonton Oilers, the Quebec Nordiques (now the Colorado Avalanche), and the Winnipeg Jets (now the Arizona Coyotes). Hartford moved to Raleigh, North Carolina, and became the Carolina Hurricanes.
Howe was so beloved to the game and personified the game in such a way, he was known as Mr. Hockey. Dementia and a stroke took their toll on Number Nine, and Howe left this mortal Earth on June 10, 2016. His body was laid for viewing at Joe Louis Arena. Howe was cremated and left to be with his wife in Saskatoon.
While on this date in 1971, it was Howe's first retirement, Mr. Hockey walked away from hockey as the best player of All-Time. Even now, due to his toughness and defensive play, some argue he was better than Wayne Gretzky.
It cannot be denied the impact either man had on the game. While Howe never eclipsed 50 goals in a season, he was one of the best pure hockey players ever. Longevity helped him attain his career achievements, much the same way Hank Aaron, who never had 50 home runs, achieved his career record through longevity.
Number Nine is in several Halls of Fame, has his jersey hanging from the rafters in Little Caesars Arena, but most importantly, he holds the hearts of hockey fans everywhere.
Rest in Peace Mr. Hockey. It's time for a line change.
"And that... is pretty cool."
** Ed Brickeen - former Vavel.com writer contributed to this article