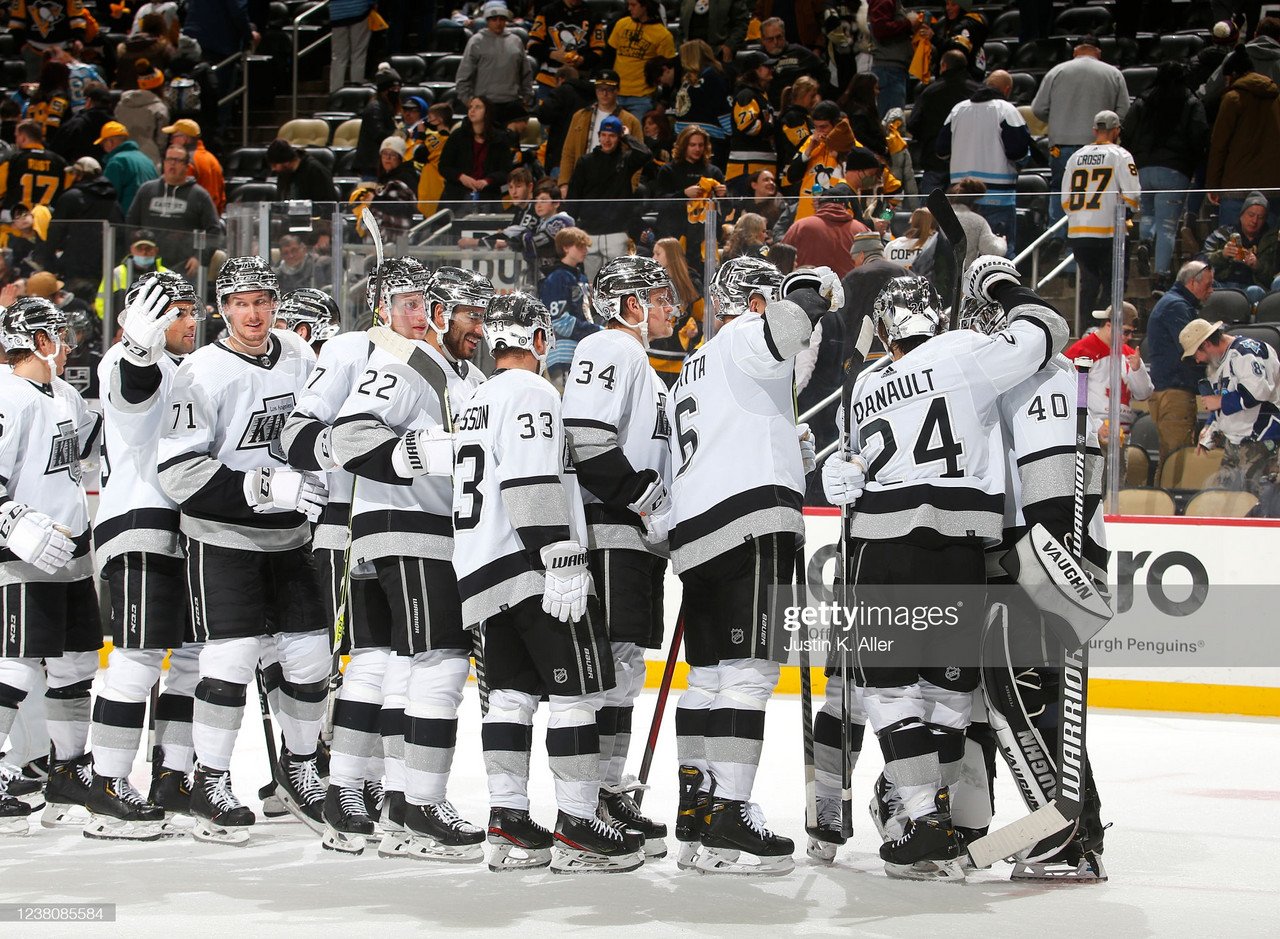 Trevor Moore scored his second of the game with 6:39 remaining in the third period as the Los Angeles Kings edged the Pittsburgh Penguins with a 4-3 win at PPG Paints Arena.
Cal Petersen made 23 saves, and Anze Kopitar had two assists for the Kings (23-16-7), who are 3-0-2 on a six-game road trip.
Sidney Crosby scored his 498th NHL goal, and Bryan Rust scored twice for the Penguins (27-11-7), who are 0-1-2 since winning six straight. Tristan Jarry made 34 saves in defeat.
"We've had moments where we've been better, but it hasn't been consistent", said Pittsburgh coach Mike Sullivan. "That's the game that we have to bring is a consistent game.
"Part of it is on the execution side. When the play is there to be made, we have to make them. When they're not, we can't be stubborn. We have to be willing to put pucks deep and create offense different ways.
"So those recognition skills on when to make simple plays are really important. But also, the execution side is really important."
"When we're at our best, everybody's contributing both offensively and defensively", defenseman Marcus Pettersson stated. "I think we have to get back to that, for sure. We haven't these past couple games. So that's a huge part of this."
Story of the game

Alex Iafallo put the Kings ahead 1-0 at 1:17 of the second period. Kopitar sent a backhand pass from below the goal line to the left face-off circle, where Iafallo beat Jarry on a one-timer from a sharp angle.
"We got back to what we needed to today", Kings coach Todd McClellan said. "They are a very good first-period team. They get out of the gate quick, especially at home. They can be a wall of momentum that can come at you.
"I thought we handled the first period well and settled in after that."
Crosby tied it 1-1 on a power play as he took a pass from Evgeni Malkin while driving to the net and shot-blocker side from the low slot.
Moore put Los Angeles back in front, corralling a stretch pass from Jacob Moverare before scoring on a backhand from in tight. The assist was Moverare's first NHL point.
"It was fun to play against top players", he said. "Really hard. They're very good, obviously. It was really fun."
Drew Doughty made it 3-1, jamming in a backhand in the crease after Kopitar's pass hit his shin on a two-on-one.
Rust cut it to 3-2 a little more than six minutes into the third with a spinning wrist shot that Crosby jumped over. He then tied the game on the power play when his cross-crease pass redirected in off of Doughty.
"I think over the course of the year, you go through times where it seems like everything is falling in and everything is going right offensively", he said. "Then you go through times of the year where you have to grind it out a little bit more.
"I think that applies both as an individual, but also as a team. I think that might be the case right now. I think we might need to simplify the game a little bit."
Moore came off the bench and received a pass from Blake Lizotte before beating Jarry glove side on a breakaway for the game-winner.
"Bench was positive", he said. "Keep going. Keep doing our thing. Don't change anything. I thought that would lead to success."