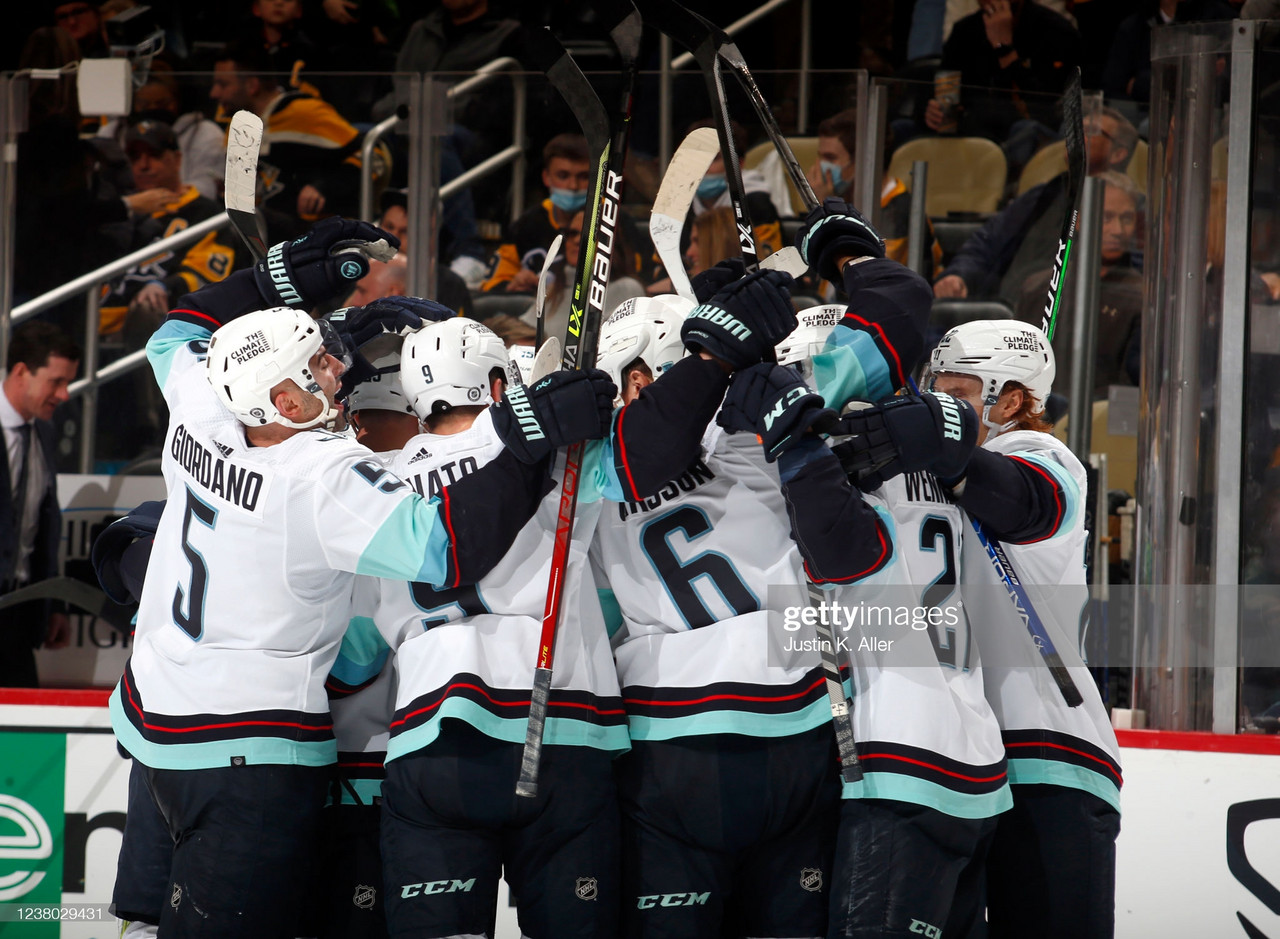 Adam Larsson scored the first overtime goal in the history of the Seattle Kraken as they defeated the Pittsburgh Penguins 2-1 win at PPG Paints Arena.
Jared McCann tied the game in the third period against his former team, and Philipp Grubauer made 23 saves for the Kraken (14-25-4), who won for the fourth time in their past six games.
"It's a godo win in this building. It's a hard place to win", Seattle head coach Dave Hakstol said. "For us, it's an enojyable win, but one that we worked for.
"Our game didn't change a whole lot tronight from the drop of the puck all the way through the winning goal in overtime. That was good to see.
"Probably one of the things I liked the most was we pushed a little bit in the third period, even at 0-0, without any risk to our game. That's a good characteristic for our team."
Evgeni Malkin scored the lone Pittsburgh goal and Tristan Jarry made 27 saves for the Penguins (27-10-6), who are 17-2-1 in their past 20 games. They lost at home for the first time since November 27th.
"I thought the first two periods, we were fine", coach Mike Sullivan said. "I thought we could've had a little bit more net traffic and we could've put the puck at the net more than we did playing against a team that defends hard.
"As far as how we were playing the game, I thought we were playing the right way. We controlled territory. We controlled possession time. I thought, in the third period, we beat ourselves."
"I think we got a little risky at times", forward Jeff Carter said. "Probably didn't manage the puck as well as we'd like. They've got some skilled guys over there, so they're going to make some plays.
"It's definitely not a period we want to have in the third. Jarry held us in. We got a point."
Story of the game
The Kraken did not have a shot on goal for a 16:57 stretch until a snap shot by McCann at 10:08 of the second period. They were outshot 9-2 in the middle frame.
"We had so many shot opportunities and they blocked a couple", Grubauer said. "Three or four get through, we're not walking away with two shots. We're walking away with six or seven.
"You have to stay patient. I think that's the main goal here. Be comfortable in 1-0, 11 games. Don't get impatient and start running around. It's going to come no matter what."
Malkin gave Pittsburgh a 1-0 lead with a snap shot from the high slot on a power play less than nine minutes into the third priod. He has scored 10 points (four goals, six assists) in nine games since returning January 11th from offseason knee surgery.
McCann tied it by tipping a shot from Vince Dunn with 3:56 left in regulation. He played in Pittsburgh for the first time since being traded by the Penguins to Toronto on July 17th, 2021. The forward played 141 games in three seasons with the Penguins.
"It does feel good", he said. "Obviously, i'm very thankful for [the Penguins] giving me a chance to play. They brought my career back to life, i'd say. I'm very thankful for them".
Seattle had an 18-4 shots on goal advantage in the third and 2-0 in overtime.
The Penguins scored 24 goals in their previous five games. They hadn't scored fewer than two since Dec. 11, a 1-0 win against the Anaheim Ducks.
"It was kind of a weird game", forward Brian Boyle said. "It was a tight, checking game. You kind of have to embrace that grind. Try not to take chances and go zone to zone. I think when we did that, we got some territory."