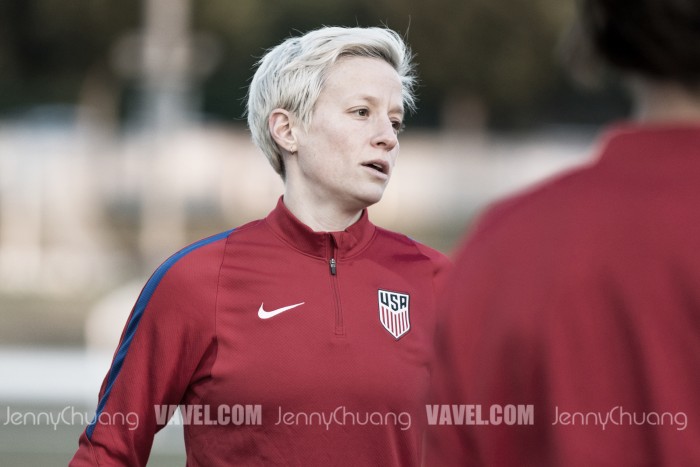 US Roster by Position
GOALKEEPERS (3): Jane Campbell (Houston Dash), Ashlyn Harris (Orlando Pride), Alyssa Naeher (Chicago Red Stars)
DEFENDERS (7): Julie Johnston (Chicago Red Stars), Meghan Klingenberg (Portland Thorns), Ali Krieger (Orlando Pride), Kelley O'Hara (Sky Blue FC), Becky Sauerbrunn (FC Kansas City), Casey Short (Chicago Red Stars), Emily Sonnett (Portland Thorns)
MIDFIELDERS (9): Morgan Brian (Houston Dash), Tobin Heath (Portland Thorns), Lindsey Horan (Portland Thorns), Sarah Killion (Sky Blue FC), Rose Lavelle (Boston Breakers), Carli Lloyd (Houston Dash), Allie Long (Portland Thorns), Samantha Mewis (North Carolina Courage), Brianna Pinto (CASL)
FORWARDS (6): Crystal Dunn (Chelsea Ladies FC), Alex Morgan (Olympique Lyonnais), Christen Press (Chicago Red Stars), Mallory Pugh (UCLA), Amy Rodriguez (FC Kansas City), Lynn Williams (NC Courage)
Jill Ellis named 25 players to a preliminary training camp that will serve as the final proving ground for those hoping to make the 23 player She Believes Cup roster.
Every USWNT announcement comes with its own special set of grievances and questions for its fans and followers, some more pressing or personal than others, so I thought I'd go through the standout omissions, additions, and TBDs and what they say about where the US team finds itself at this particular moment.
Megan Rapinoe, Kealia Ohai dropped
The most prominent names not included on the roster were Megan Rapinoe and Kealia Ohai. In a statement on Twitter, Julie Foudy reported "I spoke to Ellis today abt Rapinoe not on roster. She said 'We have lots of depth in wide areas w/ Pugh & Klingenberg back in the mix...Ellis continued: "I told Megan she just needs time work her way back in & to get game fit. This is a marathon, not a sprint.'"
"Depth in wide areas" perhaps explains leaving off both a veteran and promising rookie, although Ellis' implication that Pugh and Klingenberg are competing for the same spot begs the question whether she is considering pushing Klingenberg into Rapinoe's spot in midfield. It is also disheartening to think that Ohai, who co-led the NWSL in goals and scored her first for the WNT 46 seconds into her debut, is second on the depth chart to Amy Rodriguez, a player coming back from pregnancy whose international scoring form had taken a severe dip before that.
There is some sense to Rapinoe's exclusion as the US' flank and forward positions are the most crowded. The admission that Ellis does not consider Rapinoe fit to play in March 2017, almost a year after taking her to the Olympics, however, does not look good. Rapinoe didn't play poorly in Rio, but like any player coming back from major injury she wasn't fully match fit, and Ellis used up two substitutes to get her on and off the pitch late in the quarterfinal, a gamble that didn't pay off. The difference between last year and now is that in 2016 Ellis had a friendly and qualification tournament to vet other players for the SBC, whereas this year she has only the January Camp and one week of training in the run up to the tournament itself. Rapinoe and Ohai's exclusion may be a sign that players on the bubble, be they rookies or veterans, need the NWSL to prove that they have the fitness and consistency necessary to nail down a place on the national team.
Center Midfield still open
Rapinoe and Ohai will not be at the She Believes Cup, but an uncapped center midfielder will. Dropping two flank players in favor of multiple uncapped central midfielders indicates those positions are still up for grabs for the US.
When it butted up against the tactical expertise of the French and German midfield corps last year, the US midfield came off second best in the center of the park, with the lack of a true holding mid keeping the team's best #10, Morgan Brian, locked in a deeper position. In her few appearances last year Andi Sullivan looked like a lasting solution, but her ACL tear will keep her out of contention for most, if not all of the year.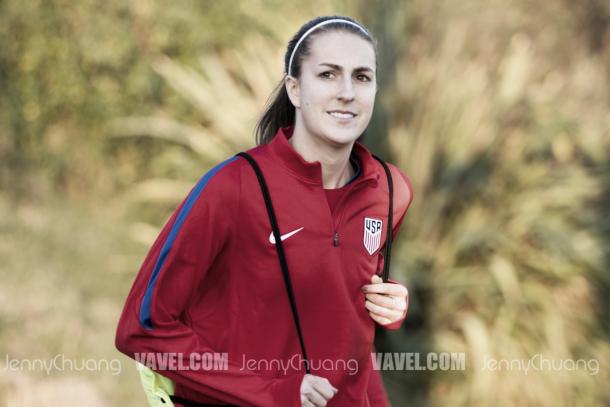 The US is not lacking in personnel. Even with Allie Long's ongoing reprogramming as a center-back, Ellis has four top quality center-mids to choose from, all of whom have U-20 World Cup experience, in Lindsey Horan, Sarah Killion, Rose Lavelle, and Samantha Mewis. Now Ellis has added to that group 16 year old Brianna Pinto, who was named to the U-23 camp last month and invited to stay on with the full team.
The US WNT has long sustained itself with youth, dating back to the infancy of the team and continuing through the modern game, with Lindsey Horan debuting at 18 and Mallory Pugh breaking into the starting lineup at 17. Pugh and Ashley Sanchez, who trained with the full team in 2016, both received call-ups while still in high school. Pinto's inclusion is different. Unlike her recent forebears, Pinto is not a human highlight reel. In the 270 minutes she played at the U-17 World Cup she recorded only 1 assist. Instead she was the midfield engine and playmaker, quietly keeping possession and pulling the strings for a team that too often fell back on athleticism, a charge that could be levelled at the full team today. Her composure on the ball made her a standout on a team that lost to Ghana and Japan and ultimately failed to advance from their group. This has become a trend in the past few YNT cycles: while teams underperform at world tournaments, select players get next level exposure. It's encouraging to see intelligent play rewarded and promising youth promoted, but there's also the worry that the US' youth teams in 2016 were over-reliant on star players rather than technique or tactics and focusing on the youth pipeline overlooks professional talent in the NWSL.
New #3 in Net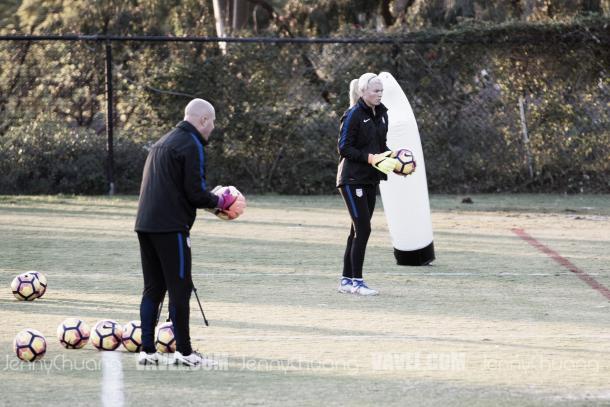 In the goalkeeping department Stanford grad and recent Houston Dash draftee Jane Campbell edged out the Portland Thorns' Adrianna Franch. Both were called in for the final games of 2016 and this year's January camp and have yet to debut for the US. It's all but a certainty that the US team will carry three goalkeepers on the 23 person roster, but that's no guarantee of playing time. In 2016 Ellis included both Ashlyn Harris and Alyssa Naeher in the 22 person roster, but Hope Solo played every minute in goal.
Ellis is not in the habit of handing out first caps against top-ranked opponents. The only time she's done that was in 2015 with the debuts of Jaelene Hinkle and Emily Sonnett against Brazil, who were ranked 7th at the time. Perhaps her options were limited by her circumstances; this is her first year not spent in immediate preparation for a major tournament. Nevertheless, for those hoping for a first glimpse at Campbell, Pinto, or Lavelle, history is not on their side.
That's a shame, because the US loses nothing if they lose these games. Taking a loss to open 2017 could be a win in the long-term if it's a result of healthy experimentation and an investment in young players. The US entered the 2015 World Cup with a spotty record, including a humbling defeat to France, whereas the stars and stripes went unbeaten in 2016. And which of those was the more disappointing year?
By the Numbers
Uncapped (4)*
Jane Campbell (Houston) - First call-up under Tom Sermanni in January 2013
Sarah Killion (SBFC) - First called up under Tom Sermanni to the Algarve Cup in 2014
Rose Lavelle (Boston) - First called up in December 2015
Brianna Pinto - First called up in January 2017
*In 2016, Lauren Barnes was only uncapped player. The 2016 NWSL Defender of the Year has yet to appear for the US.
Holdover from 2016 SBC
17 of the 22 players return from last year's roster. The five players not returning are Whitney Engen, Heather O'Reilly, Hope Solo, Lauren Barnes, and Jaelene Hinkle. Engen and Solo were released from their US contracts and O'Reilly retired. Barnes has not been called up again and Hinkle was one of the 30 players called in to the 2017 January Camp, but didn't survive the cut to 25 players.
SheBelieves First-Timers (8)
If named to the final roster, this stands to be the first SheBelieves Cup for eight players, spread over a variety of ages and experience: Amy Rodriguez, Lynn Williams, Allie Long, Brianna Pinto, Rose Lavelle, Sarah Killion, Casey Short, Jane Campbell.
NWSL by team
Boston-1
Chicago-4
FCKC-2
Houston-3
NC Courage-2
Orlando-3
Portland-5
SBFC-2
Seattle-0
Washington-0