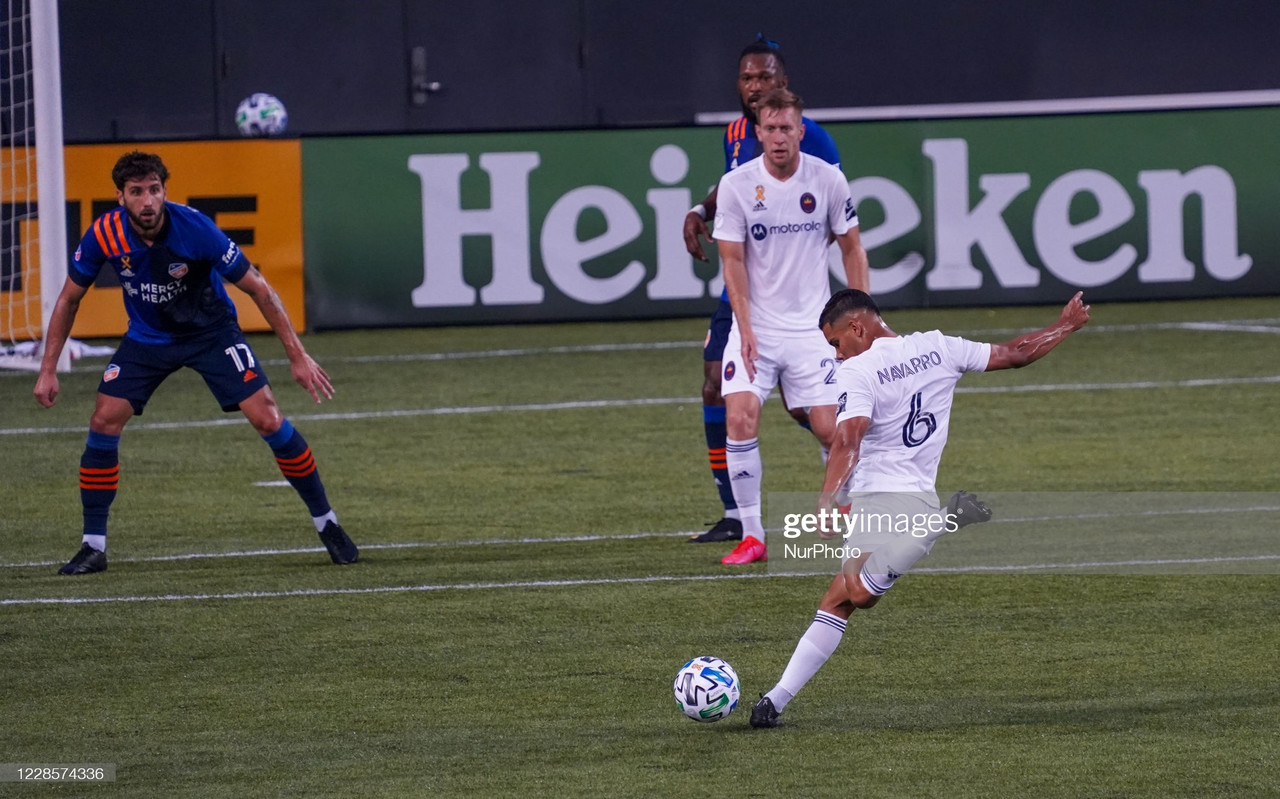 Wednesday night sees a battle at the bottom of the MLS standings as the Chicago Fire hosts FC Cincinnati at Soldier Field.
As the league table indicates, both teams have been quite dreadful this season. They're tied for last place on four points apiece, with Chicago having a slightly better goal differential, while Cincinnati have played one less game.
With that in mind, each side will be desperate to pick up a win here, as they know that they likely won't have an easier game any time soon. Who ends up leaving victorious remains to be seen, but it would be quite fitting if the contest ended in a tie.
Team news
Nothing has changed for the Fire when it comes to who is unavailable for selection. Przemysław Frankowski and Gastón Giménez are still on international duty, while Kenneth Kronholm and Stanislav Ivanov are still dealing with long-term injuries, so none of them will feature.
Things are a bit better for Cincinnati, as it seems like Maikel van der Werff will be the only absentee, although it's unclear how much Franko Kovačević will be able to play since he might not be fully fit.
Predicted lineups
Chicago Fire: Shuttleworth, Sekulić, Omsberg, Calvo, Navarro, Pineda, Medrán, Herbers, Stojanović, Aliseda, Berić
FC Cincinnati: Vermeer, Gyau, Cameron, Hagglund, Castillo, Kubo, Cruz, Acosta, Barreal, Silva, Atanga
Ones to watch
Robert Berić
The pressure is very much on Robert Berić to start scoring again.
The designated player has had a tough campaign, with his only goal of the year coming five minutes into the start of the season. He may help Chicago when it comes to creating chances in the final third, but he was signed to score goals, and he's not done much of that lately.
As a result, Berić was actually benched for the team's last game, with Chinonso Offor chosen to lead the line instead. That didn't last long, though, as the former replaced the latter at halftime. Nothing really changed with that move either, and the Fire were kept scoreless once again.
The Slovenian will likely be back in the starting lineup this time around, and fans will be hoping that his benching is the spark that kicks him into form. When he's playing well, he's a top-tier striker in MLS. That was on show last campaign, as he scored 12 goals for Chicago, with 10 of them coming in the last 13 games of the year.
If the Fire want to turn things around going forward, then they'll probably need Berić to start hitting similar heights. Luckily for him, he'll be going up against the worst defense in the league. All things considered, now is the perfect time for him to break his goalscoring duct.
Luciano Acosta
Most of Cincinnati's hopes in this contest will rest on the shoulders of Luciano Acosta.
Arguably the most talented player on the entire roster, the Argentine has proven in the past that he can be a star in MLS. His 2018 season was a spectacular one, as he scored 11 goals and dished out 15 assists in all competitions for D.C. United.
Even though he was still good the following campaign, his relationship with the team soured, which ultimately led to a move to Mexican side Atlas. That never really worked out, though, and Acosta was eventually brought in by Cincinnati before the start of the year.
He's been decent this time around, but he's not made a real impact yet. The #11 has a goal and an assist in five games, missing two with an arm injury, which isn't the worst return in the world to be fair. However, it's not really enough, especially since he kind of needs to carry the team due to their general lack of ability.
Acosta can do just that if things go well. A dynamo on the ball, he uses his diminutive stature to dance past defenders, opening up space for himself and his teammates. He can get the job done in the final third as well, able to both pick out the killer ball and finish off the chance himself.
Chicago will have to keep an eye on him at all times, as the Argentine can deliver a moment of magic in the blink of an eye. If he's able to do that on Wednesday, then Cincinnati might just have a chance of picking up a result.
Last time out
These two sides faced off twice in the early stages of last season.
The first contest took place at Soldier Field, which was the Fire's return to the stadium after nearly 15 years. It was a dream homecoming, as they went up 2-0 within 10 minutes after Fabian Herbers and Álvaro Medrán both scored early on. Chicago would put the contest to bed in the 67th minute courtesy of a lovely team goal that was finished off by Ignacio Aliseda, putting a bow on proceedings for the hosts.
The return fixture at Nippert Stadium was less remarkable. Both teams created chances, and they each really should have scored, but neither was able to break the deadlock on the day. The Fire did have the ball in the back of the opposing net at one stage when Aliseda converted from close range, but the goal was correctly called off after a VAR review spotted a handball committed by Boris Sekulić in the buildup. As a result, the points were ultimately shared.
How to watch
The game will kick off at 7:00 p.m. CST, and it will air on WGN TV and chicagofirefc.com for fans in Chicago and on WSTR Star 64 and fccincinnati.com for fans in Cincinnati. Anyone else in the United States will be able to watch the action unfold on ESPN+.