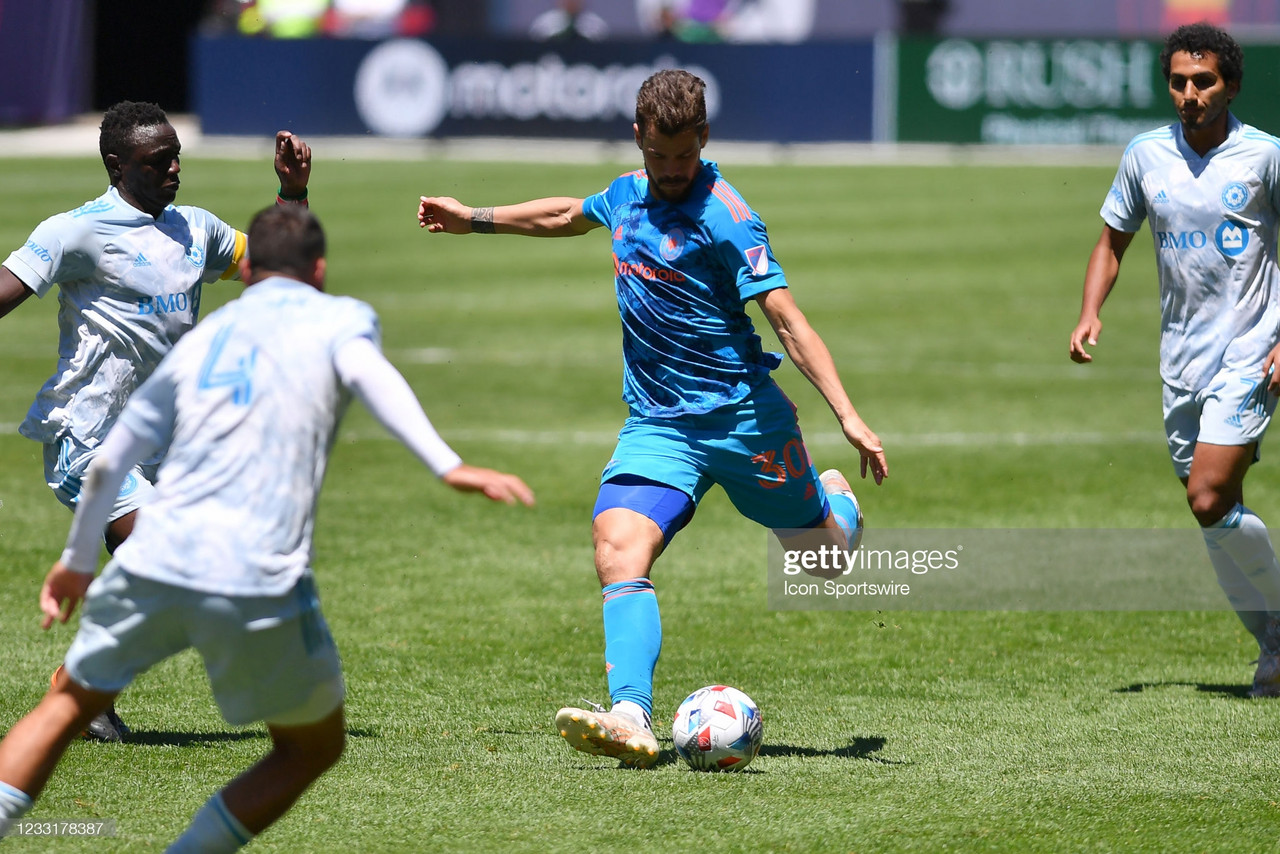 An Eastern Conference clash with playoff implications takes place on Saturday afternoon as CF Montréal hosts the Chicago Fire at Saputo Stadium.
Montréal are currently in 6th following what may have been their biggest win of the season so far, as they defeated 3rd place Orlando City 4-2. Mathieu Choinière gave them the lead early on, and then Romell Quioto made it two moments after Nani was shown a second yellow card and was sent off. The hosts responded well to going behind, though, and they actually came back to tie things up with about a half an hour to go. However, the Canadian outfit did ultimately pull away to secure the win and all three points thanks to goals from Lassi Lappalainen and Sunusi Ibrahim, surging up the standings in the process.
Chicago, meanwhile, continues to head in the opposite direction. They were beaten badly in a must-win game, losing 3-0 to D.C. United. A first half hat-trick from Ola Kamara was the difference at the end of the day, although he had the Fire to thank for two of those goals since they came via the penalty spot after stupid fouls committed by Chicago defenders. That result may have effectively killed off any of the Fire's postseason dreams, as they now sit 10 points behind the final playoff spot. A win here may keep their very faint hopes alive, but that doesn't seem likely considering their recent form.
Team news
The good news is that neither side are dealing with too many injuries at the moment.
Montréal will only be without Ballou Tabla and Róbert Thorkelsson, who are both dealing with groin problems.
Chicago, on the other hand, will be missing the likes of Francisco Calvo, Kenneth Kronholm, and Brian Gutiérrez.
Predicted lineups
CF Montréal: Pantemis, Waterman, Camacho, Miller, Brault-Guillard, Piette, Wanyama, Choinière, Torres, Quioto, Mihailovic
Chicago Fire: Shuttleworth, Kappelhof, Pineda, Bornstein, Sekulić, Herbers, Medrán, F. Navarro, M. Navarro, Berić, Aliseda
Ones to watch
Djordje Mihailovic
The chickens might be coming home to roost for Chicago.
One of the biggest moves they made this offseason was to trade away star homegrown player Djordje Mihailovic. A youngster with lots of promise and potential when he first signed for the club a number of years ago, he actually did quite well early on. However, things then went a bit sour. He started to attract European interest, and the Fire seemingly did not like that, benching him for extended stretches in order to halt his development.
There was hope that the situation would improve when new management came in, but it didn't, so a deal was ultimately made to send him away. Since then, Mihailovic has shown why he was such a highly rated homegrown. He's had a quietly superb season, with 10 assists and four goals to his name already, and he's been a big reason for Montréal's playoff push.
The midfielder just has so much technical ability. His first touch is usually immense, which allows him to turn upfield with the ball quickly. Once he gets into the final third, he's able to create for himself and his teammates, as he can dribble, shoot, and pick out a final killer pass.
It's easy to forget that he's still only 22-years-old. Mihailovic already has years of experience under his belt, and he seems ready to make the next step in his career.
That could start with a man of the match performance against his former club.
Raphaël Wicky
This could very well be the last we see of Raphaël Wicky.
At the helm for nearly two years, it really seems like he's just not the right man for the job at this stage. His first season was a poor one since Chicago missed the playoffs, but people were willing to give him some more time. The Swiss manager was dealing with a roster that had recently been overhauled, and the pandemic made an already strange campaign even crazier.
Going into year two, there was a lot more pressure on Wicky. The team was practically the same, if not a little bit better. The Fire were also going to finally play in front of supporters at Soldier Field. The expectations had been set, and they were set quite highly.
Instead of growing and improving, Chicago has gotten worse. They've been poor all year, and even on the few occasions they've won, they've usually followed up those performances with a disasterclass. The team has all but been eliminated from postseason contention as a result, and the only thing that could save them and their head coach is a win here.
That doesn't seem likely, though. If the Fire are beaten once again, and beaten comprehensively, then their campaign is done and dusted with over a month and a half left to go in the regular season.
It would certainly be time for change, and the first change would be to let Wicky go. Whether or not that's what happens remains to be seen, but the way things have been going, Fire fans should not be surprised if someone new is in charge by the end of the weekend.
Last time out
It's been nearly four months since these two sides last faced off.
Taking place at Soldier Field, Chicago were the better team throughout. They created chance after chance, pushing forward time and time again in search of a winner. They just couldn't finish, but it seemed like the breakthrough was going to come at any moment.
Instead, they ended up going behind with about five minutes to go. A cross from Zorhan Bassong picked out Mason Toye in the area, and he was able to head home to give Montréal a shock lead.
The Fire thought they had equalized in the final moments after a wonderful header from Wyatt Omsberg found the back of the net, but the goal was called back in heartbreaking fashion since a player was offside in the buildup.
As a result, the away side managed to hold on and secure the victory despite being outplayed.
How to watch
The match kicks off at 1:00 p.m. EST, and it will air live on TVA Sports, TSN5, and the TSN app for fans in Montréal and on WGN and chicagofirefc.com for fans in Chicago. Those in the United States who don't live in Chicago will be able to watch the action unfold on ESPN+.