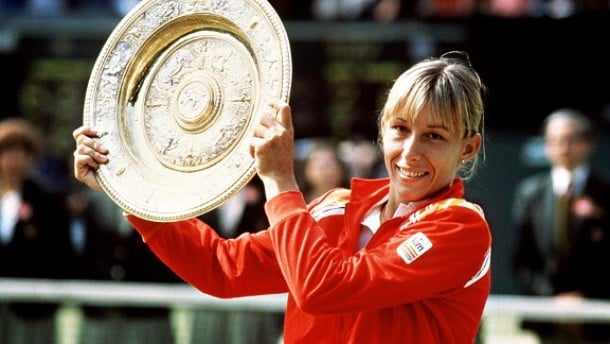 The perfect season is always a dream in professional sports, but for some it is an unrealistic goal. It is possible in American football, or even regular football (soccer as we in North America call it). Some individual sports dream of it, but in tennis? Not a chance. Right?
Well, actually, one woman came incredibly, almost impossibly close to a perfect season. In 1983, Martina Navratilova came closer than anyone else in tennis history ever has, or could. She lost one match. ONE. Never in tennis history has one player dominated the tour the way Navratilova did in 1983. How did this happen? Let's take a look back at one of the most spectacular seasons the sporting world has ever seen.
By The Numbers
In 1983, Navratilova went 86-1. Her winning percentage that season was 98.8%, the highest of any player, male or female, of all time. She won sixteen titles that year, the most in a single year of her storied career. That ranks as the fourth most by any player in a single season ever. Those sixteen included three Grand Slam titles. She was undefeated in finals in 1983, a perfect 16-0. Not at all surprisingly, Navratilova finished the year ranked number one in the world.
Highlights
Untouchable in Big Matches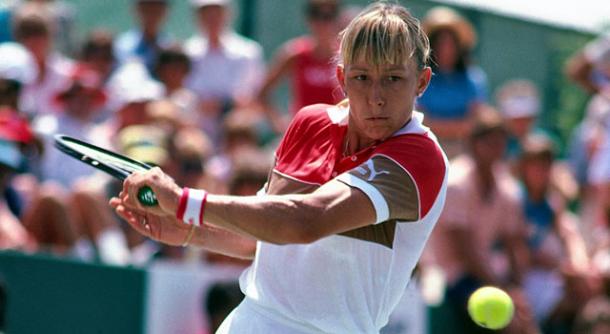 Navratilova during her 1983 US Open title run. Photo: Getty Images/CBS Sports
Not only was Martina Navratilova unbeatable in big finals, the rest of the tour could barely even challenge her. Of the four biggest finals she played in 1983 (three majors and year-end championships), the only one that might not classify as a blowout would be the Australian Open final, when she beat Kathy Jordan 6-2, 7-6(5). At Wimbledon, she crushed Andrea Jaeger 6-0, 6-3. She followed that up by beating rival Chris Evert 6-1, 6-3 at the US Open. At the Year End Championship, she beat Evert with her best-ever performance against the American, crushing her rival 6-2, 6-0. In her four biggest finals of 1983, Navratilova lost a mere seventeen games. That is barely enough to win a single match.
The Winning Streaks
Navratilova sandwiched her lone 1983 loss with two of the longest winning streaks in the Open Era. Before her fourth round loss at the French Open, she had won thirty-nine matches in a row. After that loss, she would win fifty-four matches in a row, including all of her remaining matches in 1983. Both records rank among the top ten longest winning streaks by women in the Open Era, while the latter ranks among the top ten by women of all-time. Of course, both would only serve as a precursor to Navratilova's Open Era-record, a seventy-four match winning streak in 1984.
Not-So Great Rivalry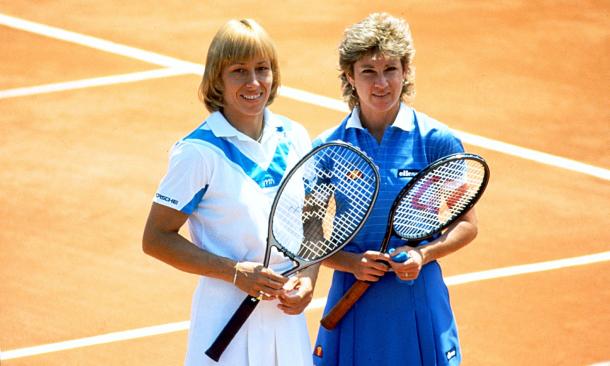 Navratilova (left) and Chris Evert (right). Photo: Sipa Press/Rex/The Guardian
Throughout her long career, there was only one woman who could consistently challenge Martina Navratilova. That was, of course, Chris Evert. Their rivalry was the longest and most intense in not only tennis history, but one of the greatest rivalries in all of sports. However, in 1983, it was not much of a rivalry. Not even Evert, an eighteen-time Grand Slam champion, could hold a candle to Navratilova. The Czech lefty won all six of their meetings, only dropping one set and a total of twenty-nine games in those six matches, an average of less than five games a match. Those six victories by Navratilova were numbers two through seven of her thirteen-match winning streak over Evert. When not even a player of Chris Evert's caliber is able to challenge Navratilova in 1983, that shows just how dominant she was at the time.
So Close to Perfection
There was only one blemish on Navratilova's near-perfect record in 1983. Her lone loss in eighty-seven matches that year came in the fourth round of the French Open to unseeded American Kathy Horvath. Horvath, who was through to the fourth round of a Grand Slam event for the first time in her career stunned the Czech 6-4, 0-6, 6-3. Navratilova was just under halfway to her near-perfect season. Her fourth round loss at the year's first major was a total shock, although the full significance of the loss was not yet clear. As Navratilova stormed through the remainder of the year untouched, the significance of Horvath's upset grew and today, it stands as one of the biggest upsets in tennis history, as it stopped Navratilova from completing a Grand Slam and accomplishing the only perfect season in modern tennis history.
Why is it So Great?
Near-Perfection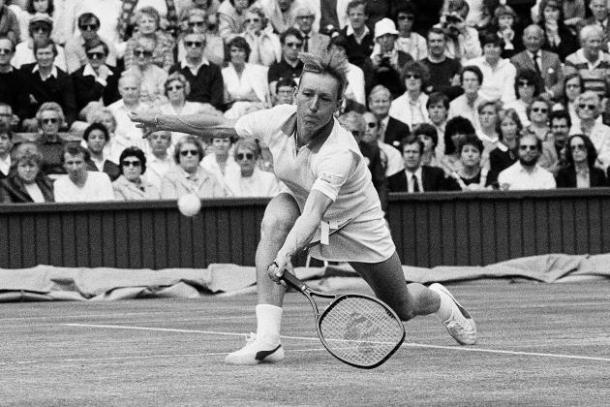 Navratilova during her shocking fourth round defeat at the French Open. Photo: Robert Dear, AP
Martina Navratilova's 1983 season is the closest to a perfect season that the tennis world has ever or likely will ever see. Today, the idea of a perfect season in tennis is nothing more that an impossible dream. The closest anyone has come since would be John McEnroe in 1984 (82-3) and Steffi Graf in 1989 (86-2). Graf also had only two losses in her injury-shortened 1995 season (47-2). The closest anyone has come recently would be Roger Federer in 2005 (81-4) and Serena Williams in 2015 (53-3). With both tours being deeper than ever today and they're only getting better, it seems unlikely that anyone will come that close ever again.
Tour Domination
In the same vein, this was the single most dominant year tennis has ever seen in the way that Navratilova was not even challenged by the other players on the tour. Her lone loss came to a relatively-unknown, unseeded player. Not even her legendary rival Chris Evert could stop her run. Even at their most dominant, Roger Federer, Steffi Graf, and Serena Williams were at least pushed by their opponents. This was not the case with Navratilova. She was untouchable. In her sixteen finals in 1983 (out of seventeen tournaments), she lost a total of two sets. Of the thirty-four sets played in those finals, Navratilova lost more than three games seven times. There have been lots of dominant players in tennis history, but none dominated the way Navratilova did in 1983.
Just the Beginning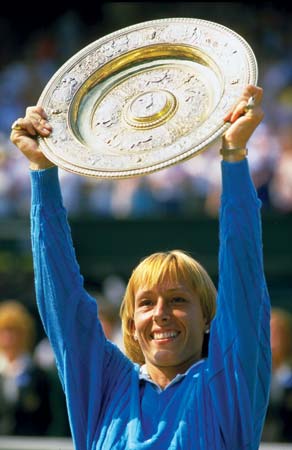 Navratilova after her 1984 Wimbledon victory. Photo: Encyclopedia Brittanica
While 1983 was Navratilova's best season, she hardly slowed down afterwards. The mid-1980s was the era of Navratilova. She would not lose more than five matches in a season until 1987 when Steffi Graf started her takeover. Navratilova was ranked number one at year's end every year until 1986. After 1983, she won at least two slams a year every year through 1987. In fact, between Wimbledon in 1983 and the US Open in 1987, she reached all but one Grand Slam final. The middle of a decade has the tendency to be dominated by a single player. The 2000s was Roger Federer, the 1990s was Pete Sampras. The 1980s was Martina Navratilova. 1983 was the high point for Navratilova, but the drop-off the following year, during which she won seventy-four consecutive matches, was hardly noticeable.
What Martina Navratilova accomplished in 1983 is beyond belief. In today's age when losing fewer than ten matches is considered incredible, Navratilova's one-loss season in 1983 seems impossible, but it really happened. She took domination to a new level and accomplished feats that the tennis world may never see again.