 Novak Djokovic will bid for a record-tying sixth Australian Open title in Sunday after defeating Roger Federer 6-1, 6-2, 3-6, 6-3 in the semifinals. After racing through the first two sets in under an hour, Djokovic had to weather a storm as Federer upped his game. But in the end, the Serbian found a way to break through and advance to his sixth Australian Open final. The world number one has never lost this tournament after reaching the semifinals.
Djokovic Races to Early Lead
The defending champion fired out of the gate in this match, breaking Federer in the Swiss' first service game and moving ahead 3-0. Federer could not have started any slower, as he gifted Djokovic the break with four straight unforced errors. After the third seed got on the board at 3-1, Djokovic continued to overpower the Swiss. The unforced errors were flowing fast and furious from Federer and Djokovic broke again for a 5-1 lead. A game later, he served out the twenty-two minutes opening set.
Djokovic Continues to Roll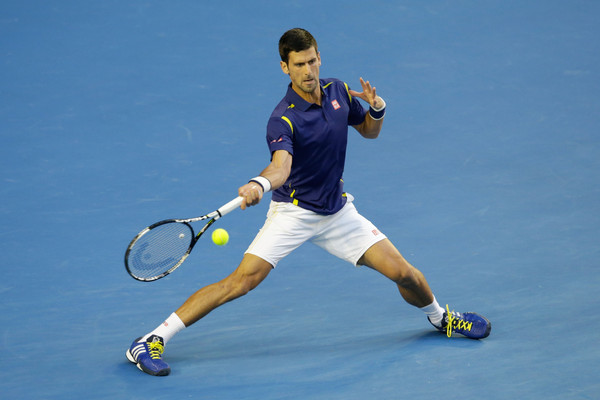 Djokovic was in one of those zones where nothing Federer could do had any effect. It continued into the second set, where he had a break point in the opening game of the set, but Federer held on. It would not last long as the Serbian broke Federer to love in the next game for the lead. It was part of a run of five straight games for Djokovic, who would break Federer again and hold for a 5-1 lead. Federer would only win four points during that run. Serving to stay in the set, the four-time Australian Open champion saved a pair of set points and held to make Djokovic serve it out. But the six-time champion was up to the task, holding to love for a two-sets-to-love lead in under an hour.
Federer Fights Back
In the early stages of the third set, Federer was finally starting to find his footing, holding with ease in his first two games. But he still could not get anything going on his opponents serve. With Federer serving in the fifth game, the match looked like it could be over, as Djokovic brought up a break point. A break would surely spell doom for Federer, so the Swiss made sure he held, smashing a weak Djokovic lob and going on to hold.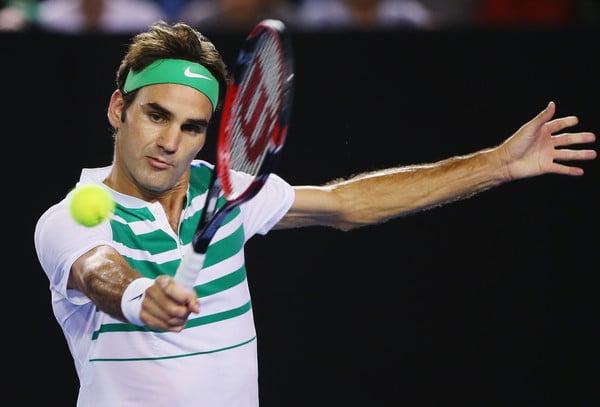 The hold would be a confidence booster for Federer who quickly raced out to a 15-40 lead on Djokovic's serve in the next game, his first break points of the match. Federer did not convert either, but he was not to be denied. He saved three game points for the Serb and then brought up a third break point, which he converted for the 4-2 lead. Federer would not need another break, as he defended his serve two more times, holding on to claim the set 6-3 and put himself back into the match.
Late Break Sends Djokovic Through
Federer had a chance to really put the pressure on Djokovic when he grabbed a 0-30 lead in the first game of the set, but he could not take advantage. Still he was now well in control of his own service games. The men stayed on serve until late with Federer serving down 3-4. At 30-30, Djokovic smacked a pair of forehand winners to grab the late break for a 5-3 lead and set himself up to serve for the match. Federer essentially gifted the match to the world number one, rattling off three unforced errors in the final game and Djokovic would hold for the four-set victory.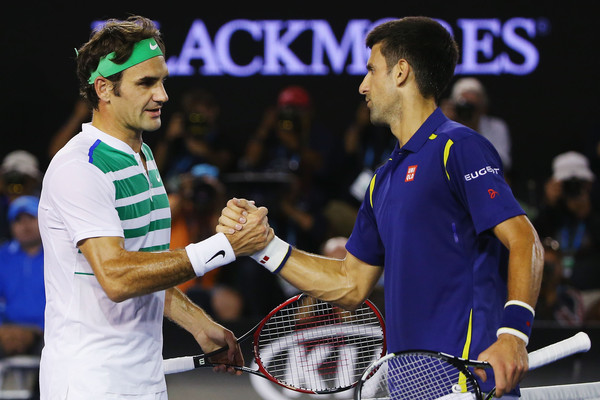 By the Numbers
Federer actually had a narrow edge in winners, thirty-four to thirty-three. However, he had fifty-one unforced errors to Djokovic's twenty. Federer normally out serves Djokovic, but that was not the case on this day. The Serbian doubled Federer in aces, ten to five, and won higher percentages of points on first and second serve. Federer was limited to sixty-one percent of his first serve points and forty-nine percent of his second serve points. That was a testament to the high level of returning from Djokovic. The Swiss also had very few chances to break, only holding four break points in the entire match, one of which was converted. Djokovic broke five times.
The defending champion awaits the winner between Andy Murray and Milos Raonic in the final. He has defeated Murray three times previously in the Australian Open final, including last year. Raonic would be a first-time finalist. A win for Djokovic would tie him with Roy Emerson for the most Australian Open men's singles titles ever.