 The second seeded wildcard Elina Svitolina will play the sixth seed Eugenie Bouchard in the final of the International-level Malaysian Open, played on hard courts in Kuala Lumpur.
Recent Results
Svitolina has had a patchy start to the season but will probably leave the short Asian swing happy with her performance. Despite a first round defeat in Doha, the Ukrainian has reached the semifinals at Dubai and the final here since beginning a coaching relationship with former seven-time Grand Slam champion and number one Justine Henin back in February.
In her Malaysian debut, the 21-year-old dropped two sets in reaching the final against Risa Ozaki 6-1, 3-6, 6-0 in the second round and Kristina Kucova 1-6, 6-1, 6-1 in the quarterfinals. Given the hot and humid conditions in Kuala Lumpur, Svitolina was no doubt pleased to post an easier 6-3, 6-3 semifinal win against Zhu Lin.
Bouchard appears to have put all of her 2015 struggles with injury and lack of confidence behind her at the beginning of this year. The Canadian hasn't struggled to win matches so far, reaching the final at Hobart, the quarterfinals at Shenzhen and the third round at Doha.
Also making her debut in Kuala Lumpur this week, the 22-year-old hasn't dropped a set in reaching her second final of the year, at worst losing seven games and surviving 10 aces in the semifinal against Naomi Broady to win 6-4, 6-3.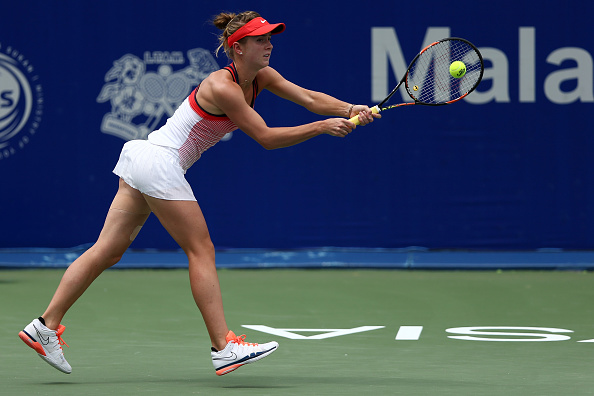 Past Experience
Svitolina boasts a perfect record in finals, winning all three she's contested, the latest of which came in Marrakech last May. Currently ranked at 19, just four spots lower than her career high, the 2010 French Open junior champion beat the world number five Garbine Muguruza in Dubai and boasts wins against the likes of Angelique Kerber and Petra Kvitova.
Bouchard is renowned for becoming the first Canadian Grand Slam finalist at Wimbledon 2014, where she was destroyed by Petra Kvitova. Shortly after, she achieved a national record career high of number five to mark a year which also saw her reach the semifinals of both the Australian and French Opens, as well as win her first title in Nuremburg.
Unfortunately, Bouchard struggled to handle the pressure which came with such success and at one stage lost six successive matches in 2015. A head concussion suffered after a fall at the US Open only worsened matters and now ranked down at number 52 in the world, the 22-year-old is beginning to rebuild her career, though her 1-4 losing record in finals doesn't bode well.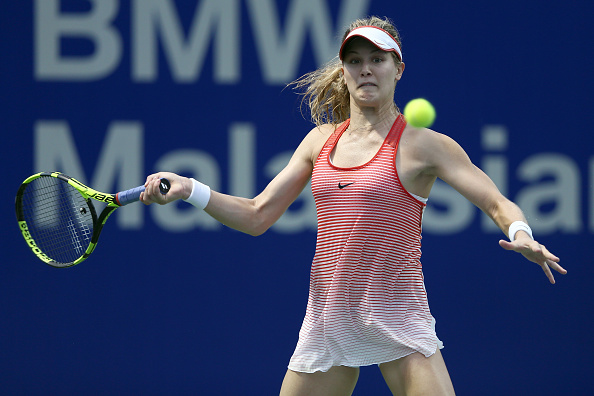 Head-to-Head
Svitolina dominates their head-to-head 3-0, all three of their matches being played on hard courts between 2013 and 2015. However, none of these were easy with the first two going to three sets and the latest last summer in Cincinnati being a tight 7-6(6), 7-5 win. Ironically enough, Bouchard beat Svitolina for the junior Wimbledon title in 2012.
The world number 19 plays a steady game from the baseline, relying on solid groundstrokes and quick court coverage to out-rally her opponent. Like so many other counterpunchers, she's more than capable of hitting hard when necessary but can become passive when tense. In these circumstances, Svitolina undoubtedly becomes noisier and more obviously petulant on the court.
In contrast, Bouchard is an ice cool customer who plays recklessly aggressive tennis from on or inside the baseline. Recently, she's been working with her coach Thomas Hogstedt on increasing her percentages so as to avoid being a major part in her own downfall due to unforced errors. Given her recent return to form, it appears to be working.
In a match that will feature countless hard-hitting exchanges, Svitolina will no doubt try to force Bouchard into errors as she's done successfully in the past. Considering their previous matches on hard courts, it's clear that Bouchard gives Svitolina plenty of trouble but can't sustain her challenge. Despite Bouchard's more impressive form in Kuala Lumpur thus far, she was beaten decisively earlier this year by Alizé Cornet in Hobart after a similarly impressive week and as always could well struggle to play her best in a final.
Prediction: Elina Svitolina in three sets