 It's time for the mini-major at the BNP Paribas Open in Indian Wells, California. It is the first Masters 1000 event of the season and the largest field of players outside of a Grand Slam with 96 players slotted into the field.
Tournament Overview
Novak Djokovic is the two-time defending champion. Djokovic will be hoping that he's had time to recharge from a grueling five set match on Sunday at the Davis Cup. If he can, Djokovic is the staunch favorite once again with a 41-6 record at Indian Wells for his career with four title wins. The Serb hasn't been stopped short of the semifinals since losing in the fourth round in 2010. 2010 was also the last year that someone not named Djokovic, Roger Federer, Andy Murray or Rafael Nadal won the title at Indian Wells. That just so happened to be Federer's new coach, Ivan Ljubicic.
Being one of the biggest fields outside of a Grand Slam, seeds generally dominate the business end of this tournament. Over the past five years, only five of the 40 quarterfinals' spots have been taken by unseeded players. Just once in that span has an unseeded player made the semifinals. That was Juan Martin Del Potro in 2011. The highest seed to make the final in the past five years is John Isner, who made the 2012 final as the 11th seed. Surprisingly, the top seed has only won once in the past five years and made the final just twice. With that to chew on, here is this week's seed report.
Seed Report
1. Novak Djokovic
The Serb is a four time champion at the BNP Paribas Open. His 41-6 mark includes back-to-back wins in 2014 and 2015. This will be Djokovic's 11th trip to Indian Wells and he has made the finals five times.
2. Andy Murray
Murray sports a solid overall record in this event at 24-10. but he's never won. In fact, he has only made the final one time and that was in 2009. Since then, the Scot's best showing was last year's semifinal appearance.
3. Stan Wawrinka
The Swiss has never made it past the quarterfinals. He has just two quarterfinal trips, those coming in 2008 and 2011. He is 15-8 overall and has not made it past the fourth round in the last four years. That includes last year's perplexing second round loss to Robin Haase.
4. Rafael Nadal
The Spaniard sports a 44-8 mark all-time in Indian Wells with three wins at the BNP Paribas Open. His last came in 2013. Nadal made it to the quarterfinals last season, after flopping in the third round in 2014. Rafa will be interesting to watch this week with the big deal made about his switch back to his old racquet strings.
5. Kei Nishikori
Of the top ten seeds, Nishikori owns the worst winning percentage with a 4-7 record at this tournament. Last year's fourth round showing was his best. His losses generally have not come to great competition in Indian Wells, so he could be an early flameout candidate.
6. Tomas Berdych
Berdych's stats is still questionable after the Czech suffered a hamstring injury last weekend during his second Davis Cup rubber of the weekend. Berdych is 18-11 all-time with a 2013 semifinal as his best result at Indian Wells.
7. Jo-Wilfried Tsonga
The Frenchman had a pedestrian 10-7 record in this tournament. His quarterfinal run in 2013 is his best result. Tsonga lost his first match in 2014 and missed 2015 due to injury.
8. Richard Gasquet
Gasquet owns a 13-10 record at Indian Wells. His best showing was a quarterfinal result in 2011. He is just 1-2 over the past two years with a first-up exit last year to Michael Berrer, where he was forced to retire with an injury.
Best of the Rest
9. John Isner
The American is on a roll after leading his American squad to the Davis Cup quarterfinals last week with a pair of wins over Sam Groth and Bernard Tomic. He enters Indian Wells this year with an 18-8 record all-time. He made the final here in 2012.
12. Milos Raonic
The Canadian is coming to California after an injury layoff. Raonic suffered a torn abductor muscle in his Australian Open semifinal loss and has not played a match in nearly two months. If healthy, he's a threat as he showed in making the semifinals last year.
26. Alexandr Dolgopolov
The Ukrainian had a strong end to February with a quarterfinal run in Rio and then a good semifinal showing in Acapulco. He is 9-5 at Indian Wells, with his best run being a semifinal appearance in 2014.
31. Sam Querrey
The American was as hot as anyone in February with a 10-2 mark that included a title at Delray Beach and a pair of semifinals in Memphis and Acapulco. He has never made it past the fourth round at Indian Wells, but could be a decent sleeper to make the quarterfinals.
Quarters Preview
First Quarter: Novak Djokovic (1)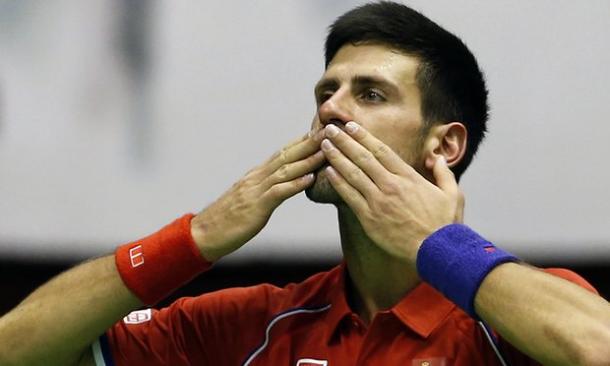 Djokovic is the lead seed in this quarter with Tsonga as the seed opposite of him in this quarter. Up top with Djokovic, Roberto Bautista Agut is the highest seed at 14 that he would need to pass through to get to the quarterfinals. Philipp Kohlschreiber is the first seed he could see with that potential match coming in the third round. Bautista Agut's path to the fourth round has 18th seed Feliciano Lopez as the highest seed in his way.
In the top half of this quarter, intriguing floaters to watch are Mikhail Youzhny who has torn up the Challenger circuit to get his ranking back inside the top 100. The Russian does now own a win at an ATP main draw this season however and faces Aljaz Bedene to open. An interesting first round battle with pit Ernests Gulbis against Guillermo Garcia-Lopez. Gulbis has been sneaky here over the last three years with a 7-3 mark in the main draw. He's the poster boy for inconsistency, but he could be a potential thorn in the side of the two seeded Spaniards.
The bottom half of the quarter looks extremely competitive and open with Tsonga, 11th seed Dominic Thiem, 21st seed Jack Sock and Sam Querrey all in contention. Tsonga has Querrey to contend with in his path to the fourth round. Querrey will need to be ready to go in his opener after a bye as he will face either Jiri Vesely or Thiemo de Bakker. Both are tally and lanky, but carry enough power to keep pace with Querrey. Thiem and Sock look likely to be on a collision course in the third round, if Thiem isn't running on fumes from a gross amount of tennis in the past month.
Second Quarter: Rafael Nadal (4)
Nadal has a difficult quarter overall. Nishikori is the lead seed in the bottom half of the quarter. Up top with Nadal, the Spaniard has to contend with 16th seed Gilles Simon, 23rd seed Grigor Dimitrov and 25th seed Martin Klizan in a bid for the quarterfinals. Nadal's first match could be a land mine with Gilles Muller or Victor Estrella Burgos waiting. Phenom Alexander Zverev could be a danger to Simon and Dimitrov. Fernando Verdasco could also be a danger man in this half. He opens against a qualifier and could see Nadal in round three.
The bottom half of this quarter has plenty of intrigue. Isner as the 9th seed could be a better option for a deep run than 5th seeded Kei Nishikori. There is also the mercurial 19th seed Benoit Paire and inconsistent Steve Johnson as the 30th seed. Two interesting first round matches include Donald Young against Andreas Seppi and Lukas Rosol against Adrian Mannarino. The Young-Seppi winner takes on Isner, while the Rosol-Mannarino survivor gets Paire. There could be an upset in that one. Mikhail Kukushkin could face Nishikori in the 5th seeds opener if he survives a first round match with Daniel Munoz de la Nava.
Kukushkin showed against Novak Djokovic at the Davis Cup that he is a potential nightmare when he is at his best. He's also one of those players who can easily disappear though and make an easy straight sets out. With Nadal still grasping at strings to find some momentum, this quarter is open for a number of players to make a run. Keep an eye on Isner.
Third Quarter: Stan Wawrinka (3)
Despite Wawrinka's lack of success at Indian Wells, this draw should see him with a possibility of a nice run. The Swiss is in the half of the quarter with 15th seed David Goffin, 22nd seed Pablo Cuevas and 28th seed Jeremy Chardy. On this surface, none of those are exceedingly scary for Wawrinka. Still, the lack of consistency from the Swiss can be mind numbing at times. He will face Illya Marchenko or Dmitry Tursunov in his opener. Goffin could be in for a rough time also after working hard in Davis Cup play, he'll face either Frances Tiafoe or Taylor Fritz in his first match. There is definitely room for a surprise quarterfinalist here.
In the other half, it's 8th seed Richard Gasquet leading the way. The Frenchman may have to deal with Dolgopolov to get to the fourth round. Tenth seed Marin Cilic and 20th seed Viktor Troicki are also in this half. Cilic is an early upset candidate. The Croat has lost his first match in two of the last four years. Troicki hasn't won a match at Indian Wells since 2011. That's three straight first-up losses for the Serb. He will face Sam Groth or Leonardo Mayer first, so monitor that for a potential continuation of the Serb's early exit streak.
With the poor track records of some of the seeds in this quarter, this could turn out to be another week where someone like Dolgopolov finds himself on a hot streak and making a deep run. Gasquet and Dolgopolov look likelier quarterfinalist hopes out of the one half with the other one possibly seeing Wawrinka if he is able to show some consistency.
Fourth Quarter: Andy Murray (2)
Murray heads to Indian Wells after once again rallying Great Britain to a Davis Cup win. For Murray, Indian Wells has been a bit of a problem stop. He could be in for a better time this year. Gael Monfils is the highest seed in his half of the quarter at number 13. NIck Kyrgios at 24 and Joao Sousa at 32 are the other seeds. Murray looks to be afforded a good road to the fourth round, before he might have to meet Monfils. The fun first rounder here should be Hyeon Chung against Albert Ramos-Vinolas.
The other half of the quarter is highlighted by with 6th seed Tomas Berdych and 12th seed Milos Raonic. The injury questions for both will preclude most from expecting deep runs. Raonic could be more likely with extra time to rest, but there is no telling how the abductor injury is until he gets in a real match situation. Bernard Tomic (17) and Thomaz Bellucci (29) are the other two seeds in this section. The big name to watch in this half of the quarter is Juan Martin Del Potro, who took a wild card entry. If Berdych is able to play and Del Potro wins his first round match, that is a blockbuster second round match. Del Potro certainly would like to make waves this week.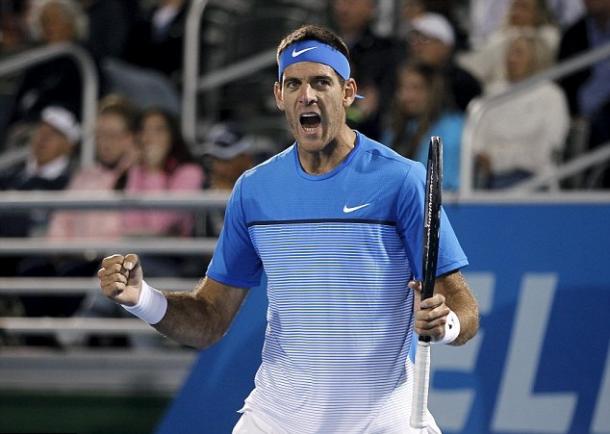 With the injury questions in this quarter, Murray is the safe pick to get through. His draw is conducive to a good run. Raonic and Del Potro are pair worht watching in this quarter. Good health and form could see either one giving Murray a run for a semifinal spot.
Predictions
Semifinals: Djokovic def. Isner, Murray def. Gasquet
Final: Djokovic def. Murray