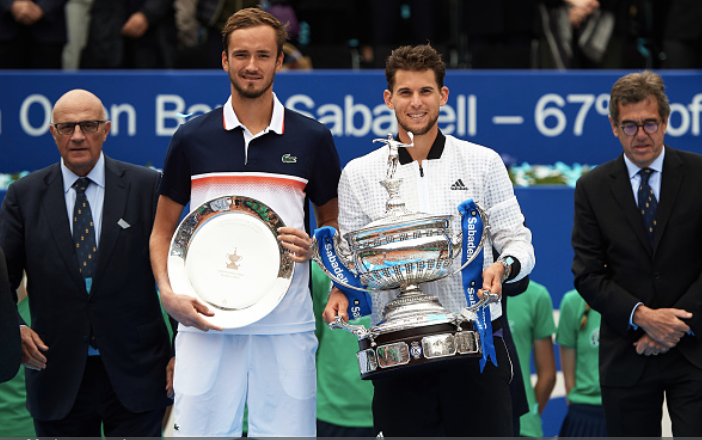 The showdown everyone was expecting is what everyone ended up getting, Dominic Thiem vs Daniil Medvedev. The two prohibited favorites in the bottom half of the draw set up a showdown after defeating Alex De Minaur and Andrey Rublev respectively.
Both men are the two most recent finalists in the Australian and US Open and are hungry to get back to another major final; this time without a threat of a multiple-time major champion standing across the net in the final.
Medvedev's Road To The Semis
A loss to Roberto Bautista Agut at the Western and Southern Open brought up many questions on how the Russian would fare, but all he's done is tick off the boxes.
The number three seed has been very business-like this whole tournament, having not dropped a set en route to the semifinals. In his first three matches, he did not lose more than four games in a set. He then provided a masterclass display against Frances Tiafoe, who had hoped to provide more of a challenge as the last US hopeful in the men's draw, dropping only five games.
Memory lane came knocking when he met Rublev in the quarterfinals; the two have been playing against each other since the juniors. Rublev, who was seeded 10th, provided Medvedev a tiny glimpse of what to expect when facing Thiem.
Powerful groundstrokes, attacking tennis, and the ability to redline is what Rublev threw at his Russian counterpart. But alas, the 10 seed still could not find a way to breakthrough Medvedev despite a 5-1 lead and multiple set points in the first set tiebreak. A visit to the trainer to check on his shoulder brought some concerns for last year's US Open finalist, but he was still able to get the job done in straights.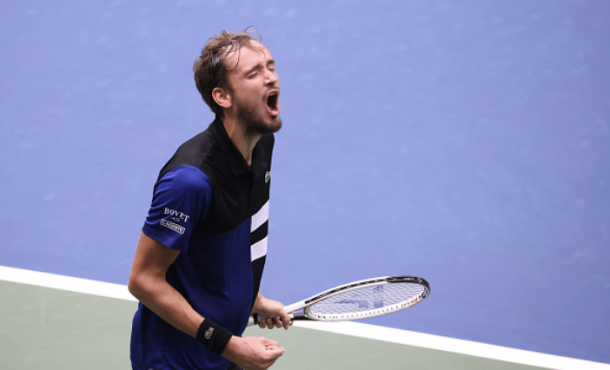 Thiem's Road To The Semis
The number three seed has been made to work a bit harder for his victories en route to the final four. He won a physical opening set against Jaume Munar in the first round before the Spaniard retired two sets down.
After quickly dispatching Sumit Nagal, he faced off against 2014 US Open champion Marin Cilic who was able to take a set off the Austrian, Felix Auger Aliassime was tasked with his first-ever Grand Slam fourth round match against the two seed.
He kept it competitive, breaking back in the opening set to force a tiebreak. From there though, the Canadian was just overwhelmed by the stage and Thiem's brute force. De Minaur, like Auger Aliassime, was just overpowered by the Austrian and could not do much in their quarterfinal match.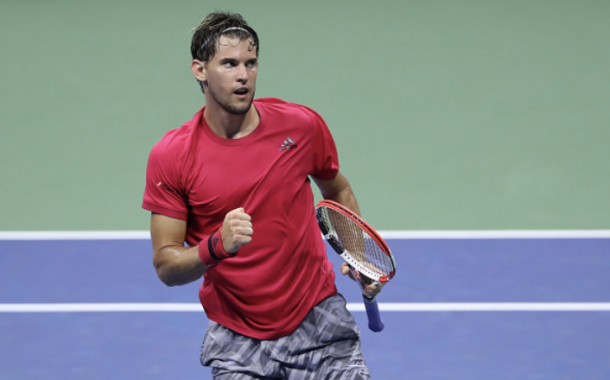 Analysis
Thiem leads the head-to-head 2-1, but Medvedev won their last meeting in Canada last year. Both players are excellent off the ground and with their serves. The serve with both players is something that is not often talked about because they're not winning many free points or setting up one-twos with it.
However, Thiem can use pace and serve out wide to open up the court while Medvedev "in general he have really good serve. He serve any direction he want, and he feel all of them really well," according to Rublev.
All eyes will be on the ground game though with Thiem's punishing pace against the steely consistency and precision of Medvedev. The Austrian loves playing from the back of the court and muscles plenty of balls over, but mixes in some slice here and there on the backhand side.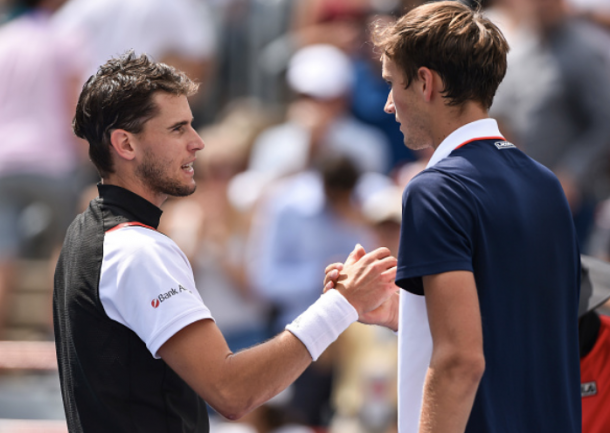 Medvedev loves to get into long rallies and remain neutral in them until he can pounce. Drawing Thiem into long rallies is most definitely on the cards in terms of gameplan for the Russian, but that's nothing new to the Austrian on the big stage, having gone toe-to-toe with Nadal and Djokovic in Grand Slam finals. The forehand is the "weaker" side between their groundstrokes, but it is not a major weakness for either.
Backhand to backhand rallies between these two however, will be something to marvel at. The third-seeded Russian possesses a backhand that he hits with depth, pace, precision, and can also redirect them for winners as well. Thiem's backhand is heavy and aggressive and like Medvedev, it's his best shot.
Movement is a bigger feature of Medvedev's game, but in that department, they're about at the same level. Look for Thiem to close into the net more often than the Russian in this match. Defense to offense is going to be something you hear a lot in this match as these two love to duel it out from the baseline. Even if it ends up being straight sets, expect this to be a slugfest.
Prediction: Medvedev in five