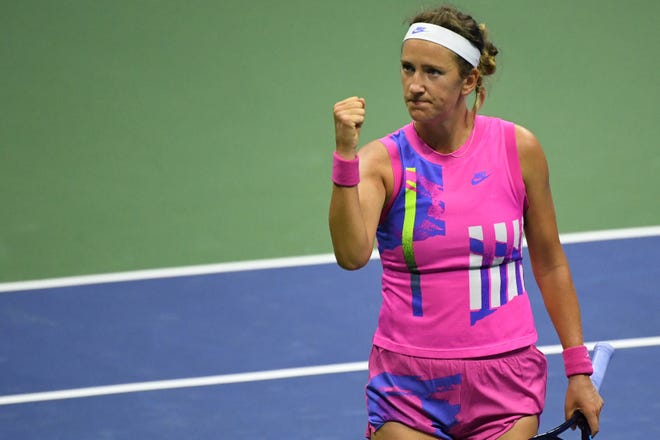 Victoria Azarenka is one match away from achieving what looked to be nearly impossible just a couple of weeks ago. The Belarusian, who will face fourth seed Naomi Osaka for the women's championship today at Arthur Ashe Stadium, is riding an 11-match winning streak that started at the Western and Southern Open, which was relocated to New York.
What's caused this incredible two-week run that the two-time major champion has been on? She spoke about that as she prepares for today's final.
Azarenka enters US Open final with improved mental attitude, "looking forward" to championship match against Osaka
The biggest difference for Azarenka is mentally as compared to when she won her second straight Australian Open title in 2013.
"How is it different? I mean, mentally i'm in such a different place. I think seven years ago, after I won the Australian Open and stuff, and playing kind of consistently with good results, it was kind of I wouldn't say expected but kind of expected for me to be in the final.
"I don't think that was the case this year. But it feels more fun this year, more fulfilling, more pleasant for me, yeah. It feels nice, nicer."
After dropping the first set of her semifinal against Serena Williams by a 6-1 score, the Belarusian revealed what turned the match around as she went on to take the second and third sets by identical 6-3 scores.
"Well, I knew I had to step up my game. It was very quick. In the beginning, it was a lot of very short rallies. She served really, really well. I felt like I was kind of out of range. I wasn't finding my range. Second serve was poor.
"I knew I had to get in the rallies, I needed to step up with my aggressivity, play a little smarter, play with a little bit more width of the court and bring the intensity up. I mean I knew I was a set down. I told you guys before: no matter what, I know the match is never over.
"It's going on both sides. 6-1, I just didn't want to get 6-0 because that would have been tough. I knew I was getting in a little bit of a better rhythm. I knew it was going in the right direction. I just needed to execute it a little better and get my energy up. I'm glad that that worked out for me."
As for the prospect of facing Osaka, who gave Azarenka walkover in the final of the Western and Southern Open, the Belarusian is excited about the opportunity against the 2018 champion.
"Very excited about that. I'm excited as I was last week. I'm sure this time we're going to get to play and it's going to be a great match. I think it's going to be an amazing final. I hope it will be. I'll have fun.
"But she's a very, very powerful player. She's a great champion. She's won two already. Aren't we both looking for a third one? It'll be fun."