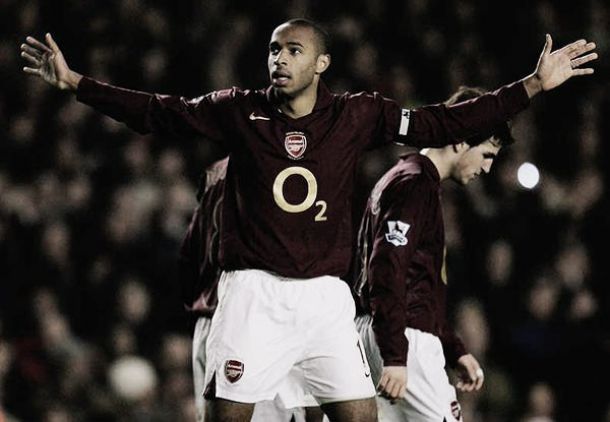 This weekend Arsenal face high flying Championship side Middlesbrough in the FA Cup. The visitors to the Emirates this weekend knocked out Manchester City in the last round so the Gunners have every reason to be wary of another upset in the last sixteen. However, a 7-0 win for Arsenal back in the 2005/06 season brings back good memories for a team looking to win the FA Cup for a successive season.
On that day, Arsenal ran riot in what was their final season at Highbury. Goals from Senderos, Gilberto Silva, Hleb, Pires and a hat-trick from Thierry Henry sealed a huge win for the Gunners but who else was playing on that day?
Jens Lehmann:
Arsenal arguably haven't had as good a goalkeeper since the German's tenure at the club. He was a huge part of the modern day Arsenal and of course was one of the Invincibles. Lehmann was barely troubled during that 7-0 victory and enjoyed a spectator's view of the game as goals flew in at the other end. Jens Lehmann won the Premier League and FA Cup at Arsenal, before going on to get sent off in the Champions League final which the Gunners lost to Barcelona. The German goalkeeper even returned to Arsenal as an emergency signing back in 2010-11, making one appearance as he stood in for injured goalkeepers Szczesny, Fabianski and Mannone. That appearance happened to be his 200th for the club, and meant he became the oldest player to have represented Arsenal in a Premier League match.
Lauren:
At right-back that day was Lauren, another member of the club's Invincibles. The Cameroon international's most successful days as a player came at Arsenal, as he made that right back position his own during his time with the Gunners. He is perhaps one of the most underrated players the club has had in recent times, making 242 appearences in six years. He left Arsenal in the January transfer window in 2007 for just £500,000 to Portsmouth with whom he made 28 appearnces for. He then returned to Spain, the country he was raised in, where he played five times for Cordoba before retiring in 2010.
Johan Djourou:
One of the centre-back's against Middlesbrough was Johan Djourou who was making a rare appearance. He only played in 7 League games that season and did well to keep a clean sheet in what was far from a full strength back-line. At the time he would've been just 19 years of age and looked to have a decent Arsenal career ahead of him. Only once did he look to live up to his full billing. In the 2010-11 campaign, he stepped in for the injured Vermaelen and played in eight consecutive games without conceding. He then recieved a dislocated soldier against Manchester United and never returned to the same form. The Swiss international played 140 times for Arsenal before moving permanently to Bundesliga outfit Hamburg last summer.
Philippe Senderos:
Arsenal's other centre back was Philippe Senderos, a man who has come under scrutiny for his performances throughout much of his career. At the time he was almost as young as his fellow countryman Djourou; he was just 20 years old. It was a campaign that saw him play the most amount of games in a season to date, and during the Middlesbrough game he scored one of just nine career goals. He headed home Arsenal's second, rising unmarked at the back post from a corner for his only Highbury goal. The Swiss defender played 113 times for the Gunners before joining Fulham after loan spells with AC Milan and Everton. He spent half of last season in Spain, on loan at Valencia, and now plays for Aston Villa with whom he has played 8 times for this campaign.
Pascal Cygan:
Cygan is the man in this Arsenal side that perhaps many won't remember. He was far from being Premier League quality but had impressed nonetheless for Lille in his home country, France. Despite an unimpressive spell in England, Cygan was actually in good form ahead of the 7-0 win over Middlesbrough. He was playing ahead of the injured Gael Clichy and Ashley Cole who was only just returning from injury. The French defender ended up being replaced after just 34 minutes though, as he was suffering from a hamstring injury. Cygan, who could also play at left-back as he did on that night, played 98 times in a four year spell before joining Villarreal and then finishing his career at Cartagena of the Spanish second division.
Freddie Ljungberg:
Another member of the Invincibles, Freddie Ljungberg had a particularly good game against Middlesbrough. Although not scoring he had a productive game down the right-hand side and provided Henry with the first goal of the game. He is officially Arsenal's 11th greatest player in the club's long history and you can see why. In his best days he provided both goals and assists. Over the course of 328 games for the Gunners he scored a total of 72 goals. In the same season as the 7-0 victory over Middlesbrough his career perhaps declined a little; he scored just 2 goals in the 2005-06 campaign compared to 14 in the previous. After Arsenal he remained in England and played one season for West Ham before moving to the MLS for spells with the Seattle Sounders and Chicago Fire. After that he briefly played for Celtic before linking up with Japense side Shimizu S-Pulse. He retired in 2011 before coming out of retirement in 2014 for the inaugral Indian Super League. He played four games for Mumbai City before returning to London due to persistent back problems.
Cesc Fabregas:
The Spanish international's successful career really started to take off during the 2005-06 season; a campaign which was his third in English football. In the same year as this game he went on to win the Golden Boy award and was in UEFA's Team of the Year. He played extremely well in the middle of the park against Boro, and as he does now, provided a solid transition between defence and midfield. Fabregas was to become Arsenal captain and quickly became a fan favourite, providing the team with a hosts of goals and assists. He is undoubtedly one of the best midfielders in the game and made 303 appearances for Arsenal, scoring 57 times in eight seasons. He then joined boyhood club Barcelona before returning to the Premier League to play for London rivals Chelsea.
Gilberto Silva:
Gilberto is easily one of Arsenal's best defensive-midfielder's to have graced the pitch. In the summer leading up to the 2005-06 campaign Patrick Vieira had left the club and Gilberto Silva was the perfect stand-in. Like many of the players at the time, he was a favourite amongst the fans and further added to the scoreline on the night. Henry managed to swing the ball in and Gilberto rose to head the ball down and into the bottom corner. It was a precise header and capped off a dominant display in midfield from the Brazilian World Cup winner. In total he played 237 times for the North London club before joining Greek side Panathinaikos. He played 111 times for them before moving back to his homeland to play for Gremio. Gilberto Silva then finished his career back at Atletico Mineiro, the team he'd been at before moving to Arsenal in 2002.
Robert Pires:
The attacking French midfielder was to become one of Arsenal's greatest ever players; in-fact he is officially the sixth greatest player to put on an Arsenal shirt according to a fan survey on the club's official website. The 2005-06 campaign however, was to be Pires' last in North London. At the start of his final season at Highbury he was in and out of the team due to a poor run of form, despite scoring 14 in the Premier League the previous season. However his performances improved, and he scored the fourth goal of the night just before the break. He got the ball on the left, before cutting inside and finding the net; something he'd done his whole career. Robert Pires featured in 284 games for the club, scoring 84 times before moving to Spain to play for Villarreal. After a four year spell he returned to England to play for Aston Villa for six months before retiring in 2011. Like Ljungberg though, he came out of retirement to play in the Indian Super League. He played eight times and scored once for FC Goa.
Jose Antonio Reyes:
The Spanish forward had three very successful years at Arsenal. He joined the club in the same season they went unbeaten in the Premier League, whilst he also went on to win the FA Cup the year after. That was despite being sent off in the final. Reyes played an important role in the 7-0 thrashing of Middlesbrough. He supplied the second goal from a corner and then assisted Henry's second and third goals. Reyes' time in England was to be cut short though and after rumours of him feeling homesick, he went out on loan to Real Madrid in 2006. The following year he completed a permanent switch to Atlético Madrid in which he was loaned out to Portuguese side Benfica at one point. In total he played 110 times for the Gunners, scoring 23 goals. He currently plays his trade at Sevilla, the team he spent his youth career with.
Thierry Henry:
The final member of the starting XI during that 7-0 victory over Middlesbrough was Arsenal legend Thierry Henry. He was in brilliant form in this game, a match in which saw him equal Cliff Bastin's record of 150 league goals for Arsenal. He opened the scoring with a brilliant volley. Ljungberg cut the ball back to him before the Frenchman thumped it home. His second was a well taken finish, slotting the ball past the onrushing Brad Jones in the Boro goal. His third was then a classic Thierry finish. He raced clear of the defence before clinically finding the far corner. Henry's career is hard to do justice in words but he was simply the complete striker. In two spells at the club the Frenchman scored 228 goals in 376 games. After his Arsenal days he went on to play for Barcelona and New York Red Bulls before retiring.
The substitutes:
Of course one of the players who scored on that night is yet to be mentioned. The final goal of the game was scored by Aleksandr Hleb whose career has rather stagnated after switching North London for Barcelona in 2008. He played 129 games for Arsenal before enduring loan spells with Birmingham, Stuttgart and Wolfsburg whilst under contract at Barcelona. The midfielder then had stints in Russia and Belarus before moving to Turkey to play for Konyaspor and now Genclerbirligi. The other subs that came on were Ashley Cole, now at Serie A side Roma, and Mathieu Flamini who of course still plays for Arsenal. The substitutes who didn't come on were Arturo Lupoli, now of Varese in the Italian Serie B and the retired Manuel Almunia.