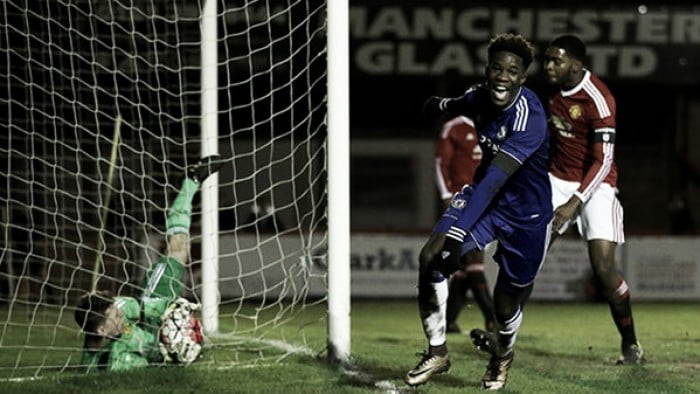 Manchester United were outclassed on Friday evening and knocked out of the FA Youth Cup in an embarrassing 5-1 defeat to Chelsea in the fourth round.
The Reds, playing at home at the J. Davidson Stadium, were weaker, slower and had less quality as the visitors scored twice in the first half to continue their bid to retain the FA Youth Cup.
Multiple figures of the United first team attended the game, with Louis van Gaal, Ryan Giggs and Sir Bobby Charlton at the game as well as David Gill, Jimmy Murphy Jr, Les Kershaw and Albert Stuivenberg.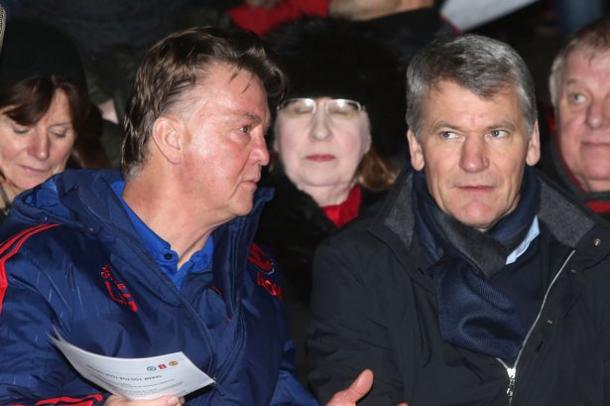 Their presence, not a regular feature for United's youth teams, couldn't inspire Paul McGuinness' side to victory, having beaten Queens Park Rangers 2-1 after extra time in the third round in late December.
Chelsea began as the better side, immediately taking the ball from United at kick-off and earning a corner, where Ike Ugbo had a shot blocked.
United looked to counter-attack in order to make up for the lack of chemistry between a side who have been damaged massively by injuries. Zak Dearnley started the counter, playing it to Marcus Rashford, United's main outlet all game, whose cross failed to be met by anyone in the Chelsea box.
Tammy Abraham, large but surprisingly agile, showed his quality, the captain of the side, playing the ball out of his feet quickly and striking just wide.
Ike Ugbo gives Chelsea deserved lead
Ugbo hit his 17th goal of the season, following up on Abraham's superbly saved header and simply knocking it into the goal from less than a yard.
Chelsea showed their class above, outpacing every United player except Rashford. Charlie Scott gave away a free-kick on the edge of the area, unable to keep up with the Chelsea attack.
Rashford had the first chance for United, a meagre one at that. He saw goalkeeper Baxter off his line and had a pop from 30 yards, bouncing well wide.
Captain Abraham makes it 2-0
Abraham, having had a similar opportunity early on, struck just before half-time to make United's task even harder. With little space due to pressure from Ro-Shaun Williams, he got it out of his feet well before striking with a low centre of gravity and in off the right post.
There was a 15 minute period of dullness after the break, with Scott's long-range effort that was snatched wide of the left post the only chance.
Charlie Scott brings United back into the game
Scott did score from long range minutes later though. Indy Boonen was brought on for the injured Zak Dearnley, another muscle injury for the youngster who also picked up a hamstring knock in the UEFA Youth League earlier this season. After a corner, well earned by Rashford, the ball was cleared to the edge of the area. Despite it bouncing difficulty, Scott got his foot over the ball and struck it well down into the ground and past Baxter.
Mount responds after 45 seconds for Chelsea
United's concentration was poor, though, with Chelsea regaining their two-goal lead immediately. After just 45 seconds since Scott's goal, Mason Mount, Chelsea's number 10, made it 3-1 to Chelsea, finishing neatly past Byrne.
With 1104 fans watching at the J Davidson Stadium, it quickly became embarrassing from McGuinness' United side.
Rashford had a penalty shout that was turned down, brought down by Baxter in the area after a mistake from the Chelsea goalkeeper.
Ali had a curling near post shot just go wide from a corner but he had no need to regret missing from long range because Jay DaSilva, a huge threat all night with his pace, crossing and excellent first touch, made it four with a wonderful chip.
DaSilva scores sublime chip
Just inside the penalty area, he delicately lifted it over Oliver Byrne to secure Chelsea's place in the fourth round against Wimbledon.
It turned to five as Ali got his goal, poking it past Byrne from close range, as Ugbo had done 70 minutes earlier.
United faced far superior opposition and shouldn't be disheartened by the loss, but conceding five is poor for a club of United's stature as the academy problems at Old Trafford continue with seemingly no direction from the top of the club's hierarchy.