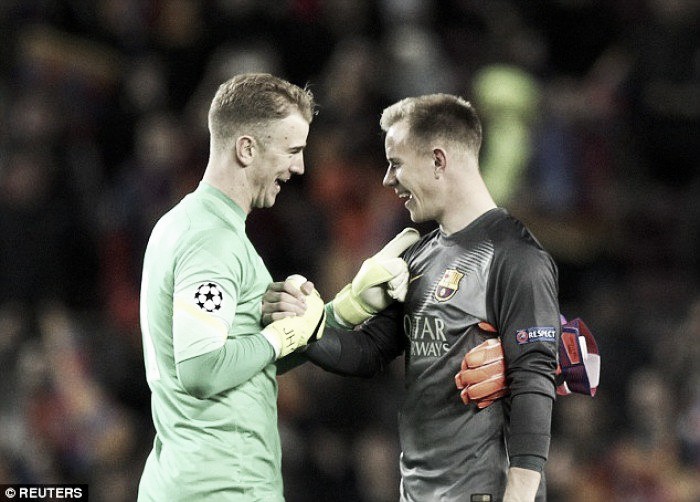 So who's in the frame?
Something that has got City supporters hot under the collar this week is the reports coming out from Spain suggesting that Manchester City have struck a deal with La Liga giants Barcelona for the transfer of German international goalkeeper Marc-André Ter Stegen. Since moving from Bundesliga side Borussia Mönchengladbach in the summer of 2014 for a transfer fee of around £9million pounds, he's been second-choice at the Nou Camp with experienced Chilean goalkeeper Claudio Bravo being preferred in the starting line-up on many an occasion for Luis Enrique's side, hence the reason suggestions of an exit have continued to intensify.
This season the German has made 20 appearances in all competitions - although only keeping five clean sheets, again perhaps why he struggles for a first-team spot especially given the form Bravo has enjoyed this season.
But why are City after him?
Well along with ter Stegen being one of the candidates in line to become Germany's new number one goalkeeper when Manuel Neuer has had his day, it's due to the playing style he adopts - which is similar to that of the national side's number one.
Pep Guardiola has very much embraced Neuer's role of 'sweeper keeper', unafraid of charging out to meet the attackers as well being confident with their footwork, and looks to apply that when he arrives at Manchester City. With Joe Hart being a somewhat traditional style of keeper, the Englishman may struggle to get to grips with the new boss' style of play.
But do we actually need him?
In my personal opinion, we don't need ter Stegen. Yes he's an excellent keeper with a very promising future ahead of him both for club and country: because of that he needs regular first-team football. This is something he hasn't had much of since his lucrative switch from his native Germany to Spain, and something he won't find with the Citizens. Since earning regular minutes, Hart has rarely been displaced in the team with the exception of the 2013/14 season where a poor patch of form saw Costel Pantillimon intervene for seven games. Upon his return, Hart had improved exponentially and has only been sidelined since through injury.
As well as this, City aren't in a situation where a new goalkeeper is a necessity. Clubs such as Liverpool and Manchester United for instance, are in need of new goalkeeping options - with Simon Mignolet unreliable at the best of times, whilst David de Gea edges ever closer to a switch elsewhere away from Old Trafford.
The sky Blues have one of the best goalkeepers in the country and Europe for that matter - having won two Premier League titles, an FA Cup, League Cup and four Golden Glove awards: if you'll excuse the awful pun, Hart isn't your average Joe.
As good as ter Stegen is, I don't feel as though he'll be able to usurp Hart in the side - when you take into consideration the trophy haul the Englishman has accumulated during his time at Eastlands, as well as his presence both on-and-off the pitch, the German would struggle to replicate that.