 The news of Sadio Mane's injury scare makes it the ideal time to reflect on just how important he can be for Liverpool this season and how big a miss he will be when absent.
Fans expected big things from the former Southampton man upon his arrival but few could have predicted his explosive Premier League debut for the Reds.
Jürgen Klopp's most expensive summer signing shone in the club's emphatic opening day victory over Arsenal, showcasing the qualities that can add a new and exciting dynamic to the Liverpool set up.
He was truly breathtaking at times on Sunday and, with his goal, displayed the pace, power, tenacity and conviction that will make him such a valuable asset to his manager and teammates.
The Senegalese forward caused havoc against Arsene Wenger's side, popping up all over the pitch and forcing his opponents onto the back foot time and time again with his bursting runs.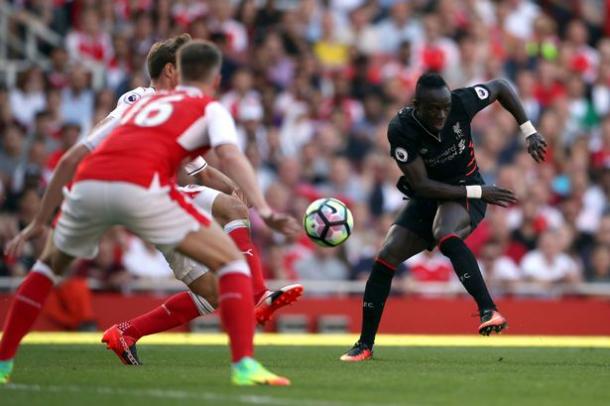 Mane's positivity and the aggression in his attacking play was infectious as the rest of his Liverpool compatriots began to back themselves against their opponent more as the match went on.
Aside from getting on the score sheet in such impressive fashion, the most exciting thing about his performance was perhaps the way he took control of proceedings.
Klopp needs his players to stand up and take responsibility and Mane could go a long towards helping to achieve that.
His work rate and desire to have the ball at his feet saw him breach the Arsenal midfield with driving runs from the deep positions he picked up, while his sheer pace and movement carried him beyond opponents with ease in both wide and central attacking areas.
Liverpool will undoubtedly benefit from having someone who can offer that kind of threat from all over the pitch with speed and the ability to improvise in quick time in the way Mane can.
How he helps his team…
Immediately, the possession of 24-year-old Mane's services promises an even quicker transition from midfield to attack.
His goal demonstrated his ability to create a chance out of anything, for both himself and those around him.
Combine that kind of impact with the magic of Philippe Coutinho and Liverpool become a danger to every team in the league.
He has the versatility that allows him to be a key player in both a wide position as well as a central role which straight away gives Klopp the chance to alter tactics.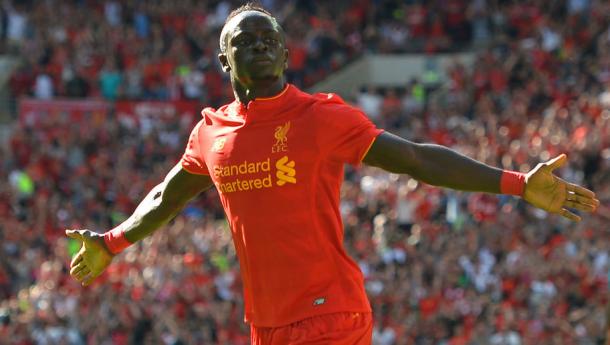 This also makes him a great suit to Klopp's favoured formation with regards to him naturally interchanging positions in the way Coutinho and Roberto Firmino so often do.
His movement across the frontline and beyond the opposition defence gives the two Brazilians and the midfielders an obvious target in behind.
He represents the type of player that Liverpool needed to replace Raheem Sterling with- someone who can turn their marker in a flash and go past two or three players in the final third.
The confidence and assurance in front of goal that Sterling lacked also appears to be coming into place where Mane is concerned.
His overall game compensates for the lack of pace in Liverpool's side while also ensuring the playmakers beside him find themselves on the ball on the edge of the opposition box more often.
The 24-year-old promises an injection energy as well as a fair share of goals to help take some of the pressure away from the likes of Daniel Sturridge and Divock Origi.
Premier League experience is also a huge bonus with him as it means he doesn't have to adjust his style of play or adapt to a new physical contest.
Key partnerships…
Fans have already witnessed the prospect of Mane and Nathaniel Clyne building a strong partnership down the right hand side.
Mane's wish to drift into different positions not only grants the likes of Coutinho, Firmino and Adam Lallana the freedom to receive the ball in more open areas of the pitch but it also leaves plenty of space for Clyne to drive into from right back.
The forward's contributions of both invention and the willing to get himself in and around the opposition box inspires similar intent from those around him in a way that certifies Clyne of options upon his arrival in the final third.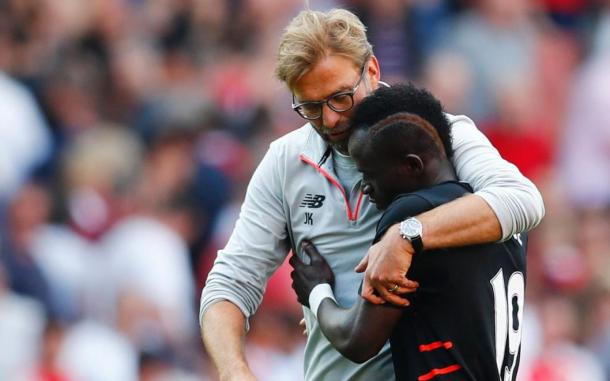 Liverpool's full-back reminded everyone of the threat he carries going forward with his assist for Coutinho's second goal against Arsenal at the weekend.
The pair play with an equally direct approach that differs from the more technical and neat game incorporated by many of the Liverpool players.
Stretching opposition defences and forcing them onto their heels is something this side has struggled to do at times, but it is something an improving Clyne and Mane partnership can rectify.
Should things go to plan, opposing fullbacks will be deprived of the freedom to break forward past the two former Saints on countless occasions which in turn means a still uncertain Liverpool defence won't be bombarded with crosses into the box as often.
While the left back faced with the task of confronting Mane drops a little deeper, so does the entire back four when they are introduced to the forward's dissecting runs.
Even if his movement in behind is combatted with a deeper defensive line, this gives the creators throughout the team more space to operate in and to make things happen from, something Firmino is certainly benefitting from.
The Brazilian has already profited from Mane's work when Klopp has asked him to spearhead the attack. He is able to make an impact after going unnoticed for a few minutes and is able to slyly draw defenders out of position with the many touches he takes when on the ball thanks to the less subtle threat his new teammate poses.
Sadio Mane is already on the tip of everyone's tongues when it comes to discussing Liverpool this season. He looks to have settled in quickly and could be a key man for Klopp this campaign.