"We want to be Champions. We don't want to start well, we want to finish well."
Jose Mourinho had a slight sense of confidence about him in his post match interview after Manchester United's 0-1 win away at Hull City, a smirk about his persona that suggested he always knew his side would get the job done.
He knows that the race isn't ran yet, they're merely out of the starting blocks when it comes to viewing the whole season, but it's only fair to suggest that the Red Devils have had the start of dreams in these first few weeks.
Three games, three wins. Nine points, 100% record. One goal conceded, six scored. They're not setting the world alight regarding performances, but they're winning.
It all has a very Jose Mourinhoesque feel about it, does it not? A feeling of a winning mentality, a feeling of invincibility.
'Jose Mourinho's Manchester United'
When a manager like Mourinho comes in, expectations sky rocket. Because, although some United fans will argue this, it doesn't remain 'Manchester United' the team, it becomes 'Manchester United, the Jose Mourinho team'.
Obviously, no manager is bigger than a club, especially when Manchester United are involved, but one must admit that Mourinho's presence heightens expectations.
Were Louis van Gaal still at the helm, talk before the season probably would have surround United in terms of top four talk. The idea that the 'Manchester United team' will hope to get back into the top for.
In walks Mourinho, and you're in a whole new ball game. After he signed on the dotting line, talk turned to 'Jose Mourinho's Manchester United' challenging for the title. Because that's what Mourinho does, challenges for titles. And that's what he's doing.
Jose buys stars to perform like stars
But it's not only Mourinho that's giving United this title winning stench at the moment. It's his signings. Whilst you can argue all day long about the fee paid for Paul Pogba, the wages given to Zlatan Ibrahimovic, the benching of Henrikh Mkhitaryan, they're all top players that have improved the United team hugely.
Mourinho is often lamented for not looking at the young players he inherits in teams, buying straight away to win, rather than looking to the future. But, if you can buy and win now, why buy to win in the future?
At Chelsea three years ago, he took over, bringing Nemanja Matic, Diego Costa, Cesc Fabregas and Thibaut Courtois (albeit back from loan) into the team. Third in his first season, the Blues kicked on and won the title at a canter the next time around.
It looks like he might well do the same with this United side. You can argue that he gets a free pass in management by spending all this money at each club, but you can't argue with his transfer record. He buys winners, and they win for him.
This goes back to the previous argument of Jose bringing a winning mentality to the club, rather than a 'top four' mentality. A long term critic of Arsene Wenger, he doesn't wanted United to turn into an Arsenal. What better way to do that than bring in Zlatan Ibrahimovic, a man to whom winning comes as naturally as eating, sleeping and breathing.
Three games, three wins, no problems
And how about the results? What is it about the first three games which have suddenly thrust United into real contention for the title, despite having 35 games, and 105 points, left to play for?
Starting with an away trip to Bournemouth, one that a top four chasing side would like to win, but would sometimes draw. One that a title challenging side does win, and United did.
Southampton at home next, and it was well and truly Zlatan time. Were they at their best? No. Did they get the crowd on the edge of their seat for 90 minutes? No. Did they record a comfortable win? Yes. Breezing to a 2-0 win, Ibrahimovic bagged a couple and that was that. Minimal fuss, maximum points.
And then came Saturday night. Hull City, away. A top of the table clash, although you wouldn't believe it. Led by ex-United assistant Mike Phelan, the Tigers put up a much stronger fight than expected, a theme of their first three games.
Still, as the Red Devils piled on the pressure, you had the feeling the goal would come. And it did, Marcus Rashford the hero, scoring in 'Fergie time' to secure the win. Okay, it was only the 92nd minute, but it had a certain feel about it. United fans went delirious, shocked by the late winner. Nobody else was in the least surprised.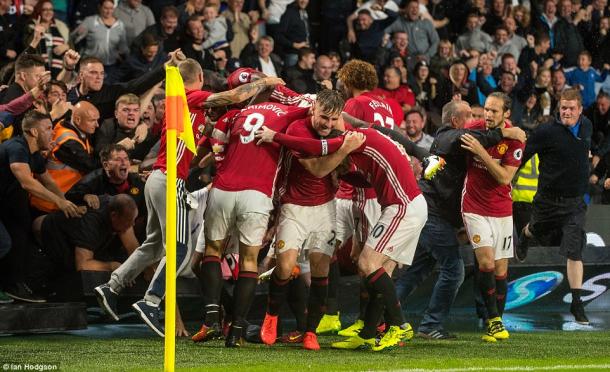 However, that feeling wasn't quite a 'Ferguson feeling'. You get the feeling that maybe, just maybe, United have found the right man to move on with in Mourinho.
United have now started the season with victories on Friday, Saturday and Sunday.
Three different days of the week, three similar winning feelings. A sense of inevitability, a sense of invincibility. A sense of a Jose Mourinho team, as he puts his stamp on Old Trafford.