It's one of the most eagerly anticipated Manchester derbies in years and Manchester City striker Kelechi Iheanacho is ready to step up for the occasion.
With Sergio Aguero suspended after picking up a three-match ban for an elbow on West Ham defender Winston Reid, Iheanacho is set to lead the line at Old Trafford on Saturday afternoon.
The Nigeria international understands the disappointment of not being able to select his teammate, but is raring to go if he is selected by manager Pep Guardiola.
"Sergio's suspension is a big loss but we have a lot of big players to turn to," he told The Sun. "If I get picked I'm going to do my job. Games like this mean a lot and it doesn't come bigger than a derby."
Kelechi's always improving
The 19-year-old recently signed a new contract, keeping him at the Etihad until 2021 and enjoyed a successful season last year scoring 14 goals in all competitions, as well as having the best goals-per-minute ratio in the Premier League.
The forward is also in good form having scored the only goal in Nigeria's 1-0 win over Tanzania at the weekend.
The derby this weekend will also see Jose Mourinho and Guardiola renew their intense rivalry, which was in full swing during the 'El Clssico' matches a few seasons ago.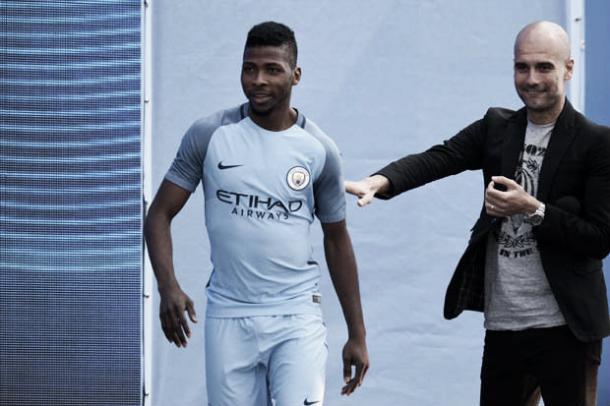 Iheanacho on Guardiola
Iheanacho also discussed the appointment of Guardiola, and appears to be learning from the experience that he has brought to City.
"He's a winner and I believe he will bring success to the club. His arrival has changed the mentality of everyone because you are starting from scratch," the youngster said.
He added, "It's been very good for me. He's one of the best managers in the world and I am learning a lot from him."
It is expected to be a heated occasion at Old Trafford this weekend, and if Iheanacho can impress in the derby, it could be the start of an even better season for the youngster.