Tony Pulis knows that his side's visit to Bournemouth is a must not lose.
The Welshman has received a barrage of abuse from Baggies fans of late and three points at the Vitality Stadium would almost certainly smooth things.
Bemusing transfer dealings
Fan trouble is not the only problem Pulis has, however, as he claims that John Williams' statement regarding the transfer window is wrong. The club had a rather uninspiring transfer window bringing in Matt Phillips, Nacer Chadli, Allan Nyom, Hal Robson-Kanu for a combined total of £22million, as well as Everton youngster Brendan Galloway on loan.
Following a disappointing deadline day, Williams released a pointed statement claiming: "Tony wanted five and we got five."
Though, Pulis refutes those claims and states he is unhappy with the club's transfer business: "The five players that John has said I was happy with, they weren't the marquee players I wanted to bring in."
"But we've brought the players in and we've got to get on with it. There's all sort of different reasons why those players weren't brought in, but to try and say they were the five that I wanted, that's wrong.
He added, "I've spoken to John about it and I think he accepts that."
Despite his frustrations, Pulis has denied any tension between him and Williams, with a Chinese takeover set for next week.
Pulis said he had spoken to John, describing him as a "good man" and that he "felt sorry for him" as he was in the "position of being in the crossfire of a changeover of ownership".
He continued: "He's a good man, I'll say that. I've had real good conversations with John, I've got to know him, he's a decent fella. And he's desperate for the club to do well."
The Welshman knew that the speculation would come, and the tough-talking boss was having none of it: "People are going to talk and they have every right to discuss it and make their own conclusions. To try and bluff and blag your way through something that went on, I'm not for that."
Pulis also commented, "As I've said, the five marquee players that I wanted to bring in, we didn't, for all sorts of reasons." He didn't want to pin the blame on anyone, either: "No-one's at fault, but the players we've brought in, fine. Now let's get on with it and march on."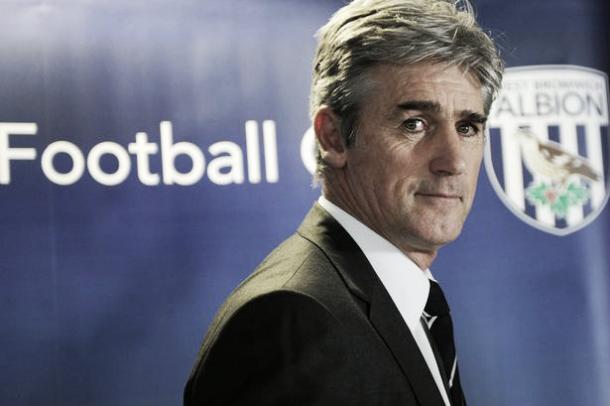 No plans to quit
Pulis is well aware of the disarray amongst the stands at the Hawthorns but is adamant he won't quit the Midlands, like he did at Crystal Palace: "This club is different to any club I've been at before; the way it's managed. There are people around doing different things that I've never had."
He continued, "It's been a good experience for me and I want to get through it, with that experience. Because it's more like a continental-run club."
"Whereas before, at other clubs, I've had much more control over things, this club is different, and I really wanted to experience it.
"Maybe in a couple of years time when I write my book, I'll let you know exactly what I experienced."
Pulis has called for calm from West Brom fans as he looks to bring some long-term stability to the club. "There's always a negativity around football clubs," he said. "You have to accept that. Before I joined the football club, Alan Irvine was playing fantastic football but wasn't getting the results, so people were moaning about that."
He believes it has now "spun around" because they are "not playing fantastic football" and the fans are unhappy. Pulis said, "You're always going to get that situation where there's a group of supporters who are never going to be happy."
Having been a man to bring calm to other clubs, Pulis is hoping to do the same here: "The changeover of manager at this football club is extraordinary. We should try and get some stability at this football club, try and build something and push on."
He feels that the time is right "especially now" due to "the change of ownership". He added, "The Chinese will be taking over soon, it's up to them to set their stall out about how they want this football club to be run in the future."
Pulis believes a choice will need to be made, "Whether they want stability and really build on the football club or whether they're prepared to do what's happened in the past and keep changing managers over."
Prepration for tomorrow's showdown
West Brom took on Delhi Dynamos over the international break, a game which Pulis was not present for. This of course sparked speculation of his depature, something which Pulis has rubbished: "Last week I was supposed to be shopping in London, I am the worst person in the world shopping, I never go shopping."
He added, "There was a programme discussing why I was shopping when we were playing Delhi Dynamos."
He was, however, watching Bournemouth take on AC Milan in preparation for tomorrow's game: "I was watching a game last Saturday, so all the rumours and all the speculation, everything that has built up, 90 per cent of it is absolute nonsense."
Pulis concluded, "I'm pleased the window's closed so we can all concentrate on the results and the performances of the players."