Group 1 didn't have the tense ending that it could have with both Iceland and Scotland having qualified for Euro 2017 before the final match. But there was still the matter of who would end up as group winners to decide.
Slovenia and Belarus fight for third
First up was the battle for third. Belarus could overtake Slovenia, but they would have to win their last two matches – and that included their final match against Slovenia.
First up for them was a match against the bottom-placed side Macedonia and they won convincingly 8-2. They raced to a 3-0 lead through goals from Yulia Slesarchik, Anastasia Shcherbachenia and Ekaterina Avkhimovih – with just four minutes between the goals. Macedonia pulled a goal back tough Eli Jakovska but any chance of a comeback was ended soon after with Anastasia Linnik restoring Belarus' three-goal advantage.
In the second half, Elvira Urazaeva made it 5-1 and although Macedonia pulled a goal back again – Anastasia Shuppo saw Belarus win the game 6-2. The result sees Macedonia end the group without picking up a point.
Belarus' last game against Slovenia saw them with a chance of finishing third. Having lost 3-0 to Slovenia earlier in the season and their poor goal difference, Belarus had to win 4-0 to finish in third place.
Belarus took the lead in the first half through Yulia Slesarchik, but they would have to wait until the 84th minute for Slesarchik made it 2-0 – and this was perhaps too late for them to gain the win they required.
Iceland come out on top
The only reason Belarus had a chance of finishing third was because of the result between Slovenia and Iceland. Iceland knew that a win would all but see them win the group, and they went into the match with the knowledge that they had already qualified for the tournament as at least one of the best runners-up.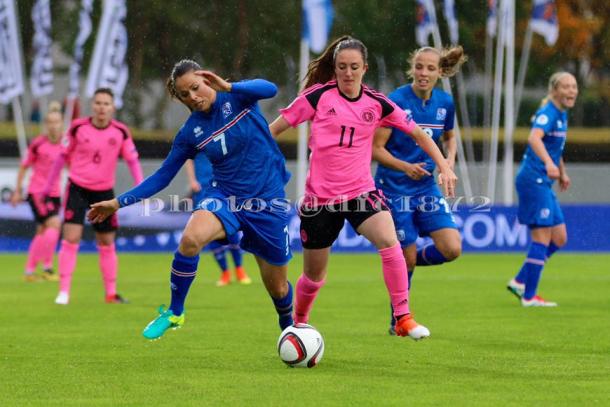 Iceland, cheered on by a near-record crowd, took an early lead through Hallbera Guðny Gísladóttir, and soon after, Dagný Brynjarsdóttir doubled their lead.
Early in the second half, Brynjarsdóttir scored her second before Gunnhildur Yrsa Jónsdóttir secured a 4-0 win for Iceland.
The final match of the group saw Iceland take on Scotland. With both teams qualified, the group winners had yet to be decided – although, Scotland would have to win 5-0. Scotland had been open that they were looking to gain back pride after a disappointing loss to Iceland in Falkirk.
And they did so in style, in front of an intimidating Icelandic crowd that was once again close to breaking their national record. Scotland took the lead when Emma Mitchell's cross picked out Jane Ross who headed past the Icelandic keeper Guðbjörg Gunnardsdóttir. However, just before half-time, Iceland equalised when Fannidis Frðriksdóttir chipped Gemma Fay – despite Mitchell's valiant attempts to clear off the line.
But Scotland never seemed to let the setback affect them and they retook the lead in the second half when Lisa Evans won a penalty which Jane Ross converted calmly.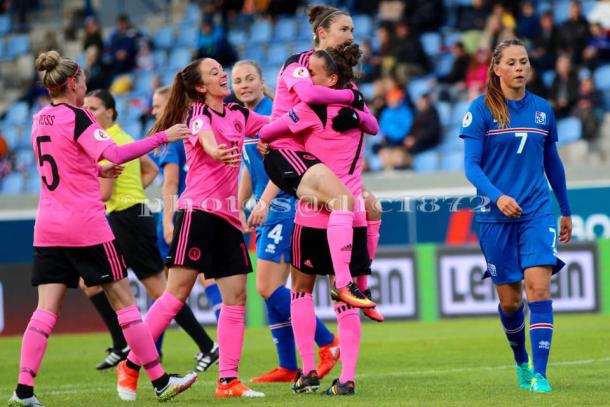 Jane Ross' two goals saw her end joint top goal scorer for the qualifiers - tied on 10 goals with Iceland's Harpa Thorsteinsdóttir and Norway's Ada Hederberg.
Not only was this Iceland's first defeat of the qualifying campaign, these were the first goals they had conceded.
Despite the defeat, Iceland won the group with both sides on 21 points thanks to their superior head-to-head record.