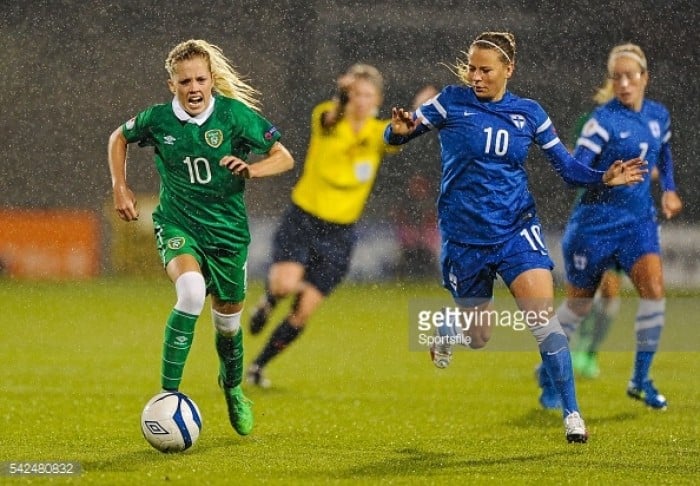 We are entering into the last round of games before it is settled who will qualify directly to the European Championships in 2017 which will take place in the Netherlands. 12 teams have already qualified, which leaves four places to play for. As it stands seven teams are still in contention for those places.
Rules, rules, rules
There were eight qualifying groups where whoever finishes on top is guaranteed a spot at the European Championship. However, as there is a need for 16 teams at the final tournament, the six best placed runners up also qualifies directly. The last two runners up will have to play for the final spot over two play-off matches. This results in 15 teams qualifying along side the Netherlands, who are automatically qualified as the host nation.
The factors that determine the order of the second placed teams can be a bit tricky to keep up with, but the first thing to keep in mind is that their results against the last placed team in their own qualifying group doesn't count. For example, the points and goals that Scotland accumulated against Macedonia in Group 1, doesn't count towards their ranking among the best second placed teams.
After this there are six rules for qualification, which, in order, determines the ranking; amount of points, goal difference, the amount of goals scored, the amount of away goals scored, the disciplinary points a team has accumulated and lastly the team's coefficient.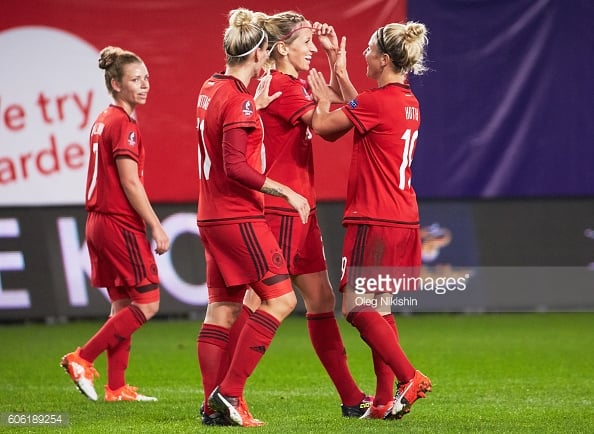 How do you say "We're already qualified in dutch?"
As mentioned 11 teams (12 with hosts) have already qualified. The hosts were soon joined when France and reigning champions Germany sealed their first place back in April. Spain, England, Switzerland and the silver medallists from the last European Championships, Norway joined them in June. A few days ago Sweden, Iceland, Scotland and Belgium also sealed their spots.
This also means that Switzerland, Scotland and Belgium will make their first appearance in a European Championship. Scotland and Belgium can still overtake Iceland and England and take first place in their respective groups, but no matter the final standings they are all qualified.
So close, but still so far away
Austria
Austria have already ensured themselves at least a play-off game since they have clinched second place in Group 8. Austria are currently fourth in the second place ranking with 10 points and a goal difference of plus-nine. They are in the peculiar situation that this can change if Israel overtake Kazakhstan in Group 8, but with Israel facing Norway this is unlikely.
Austria know that a win or a draw in their final game against Wales will be enough for them, but if they fail to win, then they'll need two out of Finland, Romania and Russia to lose. They also have a goal difference advantage if that comes into play. Austria beat Wales 3-0 in their first game, with Katharina Schiechtl, Sarah Puntigam and Nina Burger getting on the scoresheet. The latter is Austria's top scorer with five goals in this qualifying campaign and is their main attacking threat, but Nicola Billa has also been dangerous and has scored four times.
Denmark
Denmark, like Austria have already guaranteed themselves at least a play-off game, since they are sure to finish second in Group 4. Denmark have a good advantage going into the last game. They are third in the ranking on 10 points and with a positive goal difference of 10, which is the best of the teams in contention. Denmark are up against their Scandinavian neighbours from Sweden in the final game, and they know that a draw or win would be enough for them.
Denmark and Sweden historical plays close matches, and Denmark have enough in them to see off Sweden. Denmark have had a blistering attack, and Pernille Harder, Nadia Nadim and Sanne Troelsgaard have scored seven, six, and six goals this campaign respectively. Their defence has only conceded one goal, which came in a 1-0 loss to Sweden. Like Austria, if two of Finland, Romania and Russia lose, then they'd be going through no matter the result of their own game.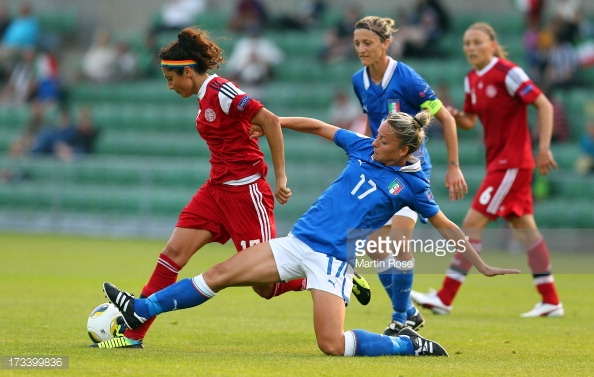 Finland
Finland are in the peculiar situation of being the only team currently in second place that isn't assured of at least play-off. This is because they are in a close fight with Portugal for that second in Group 2. This means that Finland is fighting a battle on two fronts. If we look at their own group they have a three point advantage down to Portugal, so they very much have the upper hand. They know that if they can get a draw or a win against Spain then they will seal second place.
However, Spain aren't an easy nut to crack and they lost 2-1 to them in the first game. Portugal have an easier game against the Republic of Ireland. Finland could have secured second place in the last game, but despite leading 2-0 against Portugal, they lost 3-2.
In the ranking of second placed teams, Finland are sixth with seven points and a plus-three goal difference, which means they are just above Romania and Russia due to having a better goal difference. Finland know that even a win might be needed to secure them a ticket to the Netherlands in 2017, as both Romania and Russia would finish on same amount of points if they win their games against Greece and Croatia; but they do have a goal difference boost that is four and five goals better than both of them.
Italy
Italy are fifth in the ranking, and after defeating Northern Ireland in the last game, they are guaranteed second place in their own group. They have almost the same starting point as Denmark and Austria. They have nine points and a plus-four goal difference, and a win against the Czech Republic will be enough.
They also enter the game knowing a draw might not be enough as it would only take them to 10 points in the standings, which is a point total that Russia, Finland and Romania could all accomplish. They do have the superior goal difference, which is bound to help. Like Denmark and Austria if two of Finland, Russia and Romania lose, Italy are going to the Netherlands.
Italy won the first game against the Czechs 3-0, and are also favourites for this game. ACF Brescia's forward Cristiana Girelli is Italy's top scorer with six goals.
Portugal
Portugal are in a do or die situation. As mentioned they are only third in their own group and anything less than a win against the Republic of Ireland will send them out in the cold. If they do finish with the same amount of points (Portugal win, Finland lose) Portugal have the advantage of being better head-to-head and would finish second above Finland.
If they do manage to clinch second place, they would go into the round knowing that if Romania and Russia lose they would get a direct spot through to the European Championship if they end up with a better goal difference; right now, it is a few goals worse than Russia and Romania.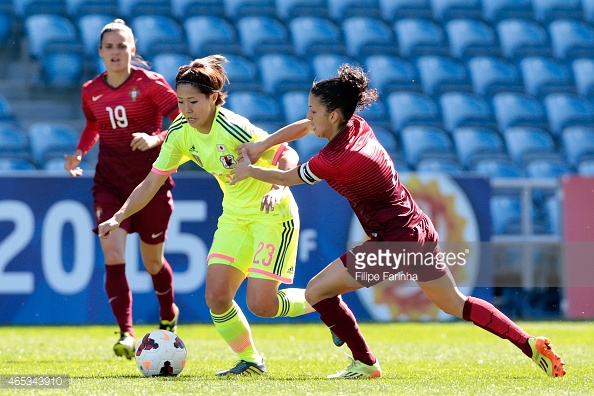 Romania
Romania are in a tight position. They have ensured their second place and will no matter what have a play-off game. They are seventh in the second place ranking right now, and they need to get a win as it stands if they want a chance to get one of the four direct qualifying spots. Even then they would still have to rely on goal difference, where they have a disadvantage right now. If Portugal overtake Finland, their chances might get better as they have a better goal difference than Portugal.
Romania's final game is a home game against Greece whom they beat 3-1 earlier in the campaign. In that game Laura Rus, Andreea Voicu and Florentina Spanu scored the Romanian goals.
Russia
Russia are in the exact same position as Romania. Same amount of points, but a goal difference that is one goal worse. They are currently last in the standing, and anything other than a win would mean it would be a play-off game for Russia.
If they do win against Croatia, they would need it to be a big win to overcome their goal difference disadvantage. Russia played Croatia back in June and here they beat them 3-0 with the goals coming from Sandra Žigić (OG), Nadezhda Karpova and Anna Kozhnikova. 3-0 is also Russia's biggest win of this campaign.