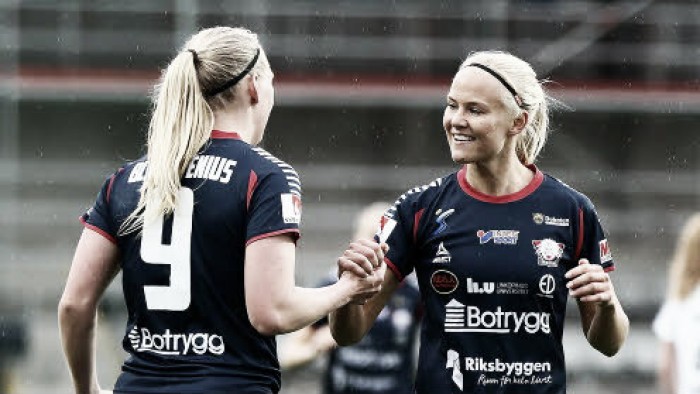 With two months remaining of the Damallsvenskan season, every point counts, as both the fight for first, third and to avoid relegation is as close as ever.
Kristianstads DFF – KIF Örebro DFF
Despite losing 1-0 to Eskilstuna in their last match, Kristianstad have managed to stay above the relegation line. However, with only two points down to both Mallbacken and Umeå below the relegation line, every point counts. Today Kristianstad host KIF Örebro at Vilans IP. KIF Örebro come to the game on the back of a 2-0 defeat to Rosengård.
Örebro, who finished last season in fifth place, have had a disappointing season, and are only five points above the relegation line, and will need a win today to keep the four teams below them at bay. With a win Kristianstad would be equal on points with today's opponents. For Örebro, Canadian forward Melissa Tancredi, who recently won Olympic bronze, is always one to look out for.
But also the talented Swedish midfielder Michelle de Jongh, who was part of the Swedish U19 team that were crowned European champions in 2015, is another to keep an eye out for. Kristianstad have added Danish international Stina Lykke to the roster, and the goalkeeper is going to be an important piece in their fight for survival. Johanna Rasmussen, another Dane, is the team's top scorer and many of the attacking ideas come through the experienced winger.
Mallbackens IF Sunne – Djurgårdens IF FF
Djurgården, who were promoted this season, have exceeded everyone's expectations. They are currently in 6th place, with only a seven-point margin up to third. In their last match they played 1-0 with last year's bronze winners from Piteå, with Michaela van den Bulk getting the goal from the spot. Today, Djurgården are up against Mallbacken who are second to last, with the same amount of points as Umeå in last place.
As their place in the table suggest, Mallbacken has not enjoyed a good league campaign thus far. The team, who barely escaped relegation last season, got a tough 4-0 loss in their latest game courtesy of Göteborg. Djurgården will be favourites, but it isn't an impossible game for Mallbacken who got a narrow 2-1 loss in the two teams previous meeting this season.
If Mallbacken wants to emerge victorious after 90 minutes, the team has to find their top scorer Madelen Janogy, who is the teams main attacking threat, especially since the former Swedish international Antonia Göransson, isn't ready to play the full 90 minutes.
Djurgården has several interesting players. Emilia Appelqvist, who was part of the Sweden side that won Olympic Silver, controls the midfield, and has been a big reason for Djurgårdens good season, when she hasn't been troubled with injuries. Icelandic goalkeeper Gudbjörg Gunnarsdottir, top scorer Mia Jalkerud and midfield enforcer Katrin Schmidt are also key payers.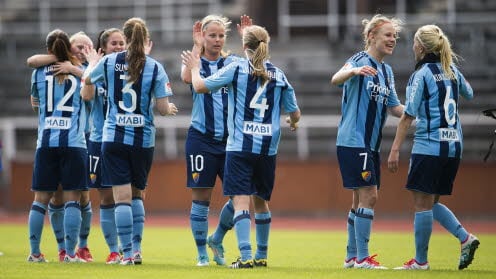 Umeå IK – Linköpings FC
It is top versus bottom as Umeå play hosts to Linköping. Umeå has had an injury riddled season, and over the summer there has been turmoil in and around the squad. In the two games that has been played after the Olympic break Umeå has suffered agonising defeats. First it was a 2-1 loss to Kvarnsveden, before Vittsjö beat them 5-0. This means Umeå is now last in the table, and the former Swedish giants are in a world of trouble.
However, they know that they are only two points behind Kristianstad above the relegation line and that a few good results can turn things around. Today is perhaps not the day this will change, as todays opponents from Linköping has yet to lose a game this season. In fact, their only loss of points has come in a draw with Rosengård. Linköping suffered the agony of losing the cup final, but took the disappointment out on Kvarnsveden in the last round when they beat them 8-0.
In that game Stina Blackstenius, who scored two important goals in Sweden road to silver at the Olympics, scored a hat-trick, taking her goal tally to 14 for the season. That is second only to her teammate Pernille Harder who has scored 15. These two are two of the biggest stars in Damallsvenskan this season, and they are always two to look out for. Linköping players also occupies the two top spots in the assist charts.
Jonna Andersson and Magdalena Eriksson, who also won silver with Sweden at the Olympics, have eight and six assists this season respectively. Umeå lost some players over the summer break, but Lina Hurtig is back and healthy, and when is in form she is one of the best forwards in Sweden. Another player who is back after a long spell out on the sidelines is Hanna Glas, who has been severely missed by Umeå.
Piteå IF – Vittsjö GIK
Vittsjö played their best game of the season in the last round when they defeated Umeå with 5-0. Today they are up against Piteå, who drew with Djurgården. Piteå finished 3rd last season, and despite losing their big star Pauline Hammarlund to Göteborg, they have managed to keep their level up this season. They are currently in fourth place, just three points of Eskilstuna in 3rd, and today is a game they are expected to get points in if they want to keep up with Eskilstuna and Göteborg (who have a game less).
Vittsjö has had a decent season with ups and downs, but with only six points down to the relegation line they are still not free of the relegation fight. For Piteå, Hilda Carlén has had a strong season. The Swedish international has come up big for her team time and time again. The always reliable Irma Helin is also worth looking out for. For Vittsjö Linda Sallström has scored five goals and the Finnish international is a creative force for the team. Defensively, their captain Ifeoma Dieke is what ties it together.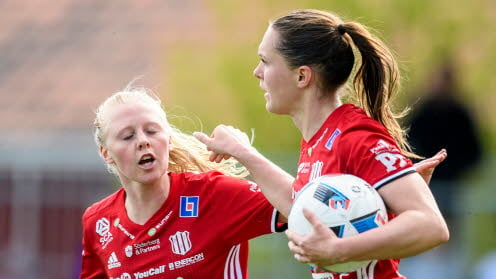 FC Rosengård – Kopparsberg/Göteborg
League leaders Rosengård is in a close battle with Linköping to win the league, and while Rosengård leads the way with a one point lead, they have also played a game more. Rosengård knows that they cannot afford to drop points, but the game against Göteborg is not going to be an easy one. Göteborg is currently fifth in the league, with five points up to Eskilstuna (but with a game less), and if they can steal points of Rosengård today, they will put pressure on Eskilstuna and Piteå above them.
Rosengård, who recently won the Swedish cup, got a 2-0 result against KIF Örebro in the last round, with Amanda Ilestedt and Lieke Martens getting on the scoresheet. Martens have scored eight goals so far this term, and is always a danger to any defense.
So are Ella Masar and Marta, who have both scored 10 goals for Rosengård. Lotta Schelin, who recently moved to Rosengård, has had a good start with her new club, and today is a special day for her, as she is facing the club were her professional career started, and where she played for seven years. For Göteborg Pauline Hammarlund has been in rich form this season, netting seven goals and setting up three goals for her new club. In their last game Göteborg defeated Mallbacken 4-0.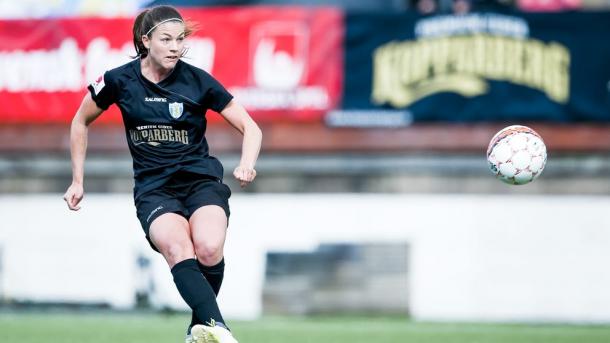 Kvarnsvedens IK – Eskilstuna United
Kvarnsveden got one of those defeats that is hard to forget when they were beaten 8-0 by Linköping. Today's game is another tough one, when last year's second place Eskilstuna visits Ljungbergsplanen. Eskilstuna got a narrow 1-0 win over Kristianstad when newcomer Chloe Logarzo found Marija Banusic with a cross, and she calmly headed it in. Mimmi Larsson, who recently got a call-up for Sweden's euro qualifiers, have been in fine form this season and has scored six goals.
Olivia Schough is starting to find form, and Banusic has scored a number of important goals this season. For Kvarnsveden Tabitha Chawinga has dominated their offence this season, which has brought attention form foreign clubs. With the new addition of Tiffany Weimer, Kvarnsveden have gotten even more creativity that might leave more room for Chawinga.