With Tottenham Hotspur and Mauricio Pochettino deploying a new 3-5-2 system against Arsenal on Sunday, central midfielder Mousa Dembele may have found his best position in the current Spurs side.
Dembele brilliant on and off the ball
A brilliant display of both physical and mental strength added with some magical dribbles from the midfield engine saw Dembele being handed some of the highest compliments by his teammates and manager alike.
All game long, no matter what the circumstances, the Belgian international would be there alongside his fellow teammate Victor Wanyama to help sure up the Tottenham midfield and turn defense into attack.
Gliding past players with ease has always been associated with the 29-year-old midfielder, and today will go down as one of his best performances in a Lilywhite shirt for this very reason.
Dembele had no less than 90% passing accuracy, making a total of 47 passes throughout the 90 minutes. Taking command of the midfield and leading by example was key to his game today, bossing around both Christian Eriksen and Wanyama saw the best of Dembele shine through.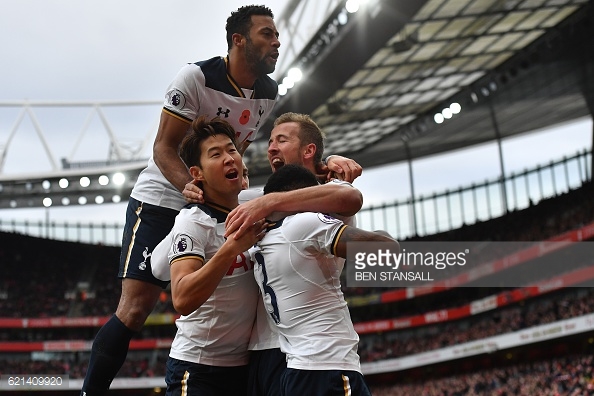 Although the assist may not be handed to Dembele, his direct surge right through the heart of the Arsenal defense was the only reason the Tottenham penalty was given today, and realistically without this opportunity, Spurs may not have got back into the game.
Belgian can again make the midfield his own
With Dele Alli potentially being out for a number of weeks and teammate Wanyama only two yellow cards off of a suspension, this could be te time for Dembele to step up and really take the Tottenham midfield for his own.
The international break has soon come upon us and Belgium manager, Roberto Martinez, has every right to select Dembele to be a part of his squad, even though the midfielder picked up a slight knock against Bayer Leverkusen on Wednesday.
Speaking about that, manager Pochettino stated; "Dembele is a genius. He could play 20 only minutes against [Bayer] Leverkusen but today he was one of the best."
Mousa Dembele was indeed truly sensational today, and his form is only looking on the up, so very successful times for the midfielder could be just around the corner.