 It wasn't a pile driving volley, like the one against Newcastle United. It wasn't an acrobatic bicycle kick, like the one in the Manchester Derby. It went in off his knee.
They all count, and the deflected effort that Wayne Rooney scored against Reading in the FA Cup means that Rooney will be assured of his place in Manchester United's history for some time to come. He now stands shoulder to shoulder with Sir Bobby Charlton with 249 goals for the Red Devils.
Not that he would have been forgotten when he finally departs Old Trafford anyway. He has served United well. He is in his thirteenth year in a United shirt, and that in itself is some achievement. To play once in a United shirt marks you out as being special. Rooney has always been special.
United career could be prolonged
It is said that players are only truly appreciated when they hang up their boots. Probably true. Rooney does not appear to be in that frame of mind, and Jose Mourinho's comments in the wake of his achievement suggest he may not even be departing soon.
Mourinho revealed he was more than happy with Rooney's attitude, and his acceptance that he isn't going to play every week. Assuming he keeps his condition, then he may yet be around for some time.
His condition has always been a talking point. He is stocky, and as a youngster with pace, his bulk made him like a bull and unplayable at times. As his pace has dropped, then his body shape has become more of a hindrance.
Yet in his last few injury interrupted performances, he has looked very lively. He has been making clever, penetrative runs, and has linked up extremely well with whoever he has lined up with.
His first touch is often an indication as to how he will perform. Occasionally his touch is off and no matter how hard he tries - and he always gives his all - things just don't go for him. Recently, his touch has been spot on.
It is hard to see him becoming nailed on for a starting line up, but he is giving Mourinho food for thought with his eye catching displays. Henrikh Mikhitaryan is really the only shoe-in behind Zlatan Ibrahimovic, but he is certainly playing as well as anyone else.
How his career pans out from here nobody can say, but you can make a judgment on how he will be perceived for his contribution for United. After all, there are only a handful of players in history that have been at United longer.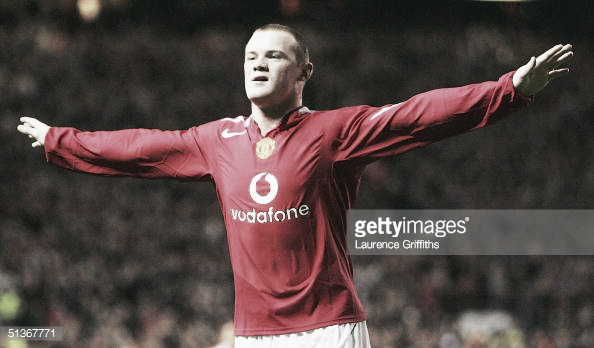 Honours and goals make him a legend
Quite simply he should be afforded legendary status. There is no other way to describe him after what he has contributed to United. On top of his goals, he has been part of three Champions League final teams, claiming the one title.
He has won five Premier League titles, two League Cups and FA Cup and a Club World Championship. Not a bad little haul, and when you add his goal tally it is just doesn't sit well to afford him anything other than the praise he deserves.
Yet, the events of 2010 and the alleged events of 2013 will forever taint him in many peoples eyes.
His official transfer request in 2010 was ill advised, putting it mildly. Three months into the 2010-11 season, Rooney handed in the transfer request. He cited a lack of ambition on United's part. They had sold Cristiano Ronaldo the previous season, and only won the League Cup.
Still, it is difficult to believe that United under Sir Alex Ferguson could have lacked ambition. Sir Alex had dispensed with huge stars in the past, but he knew that he could not allow Rooney to leave. At almost 26 years of age, Rooney was still United's future.
A U-turn, a new five year contract and all was well in the world. Yet Sir Alex didn't forget the events. Not many people got one over on him, and he would try to exact revenge before bowing out.
Ronaldo not like Rooney?
Yet whilst Rooney is seen as a 'traitor' and a 'mercenary' in many quarters, it seems strange that the afore mentioned Ronaldo is still seen as a hero.
After picking up the Champions League in 2008, he made his wishes known to Sir Alex that he wanted to join Real Madrid. The United boss made a gentleman's agreement for Ronaldo to stay another season and then join Los Blancos.
Where is the difference? There isn't one. Ronaldo even named his club, and there is no question he has given Madrid his best years. Born in Madeira, made in Lisbon, polished of in Manchester. Madrid reaped the benefit of his schooling.
That is not to say that Ronaldo deserves any criticism. He served United well. United made a hefty profit, though the price tag seems value for money now, and nobody should have any regrets. This is modern day football, where players are in control.
Rooney has played over 250 games since the official transfer request and scored over 100 goals. He has helped United win two League titles and and FA Cup. The initial transfer request may have been forgiven had it not been for Sir Alex's parting shot.
Sir Alex barb played into Rooney's hands
On his final game at Old Trafford before retirement, he declared that Rooney had asked to leave once more. Rooney refutes the claim. Rooney had not been playing regularly, less so than he is now.
He asked about his future and suggested he may be better off leaving if he was not in United's plans. That is not the same as a transfer request. He was no doubt angling for something, but it didn't have to be made public.
By making it public, all Sir Alex did was play into Rooney's hands whether money or a starting place in the United team was his motivation. David Moyes was helpless to do anything other than keep Rooney.
Another new contract and this time the captaincy to boot.
As a captain he is not a Roy Keane or a Bryan Robson, but he gives 100% so from that point of view he leads by example. He takes care of the players off field by all accounts, and is of course popular with the players.
Some fans will never accept Rooney, and his legacy will always be tainted in their eyes. However, the record books won't document the transfer request or the alleged second.
They also won't show that Rooney played everywhere across the midfield and forward line and was sacrificed on many occasions to accommodate others, mainly Ronaldo. They will document his 249 goals and counting.
On his day, in his pomp, he was world class. And he gave United his best years, even if they may be behind him now.
Mercenary? Maybe, though he is not the only player in recent times to have stole a living from United. Legend? Definitely, because his achievements speak for themselves.