After five defeats in their previous seven games, Arsenal have entered a full blown crisis, as matters off the pitch threaten to spiral out of control.
Tuesday night's 5-1 home defeat to Bayern Munich in the UEFA Champions League might prove to be the final nail in the coffin for Arsene Wenger, as the end seems very near for the Frenchman.
But right now it is not looking anything like a fairy-tale ending for Arsenal's longest serving and most successful manager. Though, Wenger's players have to take a lot of the blame for recent affairs, as certain members of the squad are under performing and are almost passengers in this damaged Arsenal team.
So, if Wenger is to leave in the summer, who goes with him out the exit door and who has earnt the right to stay at the Emirates?
Goalkeepers
Petr Cech – STAY – The veteran has come under a lot of criticism this season for certain performances. But Cech is still a world class goalkeeper, with his experience and leadership being critical, as the club is massively lacking in that department.
David Ospina – GO – The Columbian international has recently been reported to be keen to leave in the summer. Always has been accustomed to being the second choice 'keeper since arriving in 2014.
Defenders:
Hector Bellerin – STAY – One of the most talented and promising players in the squad. Bellerin's rise to the first team has been a remarkable story, and having signed a new long-term deal before Christmas, the Gunners will look to fend off interest from Barcelona and Manchester City in the summer.
Carl Jenkinson – GO – Surplus to requirements ever since a string of poor performances earlier on in the season. Never made it at the club.
Mathieu Debuchy – GO – General attitude has been shocking ever since being forced out of the team by Bellerin back in 2015.
Per Mertesacker – GO – Recently been awarded with a new one-year contract extension, despite not featuring once this season. Almost like an ambassador at the club now.
Laurent Koscielny – STAY – One of the most important members of the team. Again like Cech, a rare player in the squad that has leadership attributes. Signed a new deal at the start of the year to fend off any interest from Bayern Munich.
Shkodran Mustafi – STAY – Formed a solid partnership at the back alongside Koscielny since arriving in the summer. Though has had a very dodgy second half of the season so far.
Gabriel – GO – Has never quite made it at the club since arriving at Villarreal back in 2015. His decision making and rashness highlights his inexperience and ability to adapt to the English game.
Nacho Monreal – GO – Arsenal are desperately crying out for a new first-choice left-back at the moment. Monreal, who has been normally so reliable and consistent has dropped off the pace massively this season. Has been tormented numerous times this season.
Kieran Gibbs – STAY – Very reliable member of the squad and a member of the successful youth team from the 2007/08 era. Good squad player to have, not first choice though.
Midfielders:
Francis Coquelin – GO – This season has been a disaster for the Frenchman, as a sequence of poor performances away from home in big games has left Arsenal fans calling for his head. Another player who's performances have rapidly declined this season.
Mohammed Elneny – STAY – Not a favourite around the Emirates, but a very important squad player. Elneny is still settling in to life at Arsenal following his move last season, but I feel the best is still yet to come from the Egyptian.
Granit Xhaka – STAY – Has come under a lot criticism recently following his £34 million arrival in the summer. Though it has been obvious at times this season that Xhaka can become a top, top player at Arsenal. Just needs the right partner alongside him in that midfield.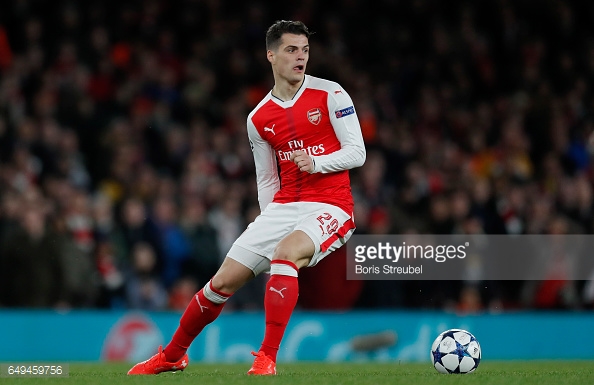 Aaron Ramsey – STAY – Many Arsenal fans will be calling for Ramsey to be the first name out the door at the Emirates in the summer. But I still feel that Ramsey can rediscover the form from that 2013/14 season, only under the correct management though. Wenger has halted the progress of the Welshman by constantly playing him out of position. If Chris Coleman can get the best out of him for Wales, then isn't that saying something?
Santi Cazorla – STAY – The Spaniard has been plagued with injury for the past two seasons, and his absence has been massively felt. One of the most technical gifted players in the league, though the time will soon come where Arsenal will have to start looking for replacements as Cazorla is entering the latter stages of his career.
Mesut Ozil – GO – I think Arsenal need to move on from the German. For the second season running, Ozil has gone missing from December onwards after an impressive first half of the campaign. Again similar to Ramsey, could be a different player under a more motivated manager, but his time looks up especially with the contract situation too.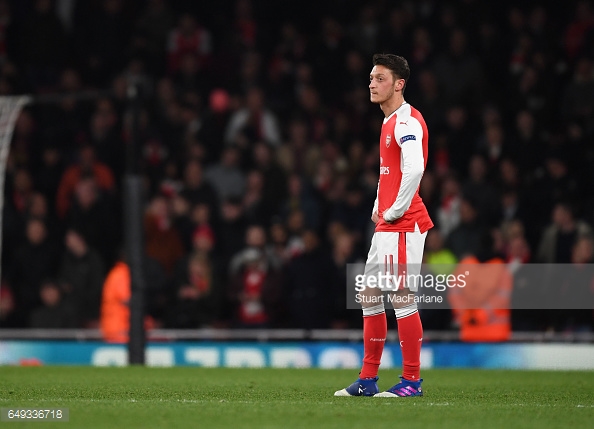 Forwards:
Alex Oxlade-Chamberlain – STAY – If you asked me this two months ago it would have been different. Chamberlain has been Arsenal's stand out man ever since he has been in to a more central midfield role. It looks like his Arsenal career is up and running again.
Theo Walcott – STAY – I still believe that Walcott is a massively important member of this Arsenal squad, and this season he has showed that. This season has been his highest scoring season at the club, and he seems to have this new hunger and persona which we had never witnessed beforehand.
Lucas Perez – STAY – I feel incredibly for Perez. What has the Spaniard got to do to start a game?! Whenever he does feature he always seems to score, then the next week he won't even be part of the 18 man squad. Still so much potential there, again under different management.
Danny Welbeck – STAY – Like Cazorla, Welbeck has been hampered by long-term injuries in the past two seasons since arriving back in 2014. A vital member of the squad, who constantly stands out when he features.
Alex Iwobi – STAY – Had such a promising start to his Arsenal career at the back end of last season and early on this campaign. Though has dropped massively since the turn of the year. Again leads to the question, would another manager be able to bring the best out of the Nigerian again?
Alexis Sanchez – GO – I would love to say 'stay' for this one, but need to be realistic here. Sanchez looks 100% certain to leave in the summer, regardless of whether or not there is a managerial change. Looks like he has cut all ties with the squad as well as his frustration has boiled over. A massive shame really.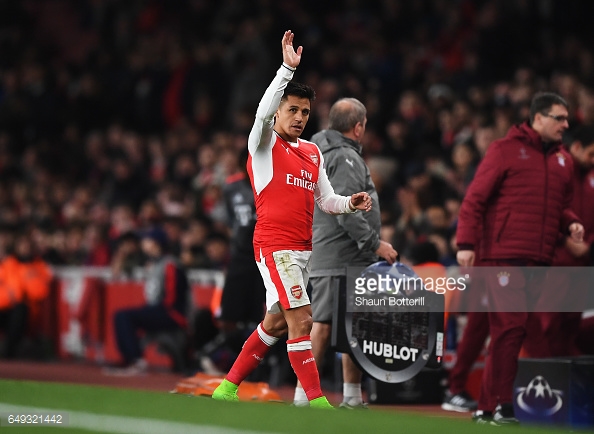 Olivier Giroud – GO – One too many chances at the club to be the first choice striker. His goals come in patches and his inconsistency is visible for all to see. Good plan B coming off the bench, but nowhere near good enough to start week in, week out.