 Nathan Ake's recent move to AFC Bournemouth makes him the third Chelsea youth product to leave the club permanently in the last couple of months. Joining Bertrand Traore and Dominic Solanke on the departure list, Ake becomes yet another academy product who has been denied the first team opportunity at Chelsea.
Chelsea have long been criticised for the way they handle their youth players and with John Terry being the most recent academy player to feature in the first team consistently, that criticism is deserved. For years the club have failed to introduce academy products into the first team and keep them there, but the issue is becoming more evident now.
A list too long
Chelsea have become one of Europe's biggest spenders since 2005 and with that, the club has struggled to get their youngsters to take the next step and play for the first team. The problem isn't that the players aren't ready, it's that the manager and other coaches aren't willing to trust them.
The Blues academy has been one of the most successful in Europe in recent years, but the players have gone on to join other clubs rather than have a future at Chelsea.
Dominic Solanke and Bertrand Traore are two strikers who impressed in their time at Chelsea, but were always loaned out and never given the opportunities they deserved. Chelsea allowed Solanke to leave on a free transfer, while Traore was sold to Olympique Lyonnais for £8.8 million.
Ruben Loftus-Cheek is an example of a player who has shown he's capable of playing in the top flight, but his coaches continue to change positions or refuse to give him chances. The 21-year old emerged as one of England's brightest stars as he progressed through the ranks at Chelsea, but his development has stagnated with the lack of first-team football.
The Blues must find a way to help Loftus-Cheek break the trend or face yet another departure that they would regret.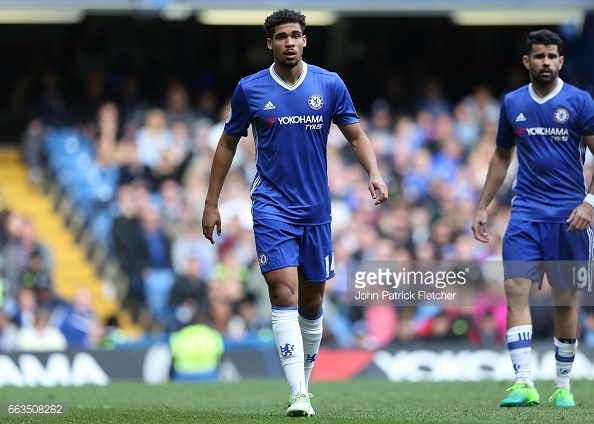 Ake is the latest victim of the Chelsea system after signing for AFC Bournemouth for £20 million. Ake made his debut for Chelsea in 2012, at age 17, and featured every so often in his first few years at the club.
Since 2015 though, Ake has faced the loan treatment but after an impressive six months with Bournemouth, he was brought back into the first team fold. Rather than explore the option of Ake, the 22-year old was left on the bench rather than getting regular game time with Bournemouth.
The defender made just five appearances for the club during the 2016-17 season, including a stellar performance in the FA Cup Semi-Final. Despite that performance, he was demoted to the bench for the final and is now a former-Chelsea player.
Experience over youth doesn't always work
There have been opportunities to "play the kids," but instead managers have opted to go with players who have the experience, but not necessarily more talent. Gary Cahill and Nemanja Matic are two examples of players that contributed to Chelsea's recent title winning season, but didn't look good enough at times. Cahill, who made 43 appearances for the club last season, and Matic, who made 40 appearances, could've made their contributions but equally shared game time with players such as Ake and Loftus-Cheek along the way.
The trend of Chelsea barely giving young players a chance before selling them has to stop. While the profits may be beneficial and buy-back clauses could be included, it may prove futile when players refuse to return to the club that never gave them their shot.
The return of Andreas Christensen from a two-year loan can be a chance for Chelsea to change the narrative. The defender has looked exceptional while away from the club and there would be no better time for Chelsea to give him regular playing time. Nathaniel Chalobah and Loftus-Cheek have also shown they are capable of taking serious roles in the Chelsea midfield and should be seeing more minutes.
With Chelsea competing on all four fronts again in 2017, it's time for the club to get serious. Antonio Conte has plenty of talent at his disposal, but he has to blend youth with experience or Chelsea could be facing more departures. Loan moves can help a player but it's not the solution every season. The only way young players can prove their talent is if they are given the opportunities to show it.
There is a long list of Chelsea youth products who head elsewhere and that list will continue to grow unless things change in West London.