 Manchester United clinched the second win of the pre-season tour on Tuesday. The Red Devils got a narrow 2-1 win over the MLS side Real Salt Lake. Romelu Lukaku scored his first goal for Man United since his big money move from Everton. Henrikh Mkhitaryan got the winner as United made a comeback after going one goal down early in first half.
Jose Mourinho's side had to play the second half with ten men on the pitch after Antonio Valencia was sent off for a poor challenge. The performance from the team was not up to the mark in this game. However there are various things which were learnt from this game.
United need a deep lying play-maker
Mourinho admitted that the club will try to get two more signings in this window. A defensive midfield signing is a necessity for United this window to unlock the potential of Paul Pogba next year. United have been linked with destroyer type defensive midfielders in this window.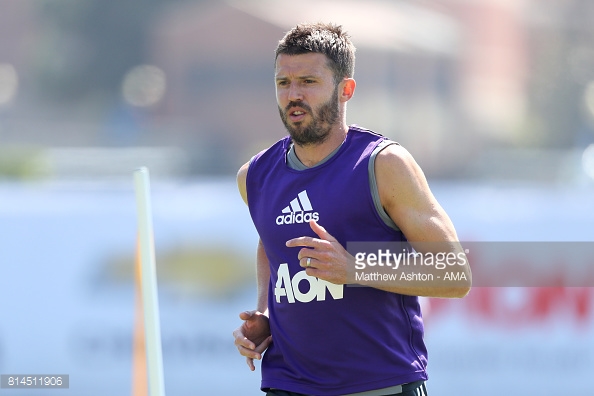 However the game against Real Salt Lake highlighted the need of a deep lying play-maker rather than a destroyer in the first eleven. Michael Carrick is a player of that profile but he is now ageing and the Englishman is on the decline.
Carrick had numerous chances to play that key ball from deep to release Lukaku but he opted for a safe pass. A deep lying play-maker will help in breaking up the play and also release the ball quickly from deep to capitalise the movement from the forwards.
Andreas Pereira is wasted in a deeper role
Mourinho praised Pereira for his vision after the pre-season game against Wigan Athletic last year. The Brazilian has since then enjoyed a very good loan spell at Granada. He was impressive for the Spanish side and came back to United this summer in order to force into Mourinho's plans.
The Portuguese has allowed Pereira to play 45 minutes in both the pre-season games. Pereira played the deeper role allowing the likes of Ander Hererra , Maraoune Fellaini and Paul Pogba to play further forward. He is able to dictate play from deep due to his impressive passing but his main attributes are wasted in deeper role.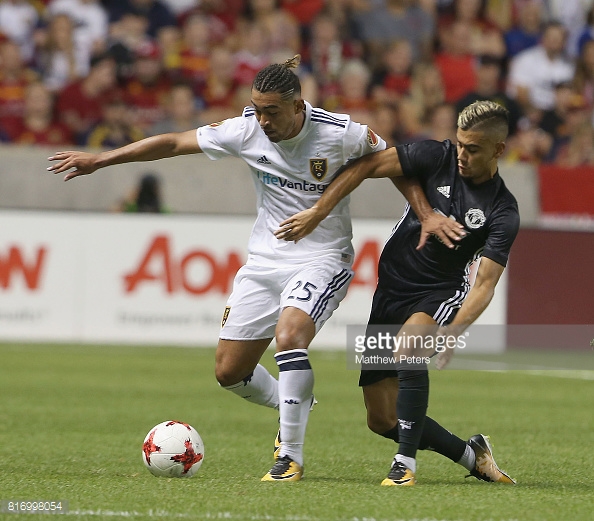 The Brazilian has got the key passes to unlock the tight defences. He is probably the closest player in the squad who can be an understudy to Pogba. Pereira may not be physically imposing as the Frenchmen but his creativity and dribbling in tight spaces is similar to Pogba. However for the time being he is being wasted in the deeper role.
Victor Lindelof- Eric Bailly should feature together from next games
Mourinho played two different formations in two games. He also played different combinations of centrebacks in both the games. Victor Lindelof has not been exactly the best performer in both the game. The Swedish was at the fault LA Galaxy's first goal as he got beaten easily by Giovanni Dos Santos.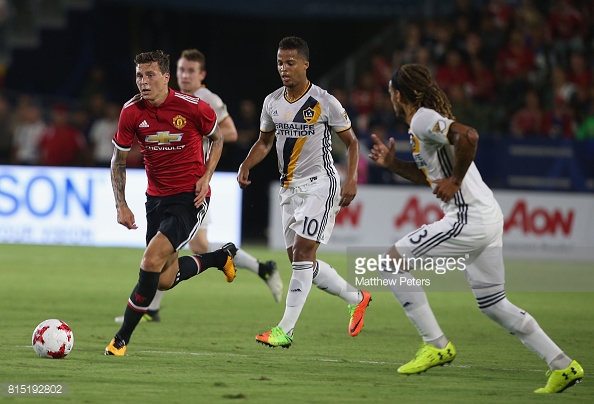 On the other hand Eric Bailly has been decent in both games. He was hardly tested in this games. Phil Jones showed his error prone nature again yesterday for Real Slat Lake's goal. Chris Smalling is probably playing his final few games as he is strongly linked to move away from game. Mourinho should startplaying Bailly and Lindelof together from next games as the duo are promising and need to develop the understanding before the first game of Premier League.
Mkhitaryan should be consistent throughout 90 minutes
The Armenians's first season was a bit chaotic where he became regular almost after half season was done. Mkhitaryan was a pivotal player in Europe for United as he bagged 6 goals in Europa League. He finished the season with 11 goals in all competitions. This looks like a decent output for an attacking midfielder.
Mkhitaryan has scored two goals in two games in the ongoing tour. However the Armenian is a passenger for majority parts of the game. He is able to cover that up with one moment of brilliance. However it will be better for the team if he avoids drifting from the game and remains consistent for 90 minutes. He generally enjoys second season at his previous club and next season he will be pivotal for United's title challenge.
Timothy Fosu Mensah needs a loan move
Fosu Mensah was one of the best players in first half for Manchester United against Real Salt Lake. The Dutchman did his defensive work very well and delivered teasing crosses for Lukaku. He had an average game against LA Galaxy but did well in this game.
The teenager was part of the senior squad last year but failed to get decent amount of gametime. His development has been stagnated as he was not allowed to play for reserves team too. He still has a lot of potential and it is unlikely he will get more gametime next season too. A loan move to a Premier League will do wonders for him and United will be able to reap the similar rewards as they have got in the case of Pereira.