 It would be come to known as "The Great Escape", the term used for West Bromwich Albion's stunning rise from the bottom of the Premier League to safety on the final day of the season.
The Baggies became the first team to stay up after being at the foot of the table on Christmas Day. Heading into the final day of the season, Bryan Robson's side were locked into a battle with Norwich City, Crystal Palace and Southampton.
West Brom were at home to Portsmouth, Palace were at Charlton Athletic, Norwich traveled to Fulham while Southampton hosted Manchester United. The Canaries were 17th, two points clear while the Saints and Eagles were one point behind with the Baggies three points further back.
The background
West Brom returned to the top flight after one season away following relegation in 2002-03 under manager Gary Megson. Finishing second to Norwich in the old First Division, the Baggies were back amongst the elite.
Things started decently for Megson's men as they recorded three straight draws before heavy defeats to Liverpool, Everton and Newcastle left them with just four points through the opening seven games.
Megson sacked, Robson takes over
Finally, the first win back in the top flight came at home to Bolton Wanderers by a 2-1 count. However, following a 2-2 home draw to Southampton, Megson was sacked with West Brom on just eight points after 12 games.
Enter Robson, the former Baggies player who was in his third managerial job after having previously overseen Middlesbrough and Bradford City. At 47, Robson was back at his old club 23 years after his playing days at The Hawthorns ended.
Fittingly, his first match in charge was against Middlesbrough, a 2-1 defeat with Hal-Robson Kanu wasting a chance to rescue a point with a shocking miss from two yards out, fitting of the way the season had gone so far.
The slide continues
Robson was finding things to be as difficult at his own stomping grounds as it was for Megson. A 3-0 home loss to Manchester United, a 4-0 thrashing at Birmingham City and a 5-0 demolition at home to Liverpool left the Baggies rock bottom, 10 points from 19 games and the manager with this reaction:
"Other people have slipped up who are bottom of the table but you get fed up with saying that. You have to do your own job and we have not done that again".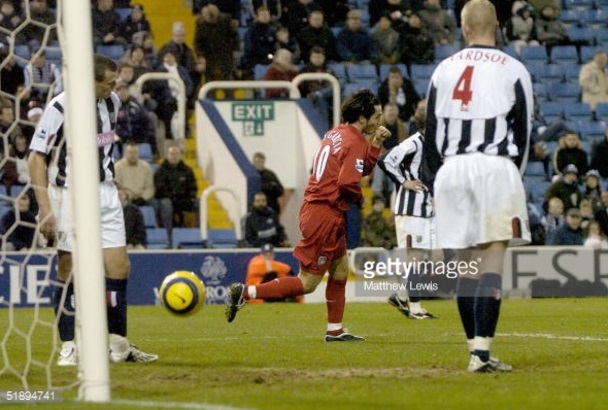 Things begin to turn around
Out of nowhere, West Brom would find some form, four draws and a win (2-0 over Manchester City) from December 28th to February 1st saw Robson's men level with Norwich on 17 points.
Even with bit of momentum, the Baggies were still five points adrift of safety and 15 goals behind 17th-placed Palace. As the calendar turned to March, so did the team's fortunes. The month began with a 2-0 win over Birmingham and a heavy 4-1 win at Charlton.
After Robbie Earnshaw's hat-trick at The Valley, Robson started to vocally believe his team had a fighting chance to pull off the unthinkable: "I give full credit to my players because they have been keeping their belief and still feel we can stay up.
"As long as we keep playing the way we did in this match we have a chance."
Baggies continue to fight
Only two goals conceded in three games to Everton, Villa and Spurs brought West Brom to 17th place. Out of the relegation zone for the first time since the opening weeks of the season, Robson's squad were quickly plunge back into the bottom three with blowout losses at Middlesbrough and Arsenal.
With two games and six goals separating them from safety, the Baggies bravely fought for a 1-1 draw at Old Trafford. Following the match, Robson hinted at what eventually would happen one week later: "It's a good result for us. At least now if we win our last game a draw is not good enough for the others.
"We got a few breaks but I think the players deserved that on their second-half performance. If we do stay up it will probably be the best achievement I've had in football."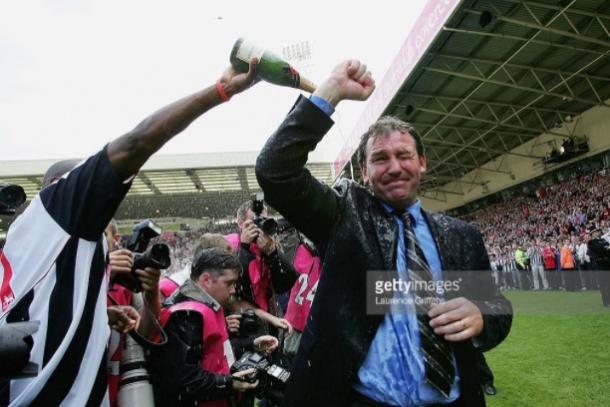 The final day and history made
With no side relegated going into the final day for the first time since the advent of the Premier League, it was all to play for for West Brom. On 31 points, they were one behind both Palace and Southampton and two behind Norwich, who occupied that precious 17th position, the last safety spot.
The first goal for the Baggies was to take care of their own business and hope for other results to go their way. Norwich were behind at Fulham after just nine minutes and would go on to a 6-0 hammering.
Southampton's 27-year stay in the division was over after a 2-1 loss at home to United, Ruud Van Nistelrooy sending the Saints down to second tier football for the first time since 1978.
Crystal Palace were 2-1 ahead with less than 10 minutes to play at the Valley, but a Jonathan Fortune equalizer in the 82nd minute condemned the Eagles to the Championship.
All that was left was for West Brom to take care of Portsmouth and goals from Kieran Richardson and Geoff Horsfeld ensured the team that was bottom during the winter holiday season now retained their Premiership status in an almost unthinkable Houdini act.
-
This is part of a regular series, 'Classic Matches Revisited'. Check out last week's entry, which takes us from the Midlands to Stamford Bridge for an historic Champions League night, here.