Dele Alli's strike was enough to see Tottenham Hotspur beat Championship side Bansley in the third round of the Carabao Cup on Tuesday at Wembley.
The victory comes as a welcome result for the North London outfit after a disappointing result at the weekend, where after having 23 shots on goal, they could not manage to score a single goal against Swansea City and the game ended 0-0.
Weak lineup complete the task
Manager Mauricio Pochettino started a relatively young lineup without the likes of Christian Eriksen, Harry Kane and Toby Alderweireld and Hugo Lloris.
It was a great opportunity for reserve players; goalkeeper Michel Vorm, Harry Winks, Juan Foyth and others to show what they are capable of and the players did not disappoint their manager one bit.
Llorente miss opportunity to open his account
Newly signed striker Fernando Llorente started his first game for the club, and should have had his first goal as well when he was left open on the corner in the first-half, just for him to put it over the bar.
On the other hand, Barnsley had the best chance of the first period, when the visiting side's player could not managed to hit an open header inside the six yard box on target.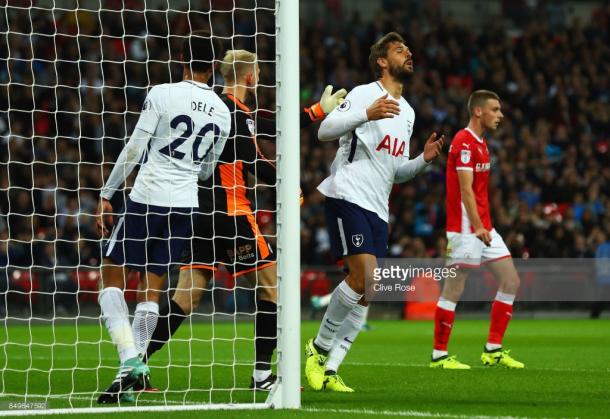 Spurs show superiority in second-half
In the second-half it was all Spurs, as they tightened the screws on the opposition with numerous chances.
However, the breakthrough finally came in the 65th minute when Alli sensed the opportunity on the cross and struck the only goal of the match.
Striker Heung-Min Son should've made it 2-0 with two golden opportunities late in the second-half, but on both occasions he could not managed to provide the finished product.
Where result leave both sides
For Spurs, it was an important victory seeing how the team faced criticism following another poor result at home against Swansea.
The victory, even though it was far from a convincing victory, it was a victory never the less and that too at their make shift home Wembley, which should prove pivotal in their next match against West Ham on Saturday.
For Barnsley, who are have already having a tough time in the league, where they are currently placed on the 20th position, will clearly feel boosted by the result.
Paul Heckingbottom's men did not only defend well against a tough opposition and hold Premier League giants till the 65th minute, they were quite efficient in the attack as well and should have gone up in the first-half.
If the Tykes continue such performance going forward, there is no reason why they cannot push a spot in the top half of the league table.